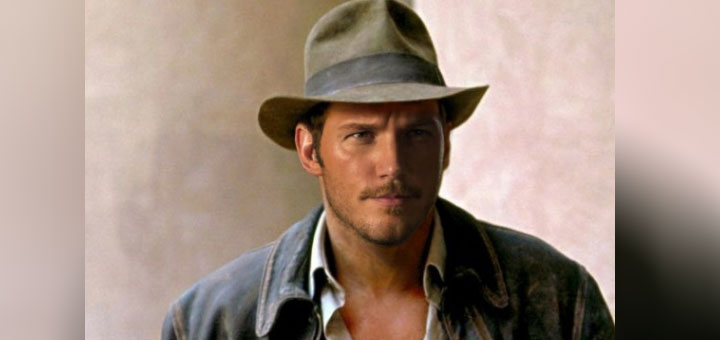 After earning acclaim as a leading man in last summer's hit Guardians of the Galaxy for Marvel, Chris Pratt is being viewed in a different light than the one he regularly received on Parks and Recreation. This summer he will be returning as a leading man for the highlight anticipated Jurassic Park sequel, Jurassic World. Fighting dinosaurs, riding horses (Magnificent Seven is in the works) and zooming through the galaxy (Guardians of the Galaxy 2) might not be the only big roles on the horizon for Pratt's future.
As was lightly speculated about last summer, Chris Pratt is being considered by the powers that be at Disney for the role of famed archeologist Dr. Indiana Jones. After purchasing the rights to the Indiana Jones franchise from Paramount in 2013, it seems like it was just a matter of time until Disney did something with this. Now Deadline is reporting that a Chris Pratt Indiana Jones is being actively considered.
Indiana Jones was first portrayed by Harrison Ford in 1981 in Raiders of the Lost Ark. While there are absolutely no hard facts or confirmations about a potential reboot of Indiana Jones, this is the most substantive information to date.
What do you think of Chris Pratt as Indiana Jones?
Make it a GREAT day!