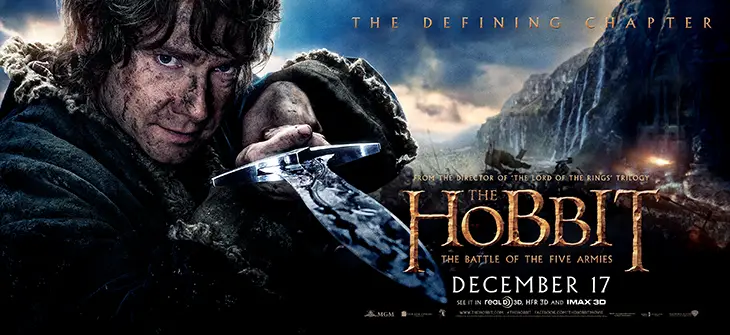 The release of the final movie (at least we are 99.999% sure this is the end) from Middle Earth is just two months away. As the time until the final journey to Middle Earth gets shorter, more and more publicity material is being released. This includes new posters, new banners, and soon there will be new trailers.
Most recently, a couple of posters and several new banners were released. These definitely are starting to give insight into the movie. Take a look:
Things are definitely gearing up for The Battle of the Five Armies and it won't come without a cost. Peter Jackson has shown his abilities to create epic battle sequences in The Lord of the Rings movies and one can only imagine that a decade later things have improved a bit.
Other posters and works of art have been released in the previous weeks and months as well for The Hobbit: The Battle of the Five Armies. Here's a look at what might have been missed:
This comes as no surprise but there will clearly be a lot going on. If Peter Jackson and crew do their job right, following this movie fans of The Hobbit and The Lord of the Rings will be able to watch both trilogies and get a fairly cohesive story of Middle Earth's history starting with The Hobbit: An Unexpected Journey and continuing through to The Lord of the Rings: The Return of the King.
The Hobbit: The Battle of the Five Armies will be in theaters on December 17, 2014.
What are your predictions? Are you excited for this movie? Which poster is your favorite?
Make it a GREAT day!