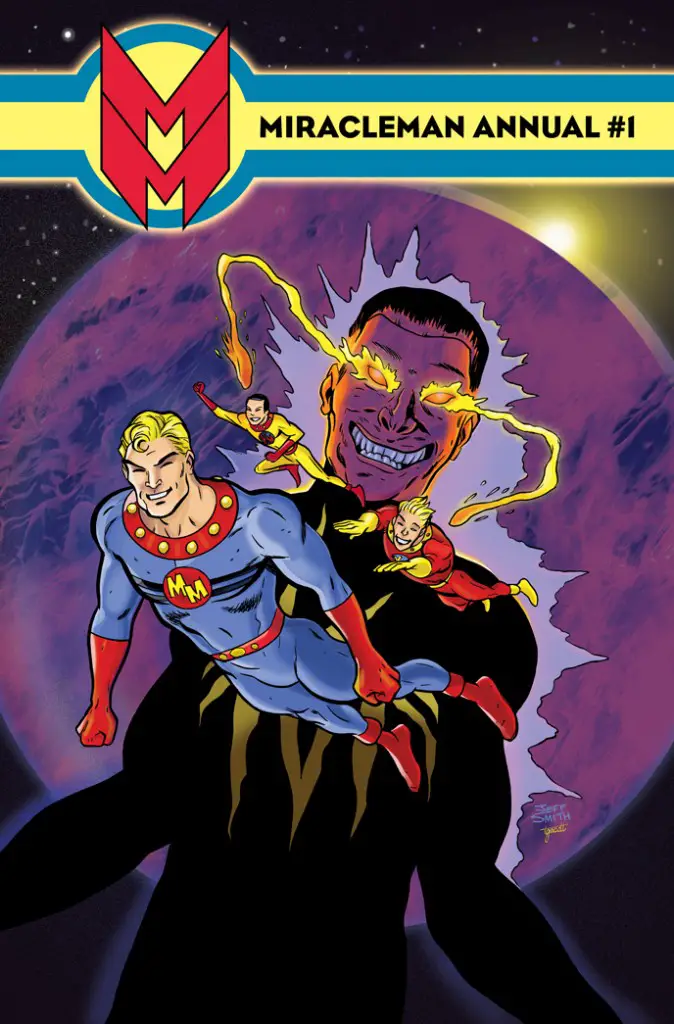 Morrison, Quesada, Milligan & Allred Unite – Your New Look at ALL-NEW MIRACLEMAN ANNUAL #1!
New Stories From The Industry's Biggest Creators Coming This December!
It was the series that changed comics forever, injecting new sophistication into the medium and becoming one of the most significant works in comic history. Marvel is proud to present your new look inside December's ALL-NEW MIRACLEMAN ANNUAL #1, bringing you new stories from legendary talents! Celebrated comic creators Grant Morrison, Joe Quesada, Peter Milligan and Mike Allred unite for a star-studded, can't-miss comic event that will have the whole industry talking!
"Miracleman is a legend that resonates deeply in the world of comics," says Marvel Editor in Chief Axel Alonso.  "Without its trailblazing stories, who knows what the landscape of comics would look like today?  If you want to live up to that pedigree, you don't pull any punches.  That's why we tapped two incredible creative teams — Grant Morrison and Joe Quesada; Peter Milligan and Mike Allred — for this historic annual.  All-New Miracleman Annual #1 is a must-read for any fan of the character, or the medium in general."
Comic book icons Grant Morrison and Joe Quesada team for the first time to bring you a story over 20 years in the making. Famously written over 20 years ago, Grant Morrison's long-lost Miracleman tale will finally see print in this epic, oversized annual! Brought beautifully to life by legendary artist & Marvel Chief Creative Officer Joe Quesada, this notably unpublished story and much talked about piece of Miracleman history will finally be available for the first time ever! Experience a foreboding tale of the once Kid Miracleman prior to the cataclysmic Battle of London.
Then, comic superstars Peter Milligan and Mike Allred take you back to the glory days of Miracleman's past for an all-new look at the classic Mick Anglo era as Miracleman, Kid Miracleman and Young Miracleman do battle against a fearsome and terrifying foe! But amid the Miracleman Family's awe-inspiring clash, there is a sense of unease. Something is not right. Something in Miracleman's own mind! Is this all a dream? What is Project Zarathustra?
Plus, ALL-NEW MIRACLEMAN ANNUAL #1 comes jam-packed with bonus extras that should not be missed – including Grant Morrison's original script, sketches, original art and more!
Debuting on New Year's Eve, ALL-NEW MIRACLEMAN ANNUAL #1 stands as one of only two Marvel Comics hitting shelves on the final day of the calendar year. Launching alongside S.H.I.E.L.D. #1, Marvel Comics is ready to close out 2014 with a colossal bang! Be there when Grant Morrison, Joe Quesada, Peter Milligan and Mike Allred take the Miracleman mythos to new heights for the blockbuster ALL-NEW MIRACLEMAN ANNUAL #1– hitting comic shops and digital devices on 12/31!
ALL-NEW MIRACLEMAN ANNUAL #1
Written by GRANT MORRISON & PETER MILLIGAN
Art by JOE QUESADA & MIKE ALLRED
Cover by GABRIELE DELL'OTTO
Variant Covers by JOE QUESADA & JEFF SMITH
On-Sale 12/31/14!
To find a comic shop near you, visit www.comicshoplocator.com or call 1-888-comicbook.
About Marvel:
Marvel Entertainment, LLC, a wholly-owned subsidiary of The Walt Disney Company, is one of the world's most prominent character-based entertainment companies, built on a proven library of more than 8,000 characters featured in a variety of media over seventy years. Marvel utilizes its character franchises in entertainment, licensing and publishing. For more information visit www.marvel.com © MARVEL