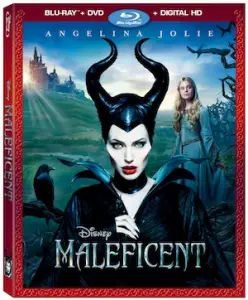 Maleficent will be hitting small screens this coming November.  This live-action retelling of the story of Disney's greatest villain will be released on Blu-Ray Combo Pack, Digital HD, Disney Movies Anywhere, DVD & Don-Demand on November 4, 2014. Starring Academy Award-Winner Angelina Jolie, this movie garnered more than $700 million globally while in theaters.
Included with the movie will be several bonus features that goes into the making of this film, deleted scenes, and a look at the backstory of Elle Fanning, who portrayed Sleeping Beauty.
Maleficent will be available for purchase on November 4, 2014.
PRESS RELEASE:
DISNEY'S GREATEST VILLAIN COMES TO LIFE

IN THE WICKEDLY FUN, FANTASY ADVENTURE STARRING

ACADEMY AWARD®-WINNER ANGELINA JOLIE

 

DISNEY'S "MALEFICENT"

 

Arrives On Disney Blu-ray™ Combo Pack, Digital HD, Disney Movies Anywhere,

DVD & On-Demand Nov. 4, 2014!

 

 

BURBANK, Calif. August 1, 2014— Disney's most iconic villain "MALEFICENT" comes to life for all to own, November 4, 2014.  Starring Academy Award®-winning actress Angelina Jolie (Best Supporting Actress, "Girl, Interrupted," 2000) as Maleficent, this wickedly fun twist on the classic "Sleeping Beauty" will be made available on Disney Blu-ray™ Combo Pack, Digital HD, Disney Movies Anywhere, DVD and On-Demand platforms.

After enchanting audiences around the world and grossing more than $700 million in worldwide box office, this live-action, fantasy adventure casts a wondrous new spell on Blu-ray and Digital HD, featuring stunning high definition picture and sound, plus spellbinding, all-new bonus features, including several deleted scenes and behind-the-scenes featurettes that take viewers deeper behind the scenes of the filmmaking magic.

Join the cast and crew as they explore how Disney's animated classic "Sleeping Beauty" was re-imagined as an innovative, live-action epic in "From Fairy Tale to Feature Film."   Discover how King Henry and Maleficent's opening battle scene was created using gigantic wire rigs and elaborate choreography in "Building an Epic Battle."  Learn how playing Aurora was a fairytale come true for actress Elle Fanning in "Aurora: Becoming A Beauty." And find out more about the meticulous detail that went into creating Maleficent's elaborate head wraps, rings and other accessories in "Classic Couture."  Viewers can also relive the film's journey to the screen through concept art, layered visual effects and behind the scenes footage in "Maleficent Revealed."

"Maleficent" stars Angelina Jolie, Elle Fanning ("Super 8," "We Bought a Zoo"), Sharlto Copley ("District 9," "Elysium"), Sam Riley ("Control," "On the Road"), Imelda Staunton ("Harry Potter" series), Lesley Manville ("Another Year," "Secrets & Lies"), Juno Temple ("The Dark Knight Rises," "Atonement") and Brenton Thwaites ("Oculus"). It marks the directorial debut of two-time Academy Award® winner Robert Stromberg (Best Achievement in Art Direction, "Avatar," 2010; Best Achievement in Art Direction, "Alice in Wonderland," 2011). It was written by Linda Woolverton ("Alice in Wonderland," "The Lion King") and produced by Joe Roth ("Alice in Wonderland," "Oz the Great and Powerful").

Bonus Features:

Blu-ray Combo Pack, Digital HD/SD & Disney Movies Anywhere

·       From Fairy Tale to Feature Film – Reimagining Maleficent for a new generation

·       Building An Epic Battle –Creating the clash between Maleficent and King Henry's Forces

·       Classic Couture – Examine Maleficent's spellbinding head wraps and jewelry.

·       Maleficent Revealed – Explore the layers of extraordinary special effects.

·       Aurora: Becoming A Beauty – Elle Fanning reveals her lifelong love of Disney's original animated classic.

·       Deleted Scenes:

o   "Stefan In King's Chamber"

o   "Pixie Idiots"

o   "Diaval asks about the Curse"

o   "Pixies Seek Asylum"

o   "Suitor"

·       And More!

 

*Digital bonus offerings will vary per retailer

DVD 

·       Aurora: Becoming A Beauty

Disc Specifications:

Feature Run Time:                             Approximately 97 minutes

Rating:                                                        Feature Film: "PG" in U.S. and Canada (CE); G in Canada (CF)

                                                                        Additional Bonus Features Not Rated

Aspect Ratio:                                         Blu-ray Feature Film = 1080p High Definition/2.40:1

                                                                        DVD= Widescreen 2.40:1 / Enhanced for 16×9 Televisions

Audio:                                                         Blu-ray Feature Film = 7.1, English 2.0 Descriptive Audio, Spanish and French Dolby Digital 5.1

DVD=English, French and Spanish 5.1 Dolby Digital, English 2.0 Descriptive Audio

Languages/Subtitles:                        English, Spanish & French

English Captions for the Deaf and Hearing Impaired

Social Media:

Stay connected with the latest news and information about Disney's "Maleficent":

·       "Like" us on Facebook: http://www.facebook.com/DisneyMaleficent

·       Follow us on Twitter: http://www.twitter.com/Maleficent

or http://www.twitter.com/DisneyPictures

·       Check out our Website and Mobile Site: http://www.disney.com/maleficent

·       Visit www.Disneymoviesanywhere.com and download the DMA App at:  https://itunes.apple.com/us/app/disney-movies-anywhere-watch/id766894692?mt=8

ABOUT "MALEFICENT":

Explore the untold story of Disney's most iconic villain in this wickedly fun twist on the classic "Sleeping Beauty." In an unforgiving mood after a neighboring kingdom threatens her forest, Maleficent (Angelina Jolie) places an irrevocable curse on the king's newborn daughter, the Princess Aurora. But as the child grows, Maleficent finds herself becoming fond of the girl. And as the conflict between the two realms intensifies, Maleficent realizes that Aurora may hold the key to peace in the land. Journey beyond the fairy tale in this soaring adventure that is "visually arresting, brilliantly designed" (Andrew Barker, Variety).

ABOUT DISNEY MOVIES ANYWHERE (DMA):

Disney Movies Anywhere (DMA) is a cloud-based digital movie service that offers a hassle-free way for consumers to buy, watch, and manage Disney digital content across platforms and devices via the easy-to-use DMA app or atDisneyMoviesAnywhere.com. A DMA-eligible digital title purchased from an iTunes-connected account or redeemed in DMA will be accessible in a user's DMA and iTunes lockers. There are currently over 400 films from Disney's rich history available through DMA for streaming and download, including Disney Branded Animation, Disney Live-Action, Pixar, and Marvel titles, along with exclusive, original content. For more information or to redeem Digital Copy codes to build your library and earn Disney Movie Rewards Points for digital purchases, visit http://www.disneymoviesanywhere.com.

 

ABOUT THE WALT DISNEY STUDIOS:

For 90 years, The Walt Disney Studios has been the foundation on which The Walt Disney Company was built. Today, the Studio brings quality movies, music and stage plays to consumers throughout the world. Feature films are released under the following banners: Disney, including Walt Disney Animation Studios and Pixar Animation Studios; Disneynature; Marvel Studios; Lucasfilm; and Touchstone Pictures, the banner under which live-action films from DreamWorks Studios are distributed. The Disney Music Group encompasses the Walt Disney Records and Hollywood Records labels, as well as Disney Music Publishing. The Disney Theatrical Group produces and licenses live events, including Disney on Broadway, Disney On Ice and Disney Live!

# # #

*   *   *   *   *   *   *  *   *   *   *   *   *   *   *   *   *   *   *   *  *   *   *   *   *   *