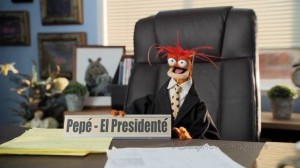 The Muppets have a new series of shorts that is being presented by Disney Movies Anywhere. Entitled Disney Drive-On with The Muppets, this series will be releasing two new episodes every Friday for a limited time. This six-part series will include some favorite Muppet characters along with celebrity cameos.
Disney Drive-On with The Muppets Description
After being left in charge of the Muppets' office by Kermit, Pepe the King Prawn takes on the responsibility of "mentoring" Walter on the business of Hollywood. Still considered the "new guy" with the Muppets, Walter is given low-level jobs working alongside his fellow Muppets at their office in the famed Walt Disney Studios in Burbank. He quickly learns there is a lot more to making movies than he thought! Developing projects may not always be so glamorous, but Walter is still excited to tackle new challenges, and discovers life on the Disney Lot is certainly a fun and funny adventure.
Disney Drive-On with The Muppets Trailer
Disney Drive-On with The Muppets Clip
More information about this series can be found in the Discover Section at: www.DisneyMoviesAnywhere.com. The Disney Movies Anywhere app can also be downloaded here:  http://di.sn/ij1