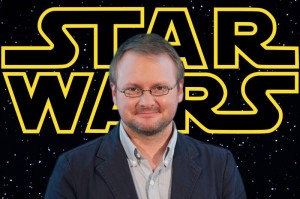 J.J. Abrams may be direction Star Wars: Episode VII but it appears that it will be the beginning and the end of his Star Wars career (for now). Disney and Lucasfilm have brought aboard Rian Johnson to both write and direct Star Wars: Episode VIII and Star Wars: Episode IX.  Johnson is known for the indie film Brick and then the sci-fi flick Looper. He also has directed episodes of Breaking Bad to critical acclaim.
In an interview just last year he didn't think he was the type of guy that Lucasfilm would be looking at for the franchise… apparently he was wrong. Lucasfilm isn't asking him just to direct one of the stand alone films but instead entrusting two of the core movies to him from which the foundation of Star Wars is being built and expanded. Many are speculating that Johnson will take the series in unexpected directions. Only time will tell what directions those will be… if they even happen.
What do you think of this choice by Disney and Lucasfilm? Is it wise? Does this make you want to see the second and third movies in the new Star Wars franchise more or less?
[polldaddy poll=8149839]
Make it a GREAT day!