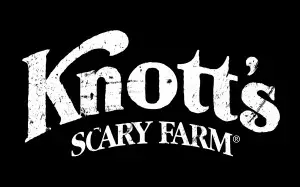 Knott's Berry Farm has had one of the first themed haunted events for any theme park.  There's now a museum about it in Ghost Town of the park.  I remember seeing commercials about it when I was young and wanting to go.  I've gone a couple of times and have enjoyed it!  There's actually times that make me laugh.  Not to make me sound strange, but things that happened to my friends and I made me laugh.  There's just something funny when we get surprised in a maze.
Always a big draw are the shows.  Knott's is announcing Elvira's return.  But, there is also The Hanging, which is a great parody show.  I must say that this is not very kind to children.  Even to some adults that will be too frightened.  But, it is fun, and something to do at least once!
Here's the details:
KNOTT'S ANNOUNCES 2014 SCARY FARM DATES & THE RETURN OF ELVIRA
There's nowhere to hide beginning September 25th
BUENA PARK, Calif. (June, 2014) – Knott's Scary Farm, the largest, most haunted experience in Southern California, returns for 24 horrifying nights September 25 – November 1 and features the return of Elvira, the legendary Mistress of the Dark, endless horrifying mazes, and a thousand monsters lurking in the fog.
Event dates are: September 25, 26, 27, October 2, 3, 4, 5, 9, 10, 11, 12, 16, 17, 18, 19, 22, 23, 24, 25, 26, 29, 30, 31 & Nov. 1.  Knott's Scary Farm is open from 7pm until 1am Wednesdays, Thursdays and Sundays, and until 2am Fridays and Saturdays.  Killer deals will be available later this summer when tickets go on-sale.
Back by overwhelming demand, Elvira, the legendary Mistress of the Dark, will headline the 1,800 seat Ghoul TimeTheater twice nightly through the entire run of Scary Farm.  Elvira's all-new show will feature her signature blend of comedy and sass, along with singing, dancing, and explosive special effects!
Elvira's reign as the "Queen of Halloween" began in 1981 when she became the hostess of the local Southern California television show "Movie Macabre," and went on to become the most widely recognized horror host in history. In 1982 she became the Knott's Scary Farm headliner, following in the footsteps of Sinister Seymour and Wolfman Jack.  Elvira again returned to Knott's Scary Farm in 2013 to overwhelming demand for her smash show, Elvira's Sinema Séance.
Also returning in 2014 are the terrifying secrets behind the locked doors in Skeleton Key Rooms.  First introduced in 2013, Fright Lane with Skeleton Key offers front-of-line access to all mazes and unlocks unnerving terrors in exclusive scenes in select mazes.  This year, Knott's Scary Farm Skeleton Key rooms will be entirely new and more frighteningly interactive than ever.  Also new this year is the collectible keychain that commemorates your harrowing journey through the Skeleton Key rooms (while supplies last).  Fright Lane with Skeleton Key will go on sale with Knott's Scary Farm tickets later this summer, and join the conversation using #ScaryFarm.
For more hair-raising information on the 2014 Knott's Scary Farm terrifying event visit the website or stay tuned to the Knott's Scary Farm Facebook page.
###
About Knott's Berry Farm and Cedar Fair Entertainment Company:
Knott's Berry Farm is owned and operated by Cedar Fair Entertainment Company, a publicly traded partnership that is listed for trading on The New York Stock Exchange under the symbol "FUN." In addition to Knott's Berry Farm, Cedar Fair owns and operates ten other amusement parks, three water parks, one indoor water park, and five hotels. Cedar Fair also operates the Gilroy Gardens Family Theme Park in California under a management contract. Visit knotts.comor connect with us on Facebook, Twitter and Instagram.