DAPs Magic Disney News – by Mr. DAPs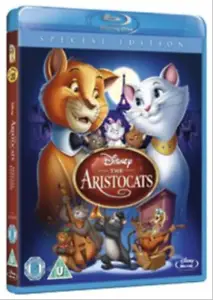 The Aristocats are back and are as charming as ever. It tells the story of a high class cats living in Paris. When the butler discovers that the kittens are the only thing keeping him from receiving the inheritance of their rich owner, he plots to get rid of the sweet kittens. This sets in motion events that lead to an adventure as the cats attempt to return home and make some musical friends along the way.
Picture and Sound:
The Aristocats looked and sounded great. When reviewing this, I had a few friends in the living room and we used the sing-along option as we watched. So, above the noise (err music) that was created by this, it seemed like the presentation for this movie was done fairly well. It is a product of its time and that shows but seeing as that is an intentional style, I don't mind. In fact, it really adds to the charm of the movie.
Bonus Features:
There were a few bonus features included with The Aristocats. They were enjoyable but I definitely would love to have more.
The Lost Open – This was an alternative opening for the movie. It has Richard Sherman sharing a cut song and character from the opening of the movie.
The Sherman Brothers: The Aristocats of Disney Songs – This look at how the Sherman Bros. contributed to this film and also some of what went into the creation of the movie.
Movie with On-Screen Lyrics – This displays the lyrics to the songs as the movie is played.
Music Video – A remix of "Oui Oui Marie" by D!TTO.
1956 Animated Special Excerpt – Walt Disney presents "The Great Cat Family."
Bonus Short – Minnie Mouse bathes Figaro in "Bath Day"
Overview:
The Aristocats is an enchanting Disney animated feature that has many classic elements of the Disney classic. It doesn't quite reach that classic status though as it just doesn't quite hit all the marks. What it does have though are some really fun characters (and voices), some wonderful songs, and some beautiful artwork. If you don't have this movie yet, go out and get it. I'll give it a small hat tip.