The Disneyland Resort announced today that Pixar Place Hotel will be officially opening on January 30, 2024. On this date, guests will be able to see and experience this hotel that has been undergoing a magical transformation over the course of the last year. Disney has shared more looks at what guests will be experiencing when they visit Pixar Place Hotel upon its opening.
Pixar Stories at Pixar Place Hotel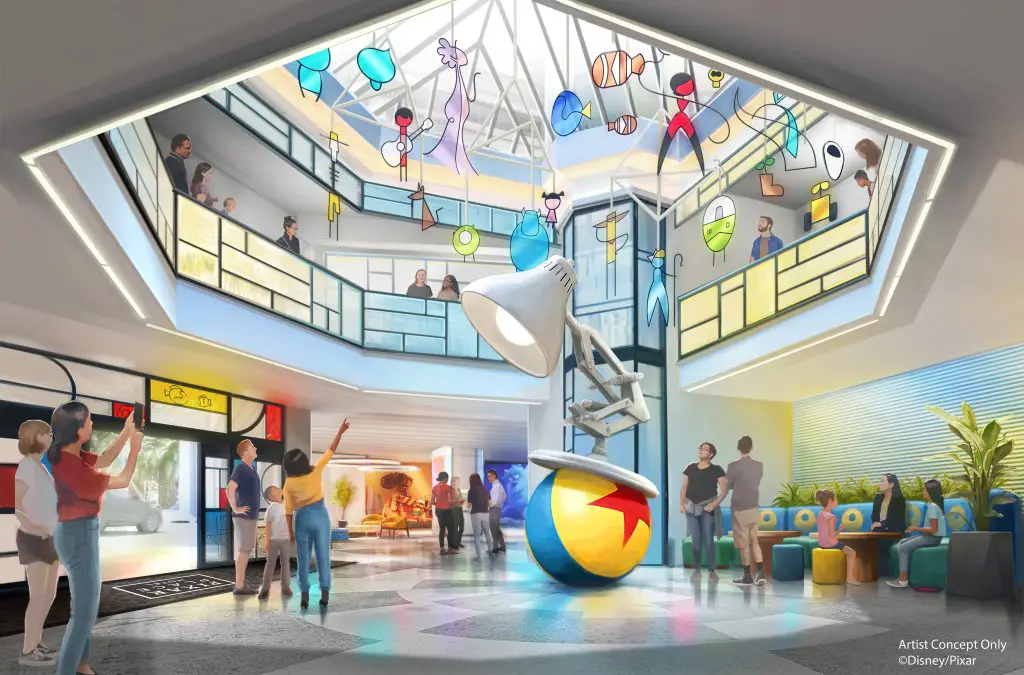 First off is a look at the concept for Pixar Place Hotel. This starts with the arrival at the hotel in the lobby. Guests will be seeing unique art that is inspired by Pixar Films. They will also find the Pixar Lamp balancing on its ball in the lobby as well. Look up and there will be an imaginative mobile of beloved Pixar characters found in the skylight above. This mobile will show the beginning stages of Pixar filmmaking. This is the part of the process when animators create the characters' designs with basica shapes and colors.
Disney shared that "Pixar Place Hotel will evoke the inspiration and humor that goes into every Pixar film, while celebrating the artistic process. Showcasing early sketches to finished design, the art and decor will highlight vibrant Pixar stories, revealing some never-before-seen artwork."
A Look at a Room
Disney has also given a look at what the guest rooms will be like when guests visit next year. This includes pillows that are inspired by the Pixar Ball. There is also lighting found in the rooms that will remind guests of the Pixar Lamp. Continue to look around the room and there are plenty of other nods to Pixar Animation Studios. As guests enjoy these contemporary feeling rooms, they will discover that there is art that was created specifically for Pixar Place Hotel by Pixar Animation Studios artists. The headboards at the hotel will also display concept art from multiple Pixar flicks. This will include movies like The Incredibles, Toy Story 3, and more. The art is arranged from warm to cool colors as they share the importance of color to the tone of a scene.
Dining Offerings From Great Maple
Great Maple restaurant will be opening in November at Pixar Place Hotel. It will offer an innovative menu of upscale comfort food for breakfast, lunch and dinner. This location is a modern American eatery and will serve dishes like Cajun Shrimp & Cheddar Biscuit Benedict, Soda Pop-Braised Baby Back Ribs, Charred Cauliflower Hummus, Maple Pecan-Crusted Salmon, Market Fish, a variety of inspired salads, and even Buttermilk Fried Chicken & Maple Bacon Doughnuts!
Sketch Pad Café and Small Bytes
A few weeks after Great Maple opens, the Sketch Pad Café will open in the lobby. This is a grab-and-go coffee shop that will be run by Great Maple. It will serve pastries and different options for coffee and tea drinkers. There will also be a new menu coming to Small Bytes, the rooftop pool bar. This will include salads, wraps, assorted cheese plates, and more. It will also offer a range of delicious signature beverages.
More Pixar Magic at Pixar Place Hotel
There will be other magical offerings for Pixar fans to enjoy as they stay at the Pixar Place Hotel. Already, the Finding Nemo themed pool area is open at the hotel. This includes a delightful Pixel Pool, which is surrounded by comfortable loungers, the new Nemo's Cove pop-jet splash pad, and also Crush's Surfin' Slide. This is a 186-foot-long water slide inspired by the everyone's favorite talking turtle. The adjacent play court and pool bar will be opening at some point later this fall. There are also some wonderfully comfortable couches found near the pool that surround fire pits. These fire pits draw inspiration from some of Pixar's hot headed characters.
STOR-E is the new gift shop found at Pixar Place Hotel. This shop's name gets its inspiration from WALL-E and offers Pixar-themed merchandise along with other souvenirs for guests to take home from a magical trip to the Disneyland Resort.
A new fitness center will also be available for guests at the Pixar Place Hotel. It opened recently and offers treadmills, free weights and more complimentary for those staying at the hotel.
Disney's Paradise Pier Hotel continues to be open and welcoming guests during its transformation into Pixar Place Hotel. Guests who are staying at the hotel can access Disney California Adventure through a dedicated entrance (with valid admission and park reservations). What do you think of the transformation of this hotel? What are you most excited to see upon its completion? Share your thoughts and opinions in the comments below!
Book Your Next Stay at Disney's Paradise Pier Hotel/Pixar Place Hotel Through Mouseways Travel, the Official Travel Partner of Daps Magic!