Journey of Water, Inspired by Moana is now officially open at EPCOT at Walt Disney World Resort. The new walk-through experiential attraction opened in World Nature on the 100th anniversary of The Walt Disney Company. The new attraction comes as EPCOT is the center of Walt Disney World's Disney100 celebration. Since September 22, EPCOT has had Mickey and Minnie in their Disney100 outfits. Soarin' Over California  also returned for a limited time and Spaceship Earth has a special nighttime show with the Disney100 anthem.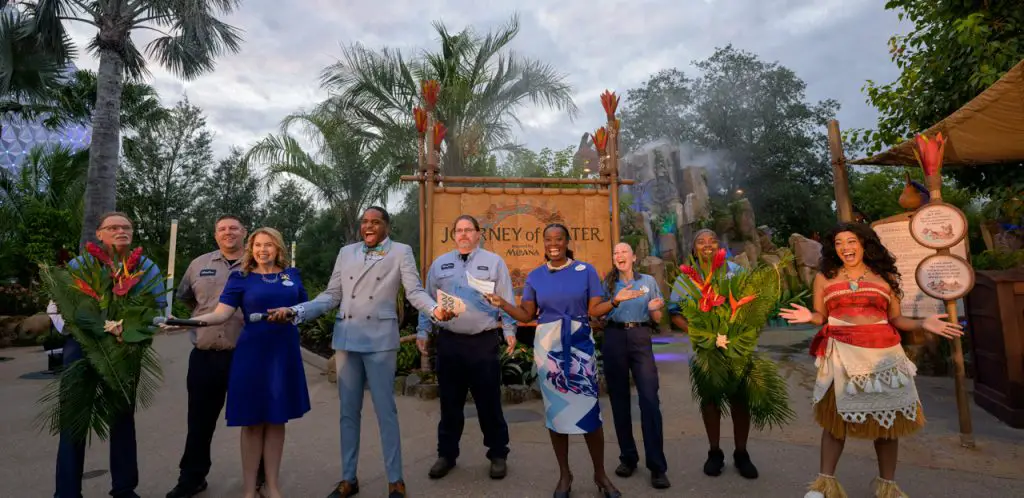 Along with opening Journey of Water, Inspired by Moana on the 100th anniversary, EPCOT also now allows guests to meet with Moana in World Nature as well.
About Journey of Water
From the youngest little ones to the generations who are young at heart, every member of the family can enjoy this fun, lively and interactive experience as they discover ways to befriend, protect and cherish the water that connects and gives life to the world. Just like Moana's friend the ocean, water here has a playful personality of its own, and guests can join in the fun by making music with "rain harps," waving to jumping streams and creating a roaring ocean wave.  

As guests walk along the trail, they will come across Te Fiti, who is seen protecting water as it travels through the water cycle. Guests might even discover beloved characters carved in the rock formations like Heihei, Pua and of course, Moana. 
Along with Journey of Water, Inspired by Moana, there are other new experiences coming to EPCOT as well. This includes the Walt the Dreamer statue at Dreamers Point and the World Celebration gardens which will be welcoming guests in the near future. This space will also add a lush area for guests to enjoy when visiting EPCOT.
What do you think of Journey of Water, Inspired by Moana? Are you looking forward to experiencing it? Share your thoughts and opinions in the comments below!