On October 16, 1923, Walt Disney officially founded the Disney Brothers Cartoon Studio, marking the beginning of a revolution in the entertainment industry and storytelling. 
For 100 years, France has played an important role in Disney's history, first in Walt Disney's life and then through Disney films, through iconic locations and literary and artistic inspiration. In 1992, Disneyland Paris opened its doors, bringing beloved Disney stories to life through settings and attractions often influenced by France and the broader European region. Nowadays, French influence remains important — in particular through French craftsmanship that can be seen across the resort in the creation and refurbishment of park landmarks such as Sleeping Beauty Castle.
To commemorate Disney's 100th anniversary, Disneyland Paris, has prepared an unprecedented program of surprises for guests, including an exceptional ceremony bringing together 100 iconic Disney characters. Other surprises await guests on this special day, such as unforgettable encounters with Mickey Mouse, Minnie Mouse and friends in special outfits and unique Disney experiences. A dream opportunity awaits guests as they immerse themselves in 100 years of Disney Magic!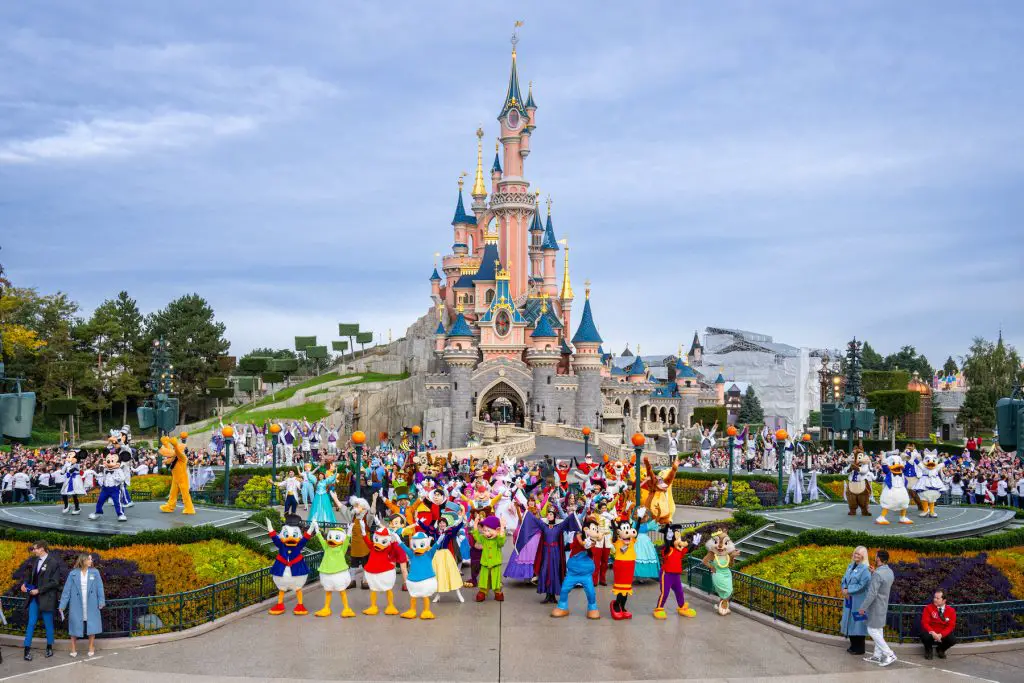 The day began with an exceptional welcome: Mickey, Minnie, and their friends in exclusive Disney100 fashions, alongside 20 dancers also dressed for the occasion, waited for guests to arrive in front of Sleeping Beauty Castle! To celebrate The Walt Disney Company's centenary, 100 Disney characters escorted by 100 Disney VoluntEARS took their place in front of the Castle, allowing all to be transported into their favorite stories – from Pixar's Toy Story to Walt Disney Animation Studios films such as Snow White and the Seven Dwarfs, Peter Pan and Frozen – during this unique moment.
This unique moment was an opportunity to show gratitude to Disney VoluntEARS, cast members who donate their timeand talent to provide comfort, happiness, and inspiration to kids and families through philanthropic initiatives. 
The surprises will continue throughout the day with a pre-parade led by Mickey, Minnie and their friends, alongside dancers, preceding Disney Stars on Parade. Guests will also have the chance to meet these iconic characters in both parks – on the Castle Stage in Disneyland Park and on Production Courtyard in Walt Disney Studios Park – to make this anniversary even more memorable.
In the evening, both parks will end the celebrations with a nighttime show featuring projections paying tribute to 100 years of Disney stories. It will take place at The Twilight Zone Tower of Terror following the Avengers: Power the Night drone show, and at Sleeping Beauty Castle after the incredible nighttime spectacle Disney Dreams!®.October 16, 2023 is sure to leave a lasting impression on guests, who will be at the heart of this special day because, as Walt Disney once said, "The young and the young in heart, you help make this dream come true."