Over the weekend at Destination D23, Disney fans were given a look at the vehicle that will be utilized in the attraction that will be coming to Avengers Campus at Disney California Adventure. According to Disney, a new technology has been developed to allow Avengers Campus to become the hub of a multi-world mission that spans the universe. Inventors at the campus created a new vehicle to transport heroes to remote worlds in moments to help save the day. The new transport was inspired by Tony Stark's time suits, Xandarian jump points, and also Wakandan technology as well. This new vehicle combines portal technology and also has flight capabilities to maneuver through the skies. This will allow both heroes and recruits to be deployed to wherever or whenever they are needed!
On the Walt Disney Imagineering Instagram, another detail was confirmed about the attraction. In a post about the attraction with Imagineer Brent Strong, it is confirmed that the new attraction will utilize a "blend of large-scale built environments and immersive media."
What exactly this use of "large-scale built environments and immersive media" will look like or how exactly the technologies will be used remains to be seen. However, there has been a track record of Disney utilizing technology that fits this description recently in attractions like Star Wars: Rise of the Resistance in Star Wars: Galaxy's Edge and also Mickey & Minnie's Runaway Railway. This does not mean that it will utilize exactly the same technology, look, or feel of these attractions. They do, provide hints at what Walt Disney Imagineering can do and what they can build upon moving forward.
The thing that can be learned from this post is there will be a physical envirionment and there will also be some immersive media used. Over the coming days, months, and years, Disney fans will get to anticipate and speculate exactly what that means.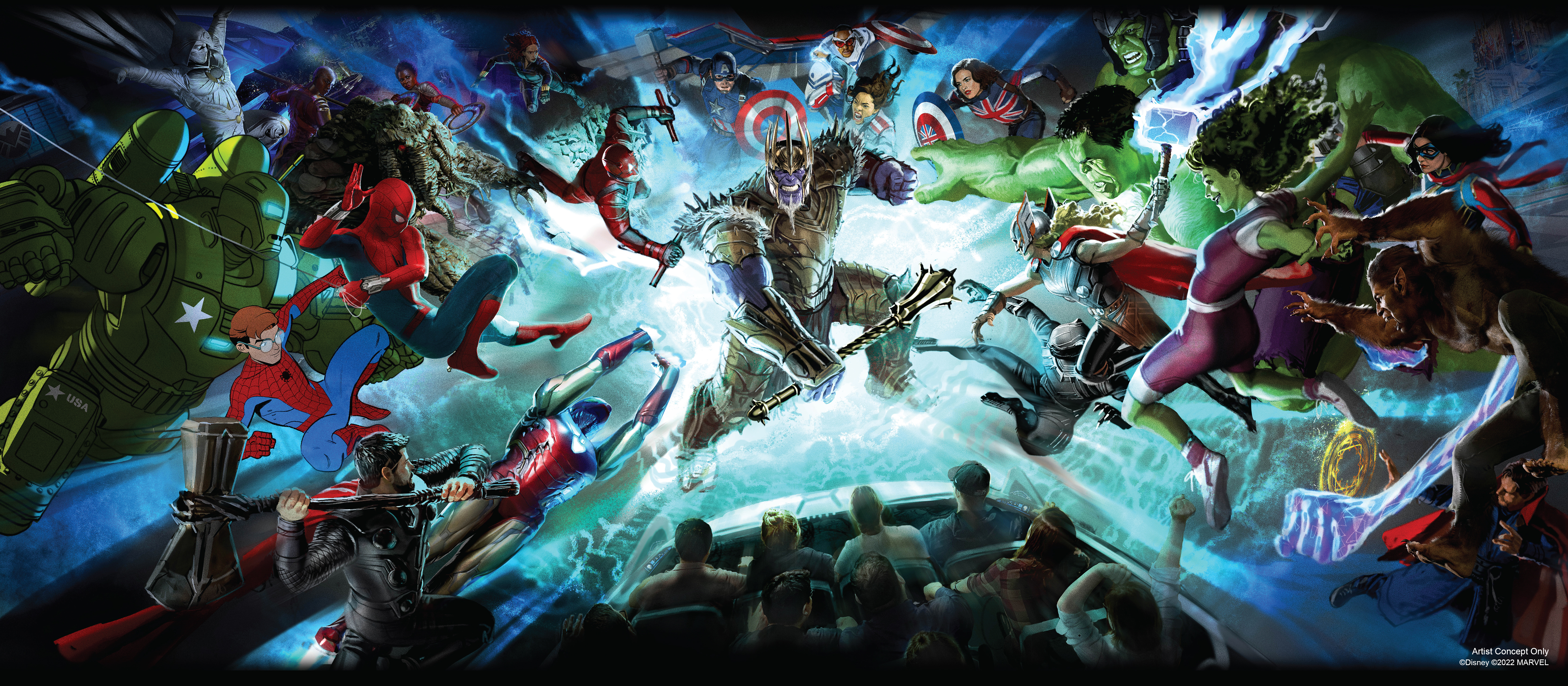 According to the information shared during last year's D23 Expo, this new attraction will take recruits into the multiverse to face off against King Thanos and many other villains he has brought together. In this corner of the multiverse, King Thanos won. In this battle there will be foes from anywhere and anytime. It promises to be a family-friendly adventure for guests visiting Avengers Campus at Disney California Adventure at the Disneyland Resort. At this point a specific opening timeline has not been revealed.
What do you think of this development for this new attraction for Avengers Campus? Are you looking forward to experiencing it? Share your thoughts and opinions in the comments below!