The Disney Treasure will begin taking guests on magical adventures in December 2024. When it does, guests will get to cruise on 7-night Eastern Caribbean adventures from Port Canaveral, Florida. Today, the Disney Cruise Line revealed details about the sister ship to the Disney Wish. When the first cruise sails away on December 21, 2024, guests will get to experience stories from Disney, Pixar, Star Wars, and Marvel. Disney Cruise Line Castaway Club members will be able to begin booking their voyages on the Disney Treasure on September 12th. All guests will be able to start booking on September 20, 2023.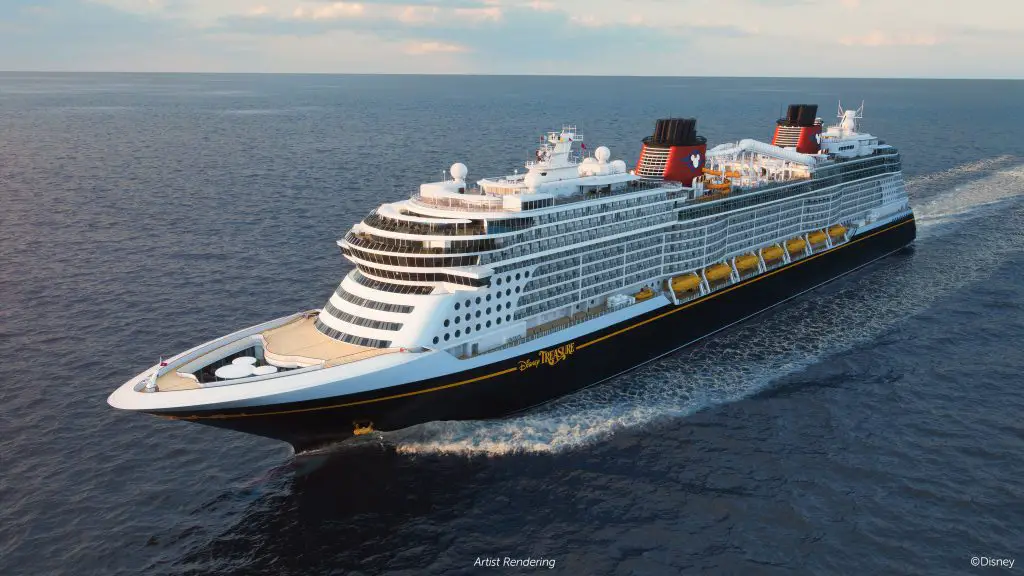 The Disney Treasure Inspiration
The inspiration for the Disney Treasure comes from multiple Disney stories and characters with adventure being the foundation for both the theme of the ship from an architectural standpoint and an experience standpoint. The newest Disney Cruise Line ship will honor Walt Disney's legendary passion for exploration and travel. When guests board the Disney Treasure, they will notice that there are some favorite spaces that are found on the sister ship Disney Wish, that are also infused with the theme of adventure and inspired by favorite Disney stories. This includes Aladdin, Coco, and Zootopia to name a few!
Entertainment
There will be plenty of entertainment options and opportunities found aboard the Disney Treasure. This ship will bring the world-class magical entertainment that Disney is known for as it immerses guests in worlds that are both real and imagined. There will be interactive storytelling to be experienced, characters to encounter, and even a new Broadway-style theatrical offering for guests to enjoy (details on this will be coming later).
Grand Hall
The Grand Hall is the ship's most prominent gathering space that will inspire both wonder and exploration during every voyage. It is here that guests will get to experience new entertainment that includes dedicated shows, character moments, and even musical performances. The Grand Hall, as has been announced before, is themed to Aladdin.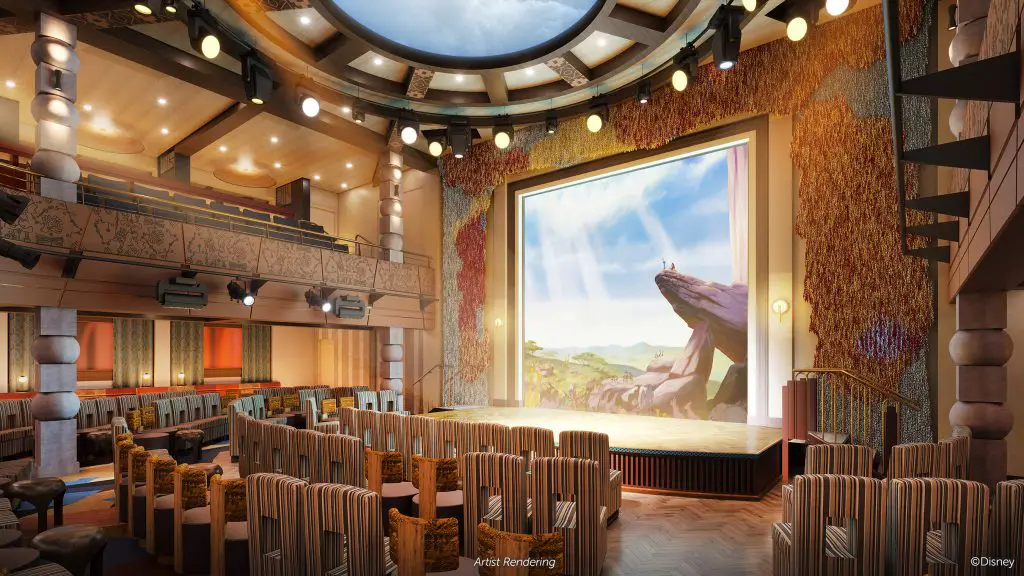 Sarabi
Sarabi is named after the lioness matriarch from Disney's The Lion King. It will be a central hub for several daytime activities and then adult-exclusive evening entertainment. This is a beautiful two-story space and Disney says that it will "evoke the natural beauty and openness of the savanna." Guests who head over to Sarabi can experience cruise line classics like "Match Your Mate" and "Family Time Game Show." There will also be the new favorite "Villains Game Night," which first appeared on the Disney Wish.
Walt Disney Theatre
The Walt Disney Theatre is an absolutely beautiful theater that will be brought to life with original Broadway-style productions that were developed exclusively for the Disney Cruise Line. This includes Beauty and the Beast and also Disney Seas the Adventure. Both of these are quite popular with adventurers cruising on the Disney Cruise Line. Beauty and the Beast brings this tale as old as time to the stage with moments that come from both the classic animated feature and the live-action film. Disney Seas the Adventure is an original musical that brings favorite Disney and Pixar characters and their stories to the stage with some favorite Disney songs. A third show has also been announced for the Disney Treasure. Details about this all-new show for the Disney Treasure are promised to be released in the near future.
Hero Zone and the Wonderland and Never Land Cinemas
Hero Zone and the Wonderland and Never Land Cinemas are two spaces that currently are found on the Disney Wish. They will also be making their way over to the Disney Treasure as well. Both of these spaces provide family entertainment for adventurers. Hero Zone will be offering a progressive sports and recreation location that will combine both action-packed physical challenges and game show-style competitions. Wonderland and Never Land Cinemas are intimate, luxe screening rooms. They promise to elevate the onboard cinematic experience for guests as they watch first-run films from Disney, Pixar, Marvel, Lucasfilm, and more!
Food & Beverages
There will be plenty of food and beverage options to be enjoyed aboard the Disney Treasure. There will be two popular Disney Cruise Line restaurant concepts from the Disney Wish making their way over to the Disney Treasure. There will also be a new family entertainment restaurant that will bring to life a favorite Pixar film around diners.
Plaza de Coco
Plaza de Coco will be a theatrical dining experience that is themed to Disney and Pixar's Coco. This will continue the story of Miguel and his familia from where it left off on screen. They will gather in Mariachi Plaza and take guests on two nights of colorful and music-filled journeys that will celebrate family memories and togetherness. This will include festive dinner menus that have modern twists on traditional Mexican food and an incredible lineup of live entertainment.
Worlds of Marvel
Marvel fans will love Worlds of Marvel. This is an immersive Marvel-themed dining experience. It celebrates favorite Avengers and stories that include an interaction with Spider-Man that promises to be amazing. This is a high-tech venue aboard the Disney Treasure and it will offer an incredible menu and special entertainment. There will be two separate nights with distinct shows and dining. The entire experience will be inspired by the Marvel Cinematic Universe.
1923
1923 is the year that the Walt Disney Animation Studios was founded, and is also the name of this fancier dining location aboard the Disney Treasure. It celebrates the impact of Disney animation and its legacy. This is done while bringing to life Walt Disney's love of adventure through a "nostalgic collection of exploration-themed artwork from both modern and classic animated films." This location celebrates Hollywood's golden age and has an upscale ambiance to compliment its sophisticated menu that is a fusion of the cultural flavors found throughout California. The menu was designed with families in mind, it should be noted.
The Disney Treasure continues Disney Cruise Line's family dining concept. Guests get to experience one of the three restaurants each night and are accompanied by a dedicated service team throughout the voyage. This adds a level of familiarity to the cruise and also the dining experience.
Along with the main family restaurants, there will also be other offerings for people looking for food and beverages. This includes quick bites, casual dining, 24-hour room service, specialty treats, gourmet cafes, and even upscale dining for adults. There will also be Jumbeaux's Sweets, which is inspired by the ice cream shop in Disney's Zootopia.
Upper Decks Offerings
The upper decks of the Disney Treasure will be a beautiful place to enjoy both the sky and the sea. It will also be a great place for adventure while experiencing the three districts that will offer fun water activities, quick and casual dining options, and space to relax and enjoy the sun.
One of the districts is themed to Mickey and Friends. There guests will find seven pools that are stagged on tiered decks. There are also plenty of luxe lounge chairs to enjoy and an imaginative take on fast-casual fare that has a fun character twist. The AquaMouse will also be found here.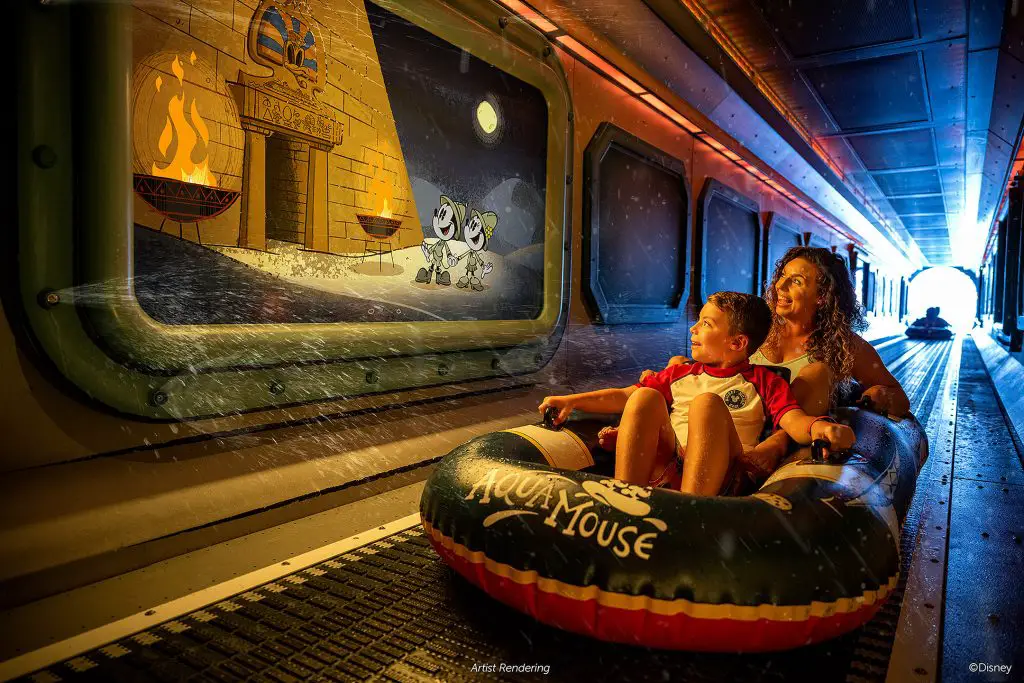 AquaMouse: Curse of the Golden Egg is the newest iteration of this attraction that lets guests splash their way into the world of the Mickey Mouse animated shorts. It is found above the upper decks and powerful water jets propel two-person rafts through 760 feet of twisting tubes. While experiencing a new Mickey Mouse and Minnie Mouse storyline, adventurers will also get some stunning views of both the ocean and the ship below. Adventurers will be going on a journey with Mickey and Minnie as they go on a tour of mysterious ruins for a glimpse of the legendary treasure within. Of course, along the way, some hilarious mishaps and booby traps show up as the trek goes on some surprising turns.
There is also a Toy Story-themed district that is designed for families with toddlers and young children. Just like on the Disney Wish, this district will include a splash zone, a wading pool, a family waterslide, and also a smoothie bar.
There is also the adults-only Quiet Cove. This is a wonderful area for adults to enjoy lounging, sipping, and soaking in the sun or in the pull. This area is found away from the family activities to create a quieter environment. It will include a luxurious infinity pool, poolside bar, and chic cafe.
Adult Experiences on the Disney Treasure
There are several places for adults to enjoy along on the Disney Treasure without the energy of younger adventurers. These adult-only experiences will give "elevated interpretations of Disney adventures and Disney Parks attractions." This will be done with sophisticated theming that ranges from subtle inspiration to completely immersive. This will allow guests to connect with the experiences that are most magical for them at a level of comfort that is best for each individual. Along with the Quiet Cove pool district mentioned above, there are also a variety of gourmet cafes, relaxed bars upscale lounges, and more along with the following locations.
Periscope Club
The Periscope Club will be inspired by 20,000 Leagues Under the Sea, the 1954 live-action Walt Disney film. This was turned into an attraction at Walt Disney World when the Magic Kingdom opened in 1971. This attraction remained open until 1994. There is also a walk-through attraction inspired by the film at Disneyland Paris in Discoveryland. This is a first-of-its-kind venue for the Disney Cruise Line that will allow guests to experience craft brews and light bites from the world under the sea, much like being aboard the Nautilus. This will include some incredible views through a glass ceiling.
Skipper Society
Fans of The World Famous Jungle Cruise will not want to miss the Skipper Society. It will transport guests into the jungle where an outpost that is inspired by this iconic attraction will serve themed cocktails and light snacks. This venue will have natural colorways and camp-style furnishings along with some fun tributes to the dry-witted skippers who guide guests on tours through treacherous waterways around the world. This promises to offer an elevated and playful atmosphere for guests who drop by.
There will also be returning fan-favorite, adult-exclusive dining locations found on the Disney Treasure. This will include incredible food and beverages at Palo Steakhouse, Enchanté by Chef Arnaud Lallement and The Rose, an upscale dining destination that is inspired by the animated Beauty and the Beast that is exclusively for adults.
Disney released the following descriptions of these restaurants:
The popular Palo Steakhouse will come to the Disney Treasure, combining the relaxed sophistication of authentic Italian dining with the classic refinement of a modern steakhouse in a genteel setting inspired by Cogsworth, the tale's majordomo-turned-enchanted-clock.
Enchanté will offer the most luxurious dining experience on board, featuring a gourmet menu crafted by three-Michelin-starred Chef Arnaud Lallement. This romantic and intimate venue will evoke the dazzling spirit of the film's candelabra maître d', Lumiere.
The Rose will be a chic lounge at the entrance of Palo Steakhouse and Enchanté. Inspired by the fateful flower at the heart of the story, The Rose will be an idyllic setting for a pre-dinner aperitif or after-dinner cocktail.
These restaurants are quite popular with adult Disney Cruise Line cruisers and promise to offer incredible experiences aboard the Disney Treasure as well.
Senses Spa and Senses Fitness
For those who want to really get spoiled, the Senses Spa will be a place to be. This includes spa and beauty treatments that draw on the serenity of natural elements to promote pampering and relaxation for its guests. This spa will include private treatment rooms, spa villas, and steam and aromatherapy rooms. The reimagined Senses Fitness will offer state-of-the-art exercise and wellness facilities.
Disney Treasure Experiences For Kids
The Disney Treasure is packed full of experiences for kids to enjoy while on the seven-night cruise. This gives kids of all ages the chance to go on adventures that are tailored specifically to them. Whether it is infants and toddlers, children, tweens and teens, there is something to found for each age group.
Disney's Oceaneer Club, Edge, Vibe and It's a Small World Nursery
In Disney's Oceaneer Club, kids will get to enter and experience worlds from favorite Disney stories. This is a magical place that has immersive spaces that are designed to encourage both exploration and discovery. Disney has developed programming that is a combination of physical play and age-appropriate technology. The results are engaging, enriching experiences for kids that are led by a team of Disney-trained counselors. It's like a Disney camp at sea as kids visit Disney's Oceaneer Club, Edge, Vibe and It's a Small World Nursery.
Disney released the following descriptions of destinations to be found for kids on the Disney Treasure:
Marvel Super Hero Academy is a high-tech Avengers headquarters where young "recruits" will train to be the next generation of Super Heroes with the help of their own heroes, like Spider-Man, Black Panther and Ant-Man.
Fairytale Hall is a royal collection of activity rooms where princesses and princes will let their creativity shine at Rapunzel's Art Studio, read and act out stories at Belle's Library and more.
At Walt Disney Imagineering Lab, kids will discover the secrets of world-renowned Disney Imagineers — the creative masterminds behind Disney theme parks, resorts and cruise ships — with hands-on activities and inventive experiments.
At Star Wars: Cargo Bay, the peculiar creatures and legendary characters from a galaxy far, far away take center stage immersing kids in their own Star Wars story as they take on the role of creature handlers and learn to manage a mischievous menagerie of exotic beings.
Mickey and Minnie Captain's Deck is a nautical playground inspired by the colors, icons and magic of Disney Cruise Line. Little cadets will set sail on a fun-filled adventure with an array of maritime-themed physical and sensory-style games and activities.
As can be seen above, there is something for every kid and every fandom on the Disney Treasure.
Disney Treasure Accommodations
The accommodations aboard the Disney Treasure look to be absolutely beautiful. These luxurious spaces promise to balance modern design and classic charm. There will also be a new color scheme and artwork that take guests into the worlds of Disney adventures.
Staterooms
Family is the focus of how the staterooms are being built on the Disney Treasure. Most of the staterooms will feature the Disney Cruise Line's signature split-bath concept. Many will also offer a connecting door to adjoining staterooms for larger families or groups who are cruising together. There are 451 connecting doors found on the ship. There are 1,256 staterooms on the Disney Treasure, most of which offer an ocean view. 877 of these staterooms also have a verandah. That is 70% of the staterooms!
Concierge
The concierge experience on the Disney Treasure will offer an elevated experience of luxury and a premium level of dedicated service. The concierge-level staterooms and suites will give guests another level of adventure and indulgence. There will be an exclusive concierge lounge that includes a private sun deck. This is a great place to relax, sip a cocktail, and enjoy a variety of complimentary food and beverages throughout the day. The concierge-level suites on the Disney Treasure will be inspired by the beautiful grasslands that were seen in the Disney-animated classic The Lion King.
Royal Suites
There are also four royal suites aboard the Disney Treasure. These adventure-inspired accommodations pay tribute to some favorite feline friends of Disney characters. These are incredibly upscale two-story suites that include:
Bagheera Royal Suites – inspired by the noble panther Bagheera from The Jungle Book and the lush forest that is his home.
Rajah Royal Suits – inspired by Rajah, Princess Jasmine's tiger who lives with her in the royal palace in Agrabah in Disney's Aladdin.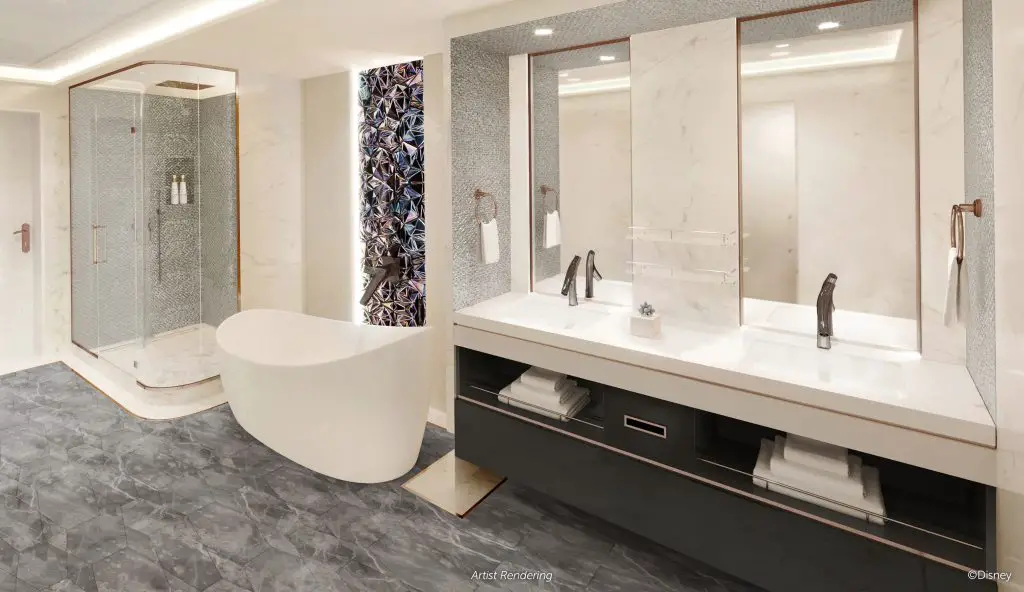 Tomorrow Tower Suite
The Tomorrow Tower Suite is inspired by EPCOT and its vision for tomorrow and the adventure that comes with exploration. It also is the most luxurious suite to be found aboard the Disney Treasure. This multi-storied suite is built into one what looks like a smoke stack. This accommodation is all about the wonder of EPCOT and all the possibilities of tomorrow.
Disney Treasure Construction
The construction of the Disney Treasure is happening at the Disney Treasure Construction. This is the same place where the Disney Wish was also built. Also like the Disney Wish, the Disney Treasure will be powered by liquefied natural gas. This is one of many ways that the Disney Cruise Line is using innovation to create a more environmentally friendly cruise ship and experience. The Disney Treasure will be larger than its predecessors the Disney Dream and Disney Fantasy. The Disney Treasure will be approximately 144,000 gross tons.
Booking a Cruise on the Disney Treasure
The first cruise for the Disney Treasure will be on December 21, 2024. Bookings will be available for Disney Cruise Line Castaway Club members starting September 12th. Anyone else who wishes to cruise aboard the Disney Treasure may book their cruise starting on September 20th. This can be done through Mouseways Travel, the official travel partner of Daps Magic.