In Indiana Jones and the Dial of Destiny, Indy is off on his final adventure for the franchise. The film doesn't start with the final adventure, however. It begins with Indiana Jones fighting against Nazi's during World War II. This is the Indiana Jones that people know and love. An Indiana Jones who is in his prime and chomping at the bit for adventure. Following this adventure, the film fast forwards to 1969. Indiana Jones is no longer in his prime. In fact, he is a college professor in New York on the cusp of retirement. Life hasn't been kind to Indy and it shows. Things begin to change, however, when his god daughter Helena shows up to recruit him for one more adventure. In Indiana Jones and the Dial of Destiny, Indiana Jones returns to go on one last adventure, chase the bad guys, and wrap up the franchise in a satisfying way.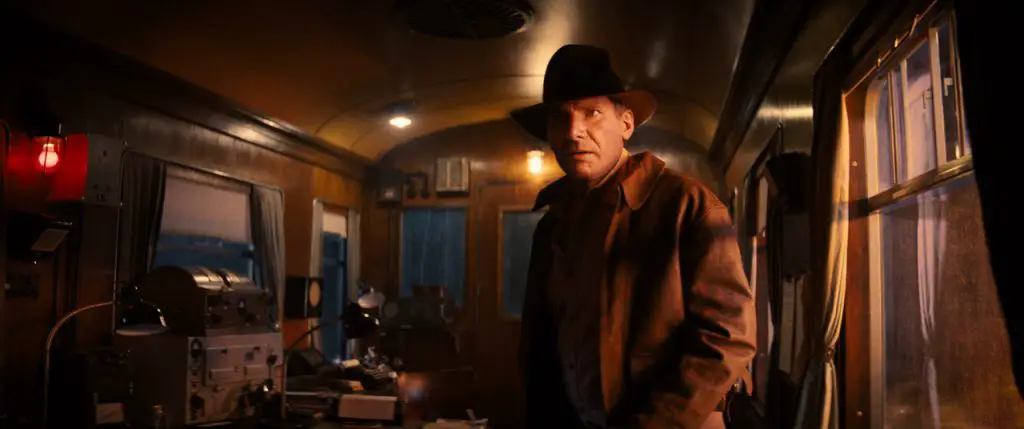 Quality
Indiana Jones and the Dial of Destiny looks and sounds really great on my home entertainment system. My only complaint is that my screen isn't bigger (and it already is pretty big). The film looks wonderful and is a pleasure to watch. I like that many locations around the world were used during the filming of this movie. I also like the practical effects. Yes, there are some digital effects but they don't go over the top with them. The most impressive is the de-aging of Indiana Jones which works remarkably well. There are a few things I could nitpick about throughout the film but, overall, it is a joy to watch. The audio effects were equally solid. One thing that I noted is that it both looks and sounds like an Indiana Jones film. There is a certain gritty feel that Indiana Jones movies often have. This is found in this film. The sound effects are also a bit over the top for punches and what not, which also add to making it fit in with the rest of the franchise. The whole thing sounded really nice in my entertainment room. I will enjoy watching this multiple times.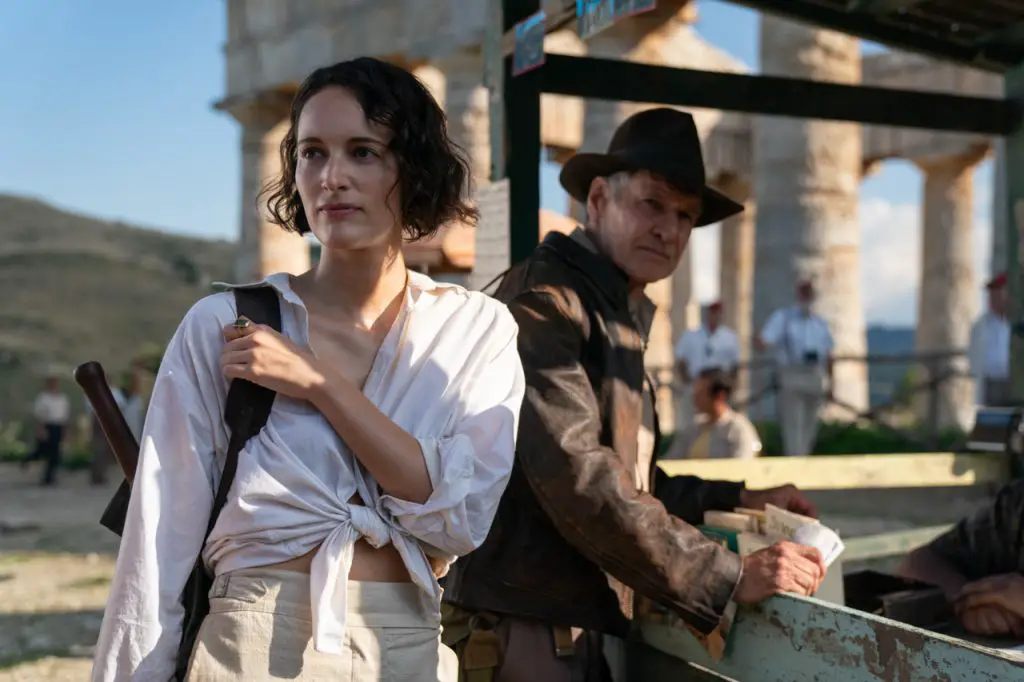 Extras
I really enjoyed the extras that were included with Indiana Jones and the Dial of Destiny. They are basically a making of the film that works through the film as it is seen. There are no bloopers included. There are no featurettes that go into specific characters or elements of the film. However, the bonus features that ARE included I very much enjoyed. I sat down and watched them all in one sitting. It took just under an hour. Honestly, this is how I would suggest doing this. Here is what is included in terms of bonus features for the film:
Bonus Features*

The Making of Indiana Jones and The Dial of Destiny
Chapter 1 – Prologue – Harrison Ford leaps back into action as Indiana Jones! Journey to 1944 as this featurette reveals the filmmakers, characters, stunts, locations, and incredible visual effects that make up the thrilling opening of Dial of Destiny!
Chapter 2 – New York – Blast off to adventure as James Mangold showcases the re-creation of 1969 Manhattan for the Moon Parade chase. This featurette spotlights Helena (Phoebe Waller-Bridge) as John Williams conducts his beautiful new theme for this compelling character.
Chapter 3 – Morocco – The man in the hat is back! Explore Morocco as this featurette breaks down the white-knuckle stunts of the medina tuk-tuk chase and hotel brawl. Meet Teddy (Ethann Isidore), Indy's precocious new ally in the hunt for the dial!
Chapter 4 – Sicily – Meet Renaldo (Antonio Banderas) as he guides our heroes on a perilous underwater treasure hunt! Catch up with Harrison Ford and Phoebe Waller-Bridge on location in Sicily and explore the caverns, traps, and bugs surrounding Archimedes' tomb!
Chapter 5 – Finale – This featurette breaks down the thrilling climax to the Indiana Jones series. Cast and filmmakers James Mangold, Kathleen Kennedy, Frank Marshall, John Williams, Steven Spielberg, and Harrison Ford bid farewell to one of the greatest heroes of all time.
*Bonus features vary by product and retailer
I do hope that a future physical release of this movie will include even more bonus features. In particular I'd like a featurette on the legacy of Indiana Jones, several on individual characters from the franchise, one that focuses on the score and recording it with John Williams, and finally one with the filmmakers (Steven Spielberg and James Mangold).
Final Thoughts
Indiana Jones and the Dial of Destiny really is an enjoyable movie to watch. I found myself pleasantly surprised each time I watched it at how much I enjoyed it. I think the entire team did a great job of creating an Indiana Jones film that doesn't try to hide form the subject of age and time. Instead of trying to make a film that dodged the issue, the filmmakers dove head first into the issue. I think they did it in a smart and effective way that continues to move the story of Dr. Jones forward. It also has a great cast of characters supporting Harrison Ford's Indiana Jones. In many ways, this is one of the better casts in the franchise. While it is sad to know that this was the last movie in the Indiana Jones franchise, I'm glad that they ended it with a movie that is as satsifying to watch. I take my hat off to this film (mine is a trilby and not a fedora, sorry Indy!) and look forward to watching it and its bonus features again!
Indiana Jones and the Dial of Destiny is now available on Digital.
Mr. DAPs Hat Rating Scale
No Hat – Didn't meet expectations
Hat Nod – It was ok
Hat Tip – It was good
Hat's Off – Loved it!
<i>Daps Magic received a sample product or experience for this review in exchange for an honest review. The views of the reviewer are wholly their own. Read full disclosure policy at dapsmagic.com/disclosurepolicy.</i>