The Global Dream has been officially transferred to MV Werften and begun its tranformation to a Disney Cruise Line ship. The ship was purchased last year by for 40 million euros ($41 million). Upon the time of purchase, it was reportedly 75% complete. "Our cruise ships give us the unique opportunity to bring Disney magic to fans no matter where they are, and the addition of this ship will make a Disney Cruise Line vacation accessible to more families than ever before," said Josh D'Amaro, chairman, Disney Parks, Experiences and Products said at the time of the purchase.
Book your next Disney Cruise Line adventure through Mouseways Travel, the official travel partner of Daps Magic!
This last week MV Werften administrator Christoph Morgen handed a symbolic key to the yard to Meyer Managing Director Bernard Meyer. Following this symbolic moment, the ship could begin its transformation and then join the Disney Cruise Line fleet. When finished, this ship will carry around approximately 6,000 passengers and have 2,300 crew. The ship is expected to be powered by green methanol, making it one of the first to do so.
The ship will be completed at the Wismar shipyard by Meyer Werft, where it had been under construction prior to MV Werften going under. The shipyard also went into insolvency at the time. The shipyard was then sold to ThyssenKrupp MarineSystems, a submarine builder, who will take over the property in 2025. This ship is expected to be the final cruise ship to be built at the property.
Since the ship was purchased by Disney late last year, not a lot had been seen happening on its progress. Disney announced that it is supposed to be completed by 2025 and will be based in Singapore. "We are incredibly excited to make Singapore the home port to our seventh-launched ship, which will sail from here year-round starting in 2025," D'Amaro said.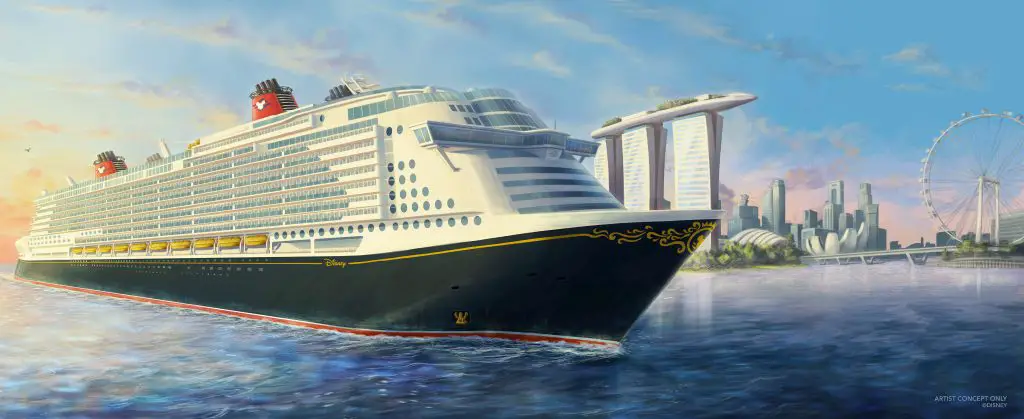 Things had begun to start looking like they were moving forward in the last month, however. Morgen shared in July that work would be underway soon. At this point, it sounds like there are about 400 workers that have been employed to work on the ship.
Specifics about the final offerings on the ship remain to be released by Disney. Earlier today, it announced that the official reveal of the Disney Treasure on August 30. Some eagle-eyed watchers did get a brief look at the Global Dream in July. For a time the dock was open and allowed for a look at the ship. The dark blue livery that the Disney Cruise Line fleet sports could be seen on the ship.
What do you think of the transformation of the Global Dream? Are you excited to see this ship completed? Share your thoughts and opinions in the comments below!