Jump to recipe
July 16 is National Cherry Day and ahead of this day, Disney has shared the recipe for a cookie from Disney's Riviera Resort that just so happens to have cherries in it! The Riviera Signature Cookie has dried cherries, emi-sweet chocolate, oats, molasses, walnuts, and pistachios. It can be found at Primo Piatto at Disney's Riviera Resort. Anyone who has had this delicious cookie will tell you that it is a wonderful cookie that has wonderful flavors and textures.
The full recipe for the Riviera Signature Cookie can be read below. Check it out and then share how your cookies turned out in the comments below! Happy baking!
GEEK EATS: Riviera Signature Cookie Recipe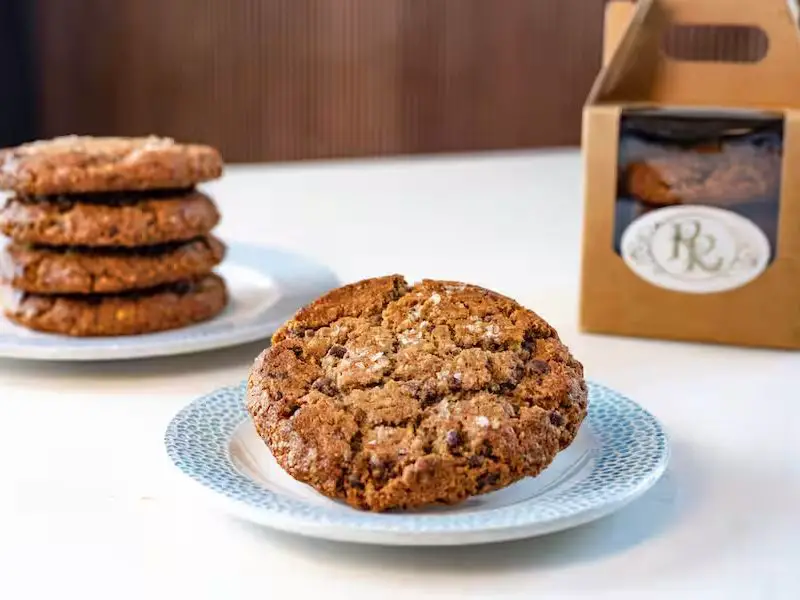 Notes
Cook's Note: For a thinner, crispier cookie, preheat oven to 375°F and bake for 7 minutes. Reduce heat to 350° and bake 3 additional minutes.

Ingredients
2 cups all-purpose flour
1 teaspoon coarse salt
3/4 teaspoon baking soda
1/2 teaspoon baking powder
2 1/4 cup oats, ground
3/4 cup mini semi-sweet chocolate chips, ground
1 cup unsalted butter, at room temperature
1 1/4 cups brown sugar, packed
1 cup sugar
1 tablespoon molasses
2 eggs
1 teaspoon vanilla extract
1 cup walnuts, finely chopped
1 1/4 cup pistachios, finely chopped
1 1/4 cup dried cherries, finely chopped
1 1/4 cup mini semi-sweet chocolate chips
Sea salt flakes, to taste
Instructions
Preheat oven to 350°F. Line a baking sheet with a silicone baking mat or
parchment paper; set aside.
Sift flour, salt, baking soda, and baking powder in a large mixing bowl
Stir in ground oats and ground chocolate chips; set aside.
Cream butter, both sugars, and molasses in the bowl of an electric mixer
fitted with a paddle attachment until fluffy.
Add eggs, one at a time, and beat on low speed until fully incorporated.
Add vanilla and beat, scraping the bowl as needed, for 1 minute.
Add 1/3 of flour mixture and beat on low speed until just mixed. Continue
with remaining flour. Add walnuts, pistachios, dried cherries, and mini
chocolate chips and mix on low speed until fully incorporated into dough.
Place six (1/4 cup) balls of dough on baking sheet. Flatten slightly and
top with desired amount of sea salt flakes.
Bake for 12 minutes. Cool for 2 minutes before moving to wire racks.
Repeat with remaining dough.
© 2023 dapsmagic.com