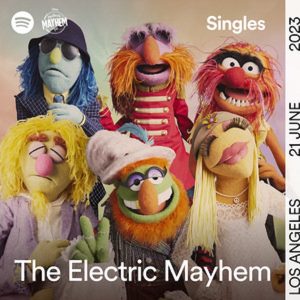 The Electric Mayhem are releasing a new Spotify Single and to do though they stopped by Spotify Studios. There, they recorded an acoustic version of Rock On, the theme song from their new series on Disney+, The Muppets Mayhem. As so often happens with the Mayhem, they get a bit distracted along the way. Check out what happens in the video here:
The new single can be heard on Spotify or in the player below.
The Muppets Mayhem is now streaming on Disney+ and shows The Electric Mayhem making its first album after being on the road for decades. Along with making a series for Disney+, the band also released an album on vinyl and also streaming services.
The Electric Mayhem's album may be purchased here.
The Electric Mayhem first appeared on The Muppet Show in 1975. Since then, the band has appeared in films, concerts, also on the internet.
What do you think of their new Spotify Single? What do you think of The Muppets Mayhem? Have you watched it on Disney+ yet? Share your thoughts and opinions in the comments below!
This post contains affiliate links that help support Daps Magic.