The Knott's Berry Farm Hotel has been undergoing a substantial transformation and will soon be debuting as the Knott's Hotel. The hotel has been undergoing a multi-million-dollar renovation and the new name will honor the park's founders, Walter and Cordelia Knott. Once completed, the Knott's Hotel will be offering a "new expression of the ingenuity and hospitality for which the Knott family has always been known," Knott's revealed today.
The Knott's Hotel has 322 guest rooms that will give guests a stylish, country guest house feel that aims to reflect the founders' charm and laid-back warmth. Each of the rooms will be transformed and include details and accents to embody an upscale farmhouse style. There will also be updated family-sized rooms that will easily accommodate up to six guests and included additional amenities like a kitchenette.
"The renovation is a transformative endeavor for our property and reflects our commitment to offering the current spaces, amenities and services that locals, visitors and guests are looking for," said Don Prescott, the hotel's general manager. "Our goal is to create a truly immersive, eclectic environment that makes guests feel at home while showcasing the uniqueness that can only be found at Knott's."
Knott's Hotel will also be a great place for special events. There will be programmable meeting rooms with the latest technology and the ballrooms on the ninth floor will allow for beautiful views of the skyline and also Knott's Berry Farm itself.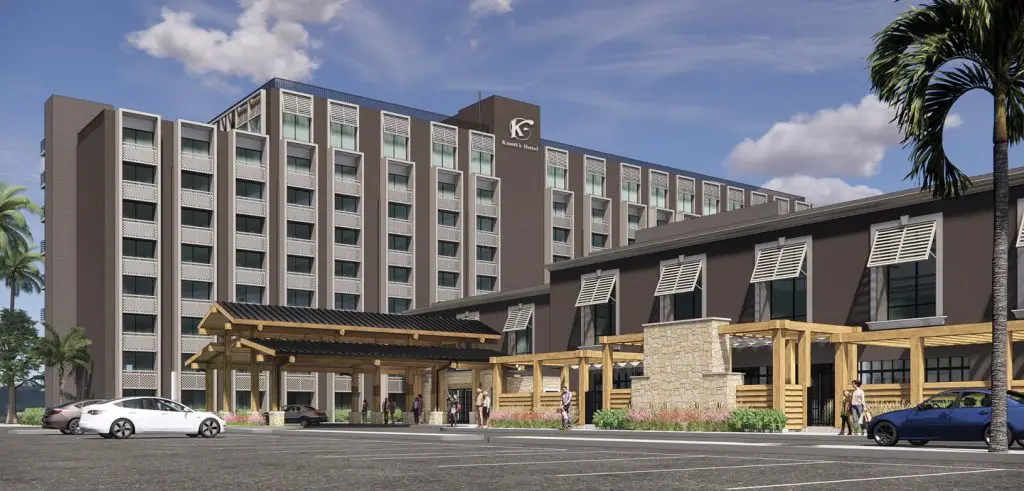 Along with the transformed rooms, meeting spaces, and ballrooms, there will also be a new craftsman-designed outdoor courtyard that will include a rustic timber-frame structure. Knott's shared that this is a nod to Walter Knott's "sense of beauty in reclaimed wood, adobe brickwork and Mexican artisan style." Cordelia will also be honored throughout the beautification of the outdoor space which will include giant fruitless olive trees and festoon lighting. This will create an atmosphere that will be lovely for evening cocktails and appetizers, private receptions, events, or small gatherings. Executive Chef Shannon Trafcewell carefully sources local ingredients to create multiple options for catered menus. This creates the opportunity for the event space to be something special for groups that are small to as large as 300 guests for a variety of gatherings.
The Thirty Acres Kitchen and Bar will also offer guests the opportunity to experience a modern version of the culinary farm experience. The name is a look back at the original 30 acres that was the Knott's farm. It will include a double-sided, wrap-around bar that extends all the way into the lobby. This 300-degree bar will serve locally inspired craft cocktails and also small plates. The full-service restaurant menu will be full of unique twists on classic American fare. The kitchen is an open concept that will showcase Cordelia's recipes on a chalkboard as well as a subway tile mural replica of Paul von Klieben's painting depicting the early years of Knott's Berry Farm life. Paul von Klieben was a staff member and key park employee in the 1940s. This new restaurant will complement the nearby Mrs. Knott's Fried Chicken Restaurant at Knott's Marketplace, where the legendary fried chicken that started it all in 1934 is served.
The new Knott's Hotel will also include a beautifully reimagined hotel lobby. This will welcome guests into the hotel with "warm, rustic textures and decor, including a guest registration wall made of oversized replicas of the farm's first boysenberry jam jars, filled with fresh flowers and seasonal displays." There will be plenty of seating with comfortable chairs to enjoy lounging in the lobby and enjoy the new grand lantern chandelier which is made of salvaged glass.
For a coffee fix, the Pantry will be servicing Starbucks coffee, quick snacks, pastries, and other grab-n-go options. Next door, Berry Place is the gift shop that will offer sundries, wearables, sodas, and snacks. There will also be a fitness center at the hotel and an outdoor pool that features a renovated pool deck and also a kids splash area.
The hotel will remain open throughout the renovation. More information about it can be found by visiting KnottsHotel.com.
What do you think of this newly transformed Knott's Hotel? Are you excited to stay there? Share your thoughts and opinions in the comments below!