Anyone who has passed by Disney's Paradise Pier Hotel which is being transformed into the Pixar Place has seen that there is a lot of change happening at the Disneyland Resort hotel. As the transformation continues to progress, the Disneyland Resort has released some new concept art and details about the future Pixar Place Hotel. This gives a preview of what this 15-story high-rise hotel will look like when it is completed.
The Lobby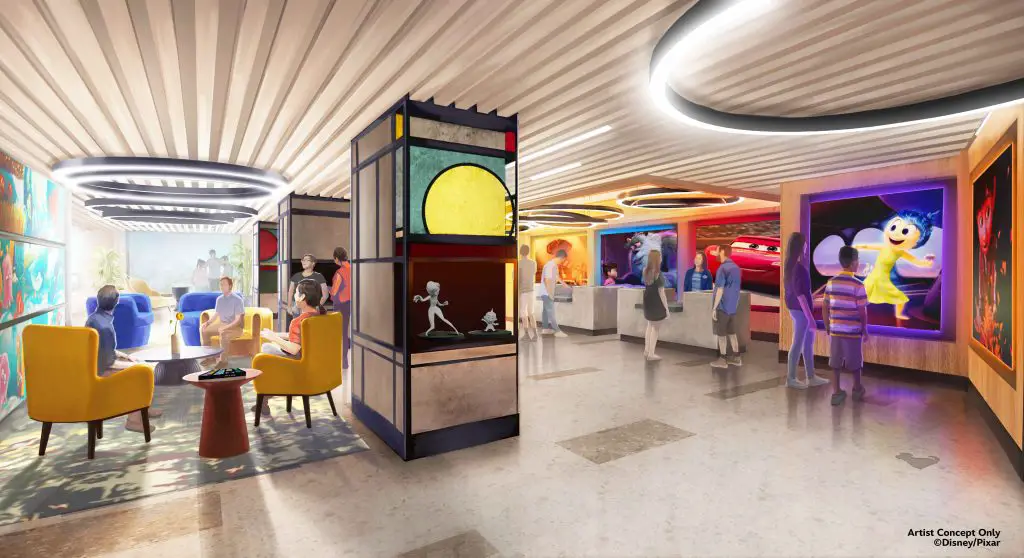 Work is continuing in the lobby of the hotel and guests will notice that the transformation will soon see favorite Pixar imagery blending together with the hotel's contemporary setting. Once complete, there will be iconic images from favorite Pixar films at the front desk. There will also be pictures of characters that are larger than life also found in curated artwork.
Fast forward to this winter and guests entering the lobby will be greeted by the iconic Pixar Lamp who will be playfully balancing atop the also iconic Pixar ball. This will be accompanied by a "whimsical, colorful characters-inspired mobile" that will hang from above. The final transformation of the lobby will see guests welcomed to the Pixar Place Hotel in a very happy and whimsical environment that is reminiscent of Pixar.
Finding Nemo Waterplay Area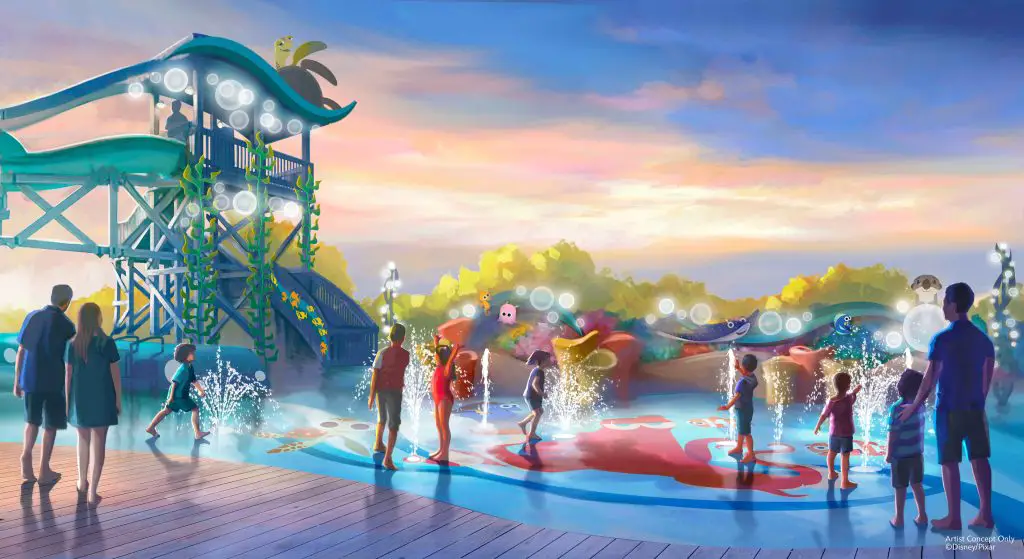 Coming later this summer will be a new water play area that is inspired by Finding Nemo. This will give families the chance to splish and splash next to their favorite first and his friends. Crush the sea turtle will also be found atop a 186-foot-long waterslide. Hank will also be hanging out at the pop-jet splash pad. Other magical experiences will also be found in the area.
Family Play Court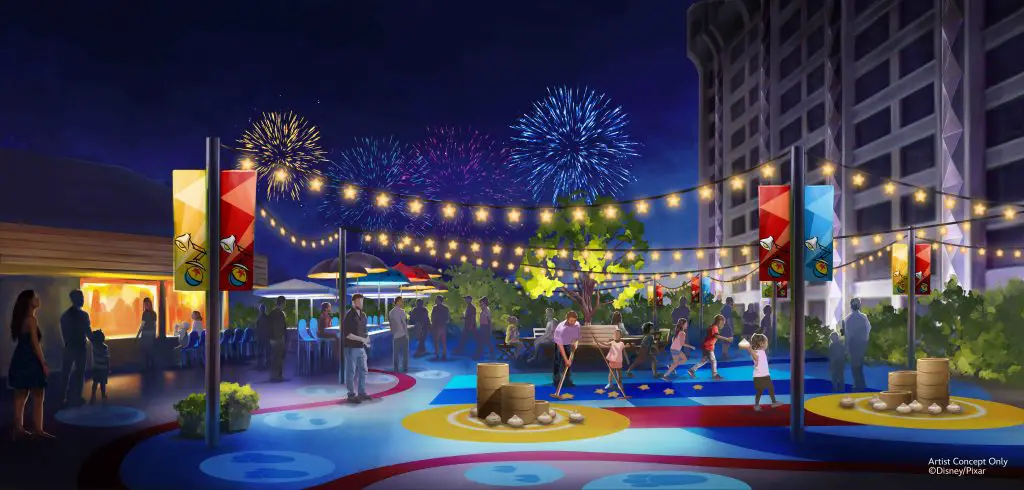 A family play court will be added to the deck later this year. It will be full of activities inspired by Pixar's short films. This includes interactive games and imaginative free-play areas that celebrate favorite Pixar friends from La Luna, Bao, For the Birds and Burro. There will also be umbrellas inspired by the love-struck umbrellas from The Blue Umbrella for guests to enjoy food and drinks under as well. In the evenings, the pool deck is a perfect place to enjoy the fireworks from Disneyland as guests lounge by characters-inspired firepits together.
Great Maple Restaurant
This fall the Great Maple restaurant will be opening at the hotel. This is a Southern California-based modern American eatery that specializes in playful takes on upscale comfort food. When it opens, this restaurant will serve breakfast, lunch, and dinner to hotel guests, locals, and theme park goers.
Great Maple will serve its signature Buttermilk Fried Chicken & Maple Bacon Doughnuts, the Cajun Shrimp & Cheddar Biscuit Benedict, and the Soda Pop-Braised Baby Back Ribs. There will also be a full bar that includes beer, wine, and cocktails at Great Maple.
The hotel will be offering both food and beverage from Great Maple in multiple different locations including the pool, a grab 'n' go coffee shop and café near the lobby, and also eventually at the new concierge lounge at the hotel.
While the transformation continues, overnight guests will be able to enjoy the benefits of staying at a Disneyland Resort hotel. This includes early entry (with valid admission and reservation), the special entrance to Disney California Adventure, and other perks that come with being so close to the Disneyland Resort parks and Downtown Disney District.
What do you think of the concept art and details that were shared about the future Pixar Place Hotel today? What are you most excited about? Share your thoughts and opinions in the comments below!
If you are planning on visiting the Disneyland Resort, book your next stay through Mouseways Travel, the official travel partner of Daps Magic!