The Disneyland Resort has announced that the final day for guests to experience Splash Mountain will be on May 30, 2023. The following day, the attraction will be closed as it begins its transformation to become Tiana's Bayou Adventure. Disney has announced more elements that will be a part of this attraction when it reopens with its new story. One of the elements will be the addition of Mama Odie. However, that's not all!
Concept art was released by Disney showing Mama Odie helping make this attraction even more enchanting with her magic, just like she did in The Princess and the Frog. The concept art shows Mama Odie joking with guests on their journey after showing off her magic. Jenifer Lewis, who voiced Mama Odie in the movie will be returning to voice the character in the attraction. Disney shared the following about Mama Odie:
The two-hundred-year-old Bayou Fairy Godmother, with her eccentric belongings and "seeing eye snake," Juju, is comically eccentric, yet wise and all-knowing, throughout the adventure. We're so delighted that legendary actress Jenifer Lewis, who starred as the voice of Mama Odie in Walt Disney Animation Studios' "The Princess and the Frog," is once again returning to her role for the attraction.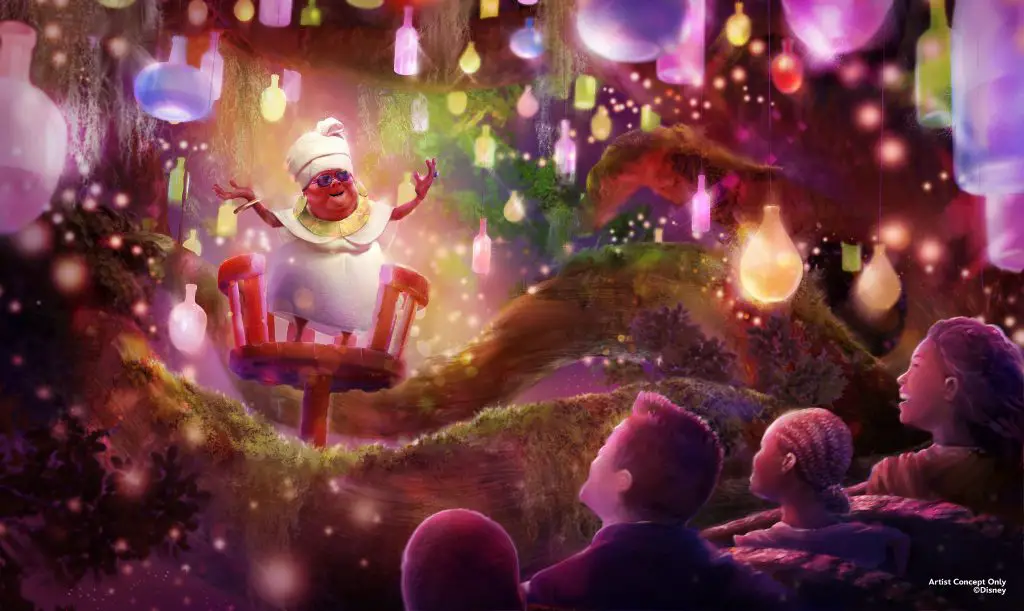 Along with details about Mama Odie coming to the attraction at both Disneyland and Walt Disney World Resorts, Disney also shared some other fun things to look forward to when it opens in 2024:
Brand-new cast of original Disney characters with distinct names and personalities
Dozens of entirely new Audio-Animatronics figures
Adorable critters with incredible talent, bringing the diverse flavors of musical gumbo found in New Orleans!
New, original music alongside favorite tunes from the film
Do you love beignets as much as Louis? Well, you're in luck because the alluring scent of beignets being prepared for the party will be part of the attraction queue!
Additional talent voices from the film reprising their roles, including Bruno Campos as Prince Naveen, Michael Leon Wooley as Louis, and the one and only Anika Noni Rose as Princess Tiana
Familiar faces from the film such as Princess Tiana, Prince Naveen, Mama Odie, Louis, Eudora, Charlotte, "Big Daddy," the King and Queen of Maldonia and Prince Ralphie
When it opens in 2024, Tiana's Bayou Adventure will continue to build on the story of Princess Tiana. It will also continue the themes that Princess Tiana shares that we all have the power to make our dreams come true inside of us.
What do you think about these updates about Tiana's Bayou Adventure? What are you most excited about with this attraction? Share your thoughts and opinions in the comments below!