Disneyland After Dark: Throwback Nite is almost upon us. On April 18 and 20th, this hard ticketed event will allow party goers the change to take a blast to the past at Disneyland. This will include characters from the pasts, food from the past, and the return of the classic firework spectacular Fantasy in the Sky lighting up the night above Sleeping Beauty Castle.
The event officially begins at 9:00 PM. Those attending the party will be able to enter ahead of the party for a mixer starting at 6:00 PM. Tickets are currently still available and are $129 for April 18 and $145 for April 20. Parking is not included in the ticket prices. Tickets can be purchased on the Disneyland website.
Ahead of Disneyland After Dark: Throwback Nite, it is always a good idea to come up with a plan that takes into account the priorities of each individual for the night. Below is the guide for the night to help attendees plan ahead and get the most out of their Disneyland After Dark: Throwback Nite experience.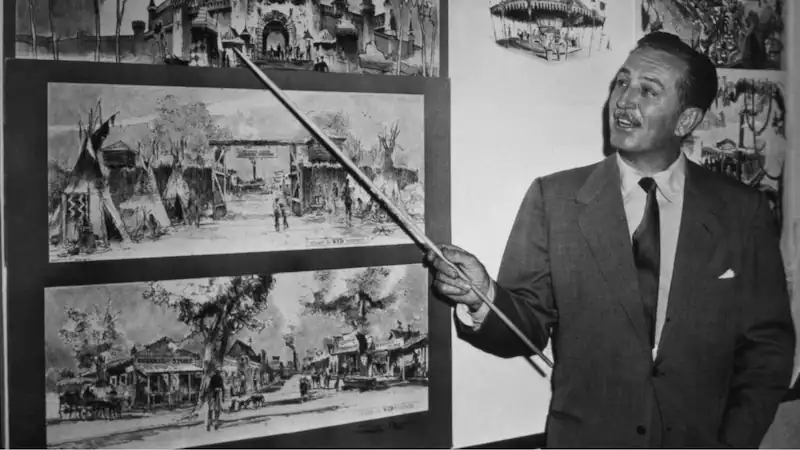 Disneyland After Dark: Throwback Nite Guide
Entertainment
Skies Above Disneyland
Fantasy in the Sky – 9:30 PM
Frontierland, Zocalo Park
Mariachi Spectacular – 9:00 PM, 10:15 PM, 11:15 PM, 12:15 AM
Fantasyland, Royal Theatre
Swing Dancing – 9:00 PM, 10:00 PM, 11:00 PM, 12:00 AM
Disney Characters
Main Street, USA
Mickey Mouse and Minnie Mouse
Fantasyland
Dumbo
Pinocchio & Friends
Cinderella & Friends
Aurora & Friends
Hyacinth Hippo and Mademoiselle Upanova from Disney's Fantasia
Alice & Friends
Frontierland
Critter Country
The Three Little Pigs and the Big Bad Wolf
Tomorrowland
Mother and Father from Walt Disney's Carousel of Progress
Tomorrowland Space Couple
Mr. Morrow from Flight to the Moon
Photo Opportunities
Main Street, USA
Walt Disney's Disneyland Park
Disneyland Marquee
Fantasyland
Frontierland
Rainbow Caverns Mine Train
New Orleans Square
Tomorrowland
Mighty Microscope
PeopleMover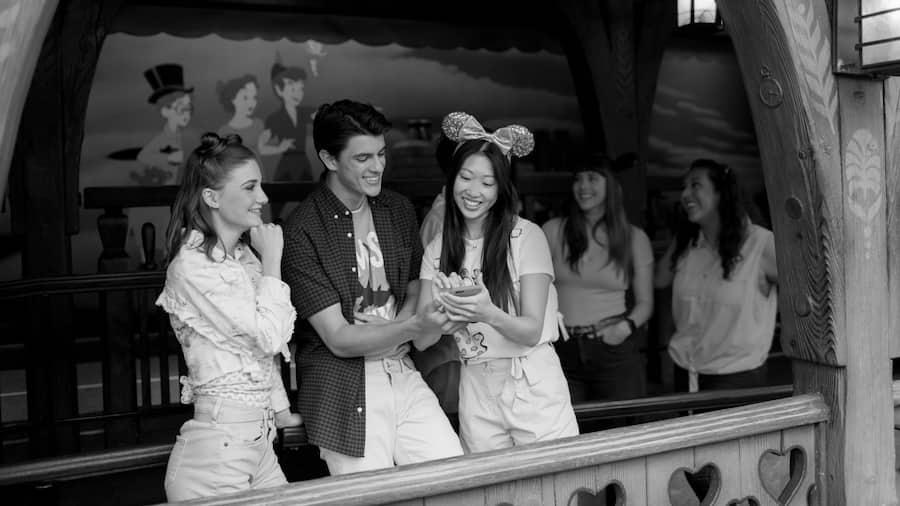 Disney Photopass
Smile – Take photos with Disney PhotoPass photographers
Link – Link photos in the Disneyland App

Select "Link PhotoPass Photos"
Then "Link PhotoPass Card"
Scan Disney PhotoPass card or even wristband

View – View, edit, and download Disney PhotoPass photos through the Disneyland App or at Disneyland.com/photopass
Special Event Merchandise
There will be limited special event merchandise that will be offered at specific locations during the Disneyland After Dark: Throwback Nite events. Each of these will be limited to 2 items per guest. Special svent merchandise can be found at the following locations:
The Star Trader
Disney Showcase
Emporium
Pioneer Mercantile
There will also be special Citizen watches at the event from 8:00 PM – 12:00 AM. There will be a brand ambassador on hand to give information and to help with sizing at the Emporium on Main Street, USA.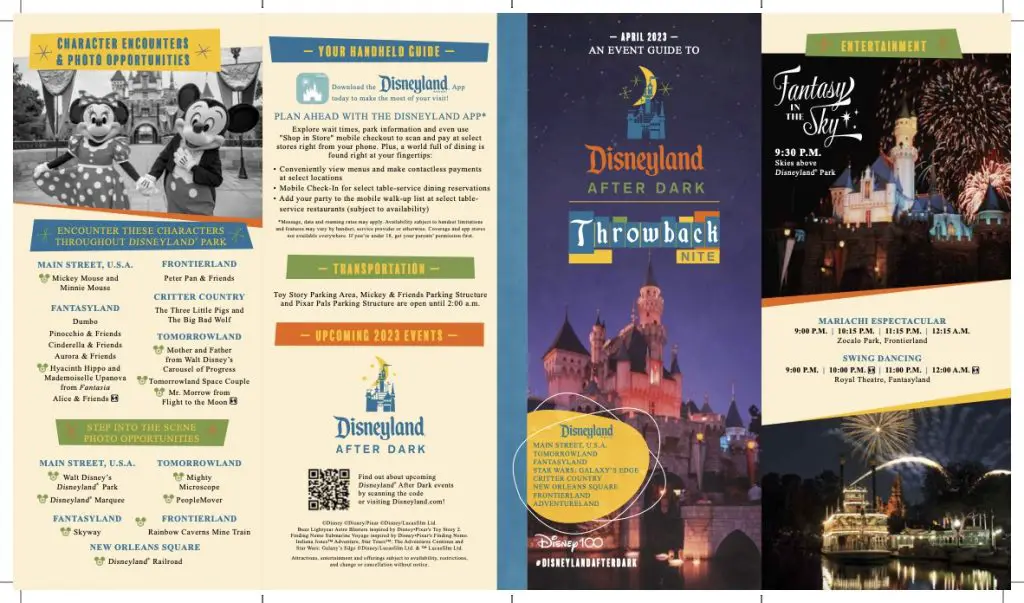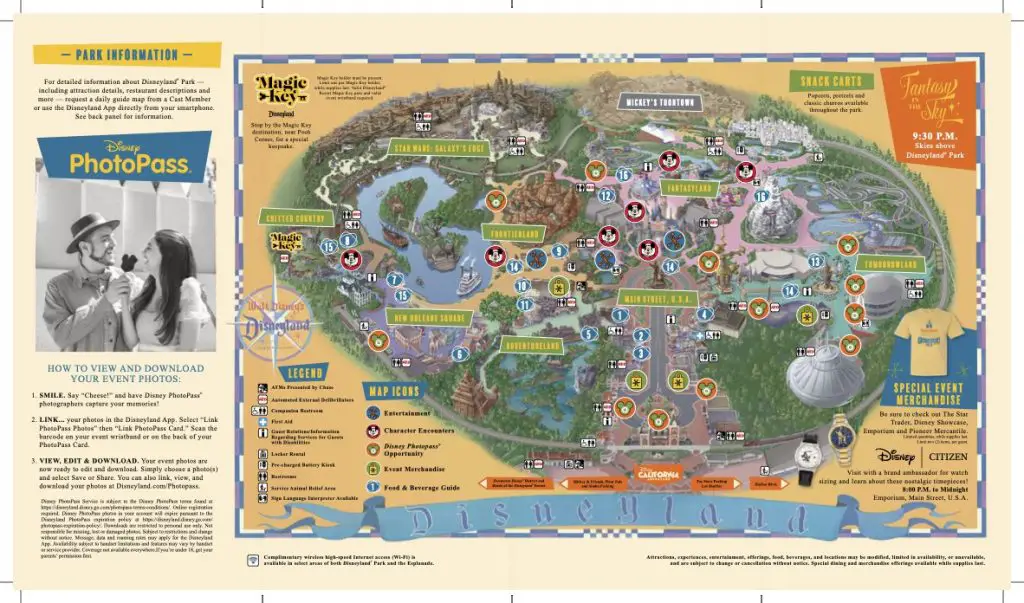 Disneyland After Dark: Throwback Nite – Food Guide

Main Street, USA
Jolly Holiday Bakery Cafe
Jelly-Filled Donut
Baked Pineapple & Ham Toasted Sandwich
Sundae Cupcake
Refreshment Corner Hosted by Coca-Cola
Circus Pretzel
Main Street Sunrise
Gibson Girl Ice Cream Parlor Hosted by Dryers
Plaza Inn
Home-style Meatloaf Dinner
Adventureland
The Tropical Hideaway
Tropical Punch DOLE Whip Float
New Orleans Square
Blue Bayou Restaurant
Monte Cristo Fritters
Empenadas
Cubano Slider
Escabeche
Ahi Tartare
Chicken Gumbo
Young Coconut
Zombie Coconut
Critter Country
Harbour Galley
Chocolate Chip Cookie
Apple Spice Milk
Hungry Bear Restaurant
Reuben Burger
Impossible Sloppy Joe Fries
Glitter and Gold Funnel Cake
Frontierland
Rancho del Zocalo Restaurant
The Golden Horseshoe
Stage Door Cafe
"So, a Taco went for a Walk…"
Float Funnel Cake
Fantasyland
Red Rose Taverne
Chicken Parmesan Sandwich
Patty Melt Loaded Bites
BLT Flatbread
Orange-Vanilla Cream Soda
Tomorrowland
Galactic Grill
PB&J Burger
Orange-Vanilla Cream Soda
Churros
Castle Hub, Tomorrowland & Frontierland Churro Carts
Root Beer Float Churro

Root Beer-flavored Sugar and Vanilla Ice Cream Drizzle
New Orleans Square & Critter Country Churro Carts
Glitter and Gold Churro

with Banana Pudding, Peanut Butter Sauce and Gold-coated Bacon Bits
Fantasyland & it's a small world Churro Carts
Milk & Cookie Churro

Rolled in Cookie-flavored Sugar, served with Condensed Milk Dipping Sauce
Transportation
There will be transportation available to and from Mickey & Friends and Pixar Pals Parking Structure and also Toy Story Parking Lot until 2:00 AM after the party concludes.