Parades have been a part of Disneyland from the very beginning. The live TV special on the park's inaugural day included a unique one. It would be followed through the years by 60 or so different parades that have since strutted down Main Street.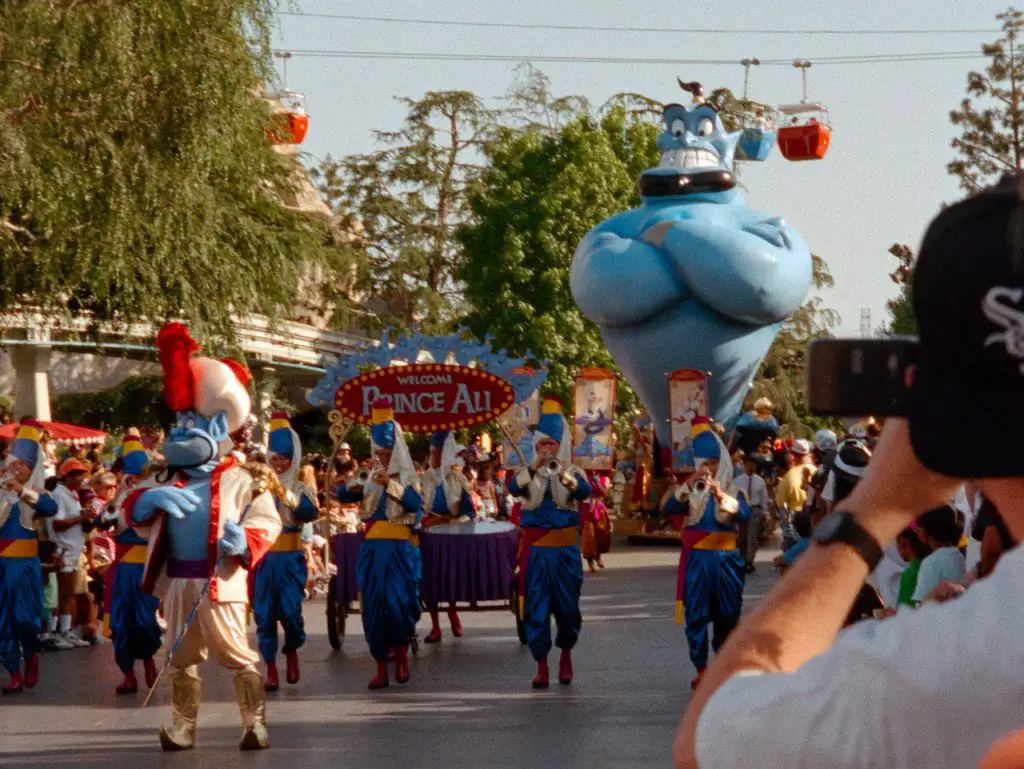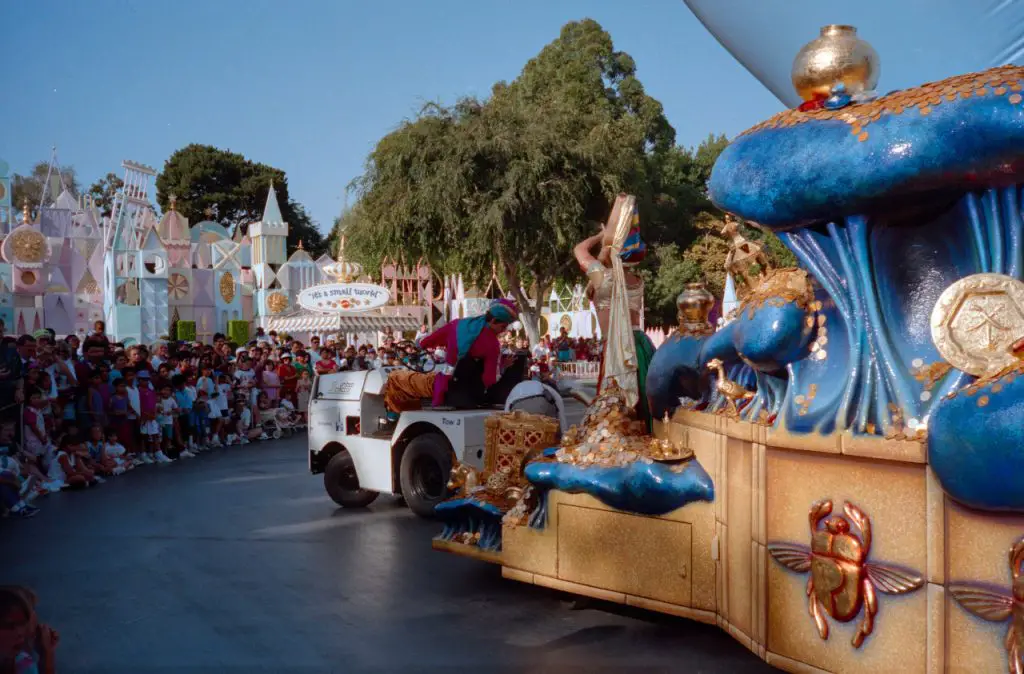 Aladdin's Royal Caravan made its debut on April 2, 1993, running through the entire summer season. While it followed the tradition of appearing for one year only, it started a new and unique tradition that would be carried through the rest of the "Disney Decade." The Royal Caravan was the first parade to be dedicated to a single film property, appearing at the same time the film was playing in theaters. It was, simply, another example of Disney's new dedication to corporate synergy, where every division of the company, including the theme parks, were effectively promoting the latest and greatest Disney film production.

True, there had been a few parades devoted to classic films or characters, usually timed to coincide with anniversaries, or releases of those brand-new Disney VHS Home Videos. In 1978 and 1988 there were celebrations of Mickey's 50th and 60th birthdays. Donald Duck's 50th was marked in 1984, and Goofy's 60th in 1992. Snow White's Golden Anniversary Celebration was enjoyed in 1987.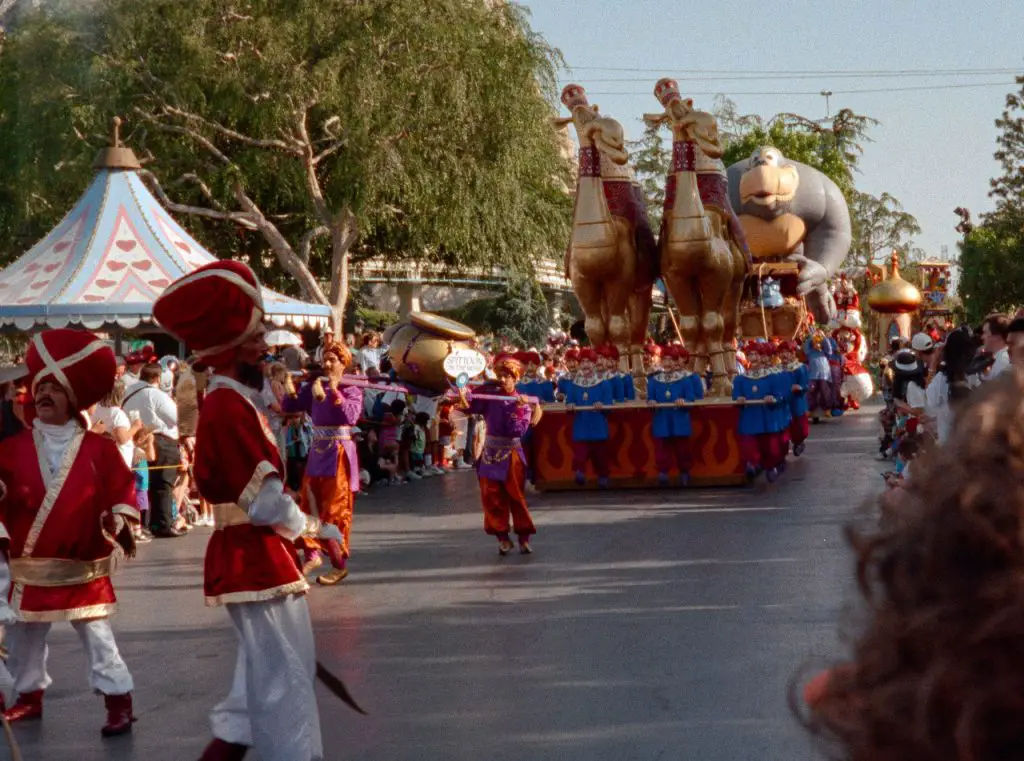 Perhaps it was because the animated film Aladdin included a memorable sequence depicting an elaborate parade that it was presented at both Disneyland and the Disney-MGM Studios in Florida for the summer of 1993. While the animators had much more free reign in devising characters and gags, the theme park designers pulled off some pretty magical visuals for their awed guests. As in: Watch out for the camels, they spit!

Among the denizens of Agrabah pressed into service to entertain the crowds, one character recurred again and again. Aladdin's Genie conjured up a series of guises, appearing as a towering giant, a genial host, split in half (his legs would go dancing away from his torso), in the bathtub, and, of course, in top hat, white tie and tails.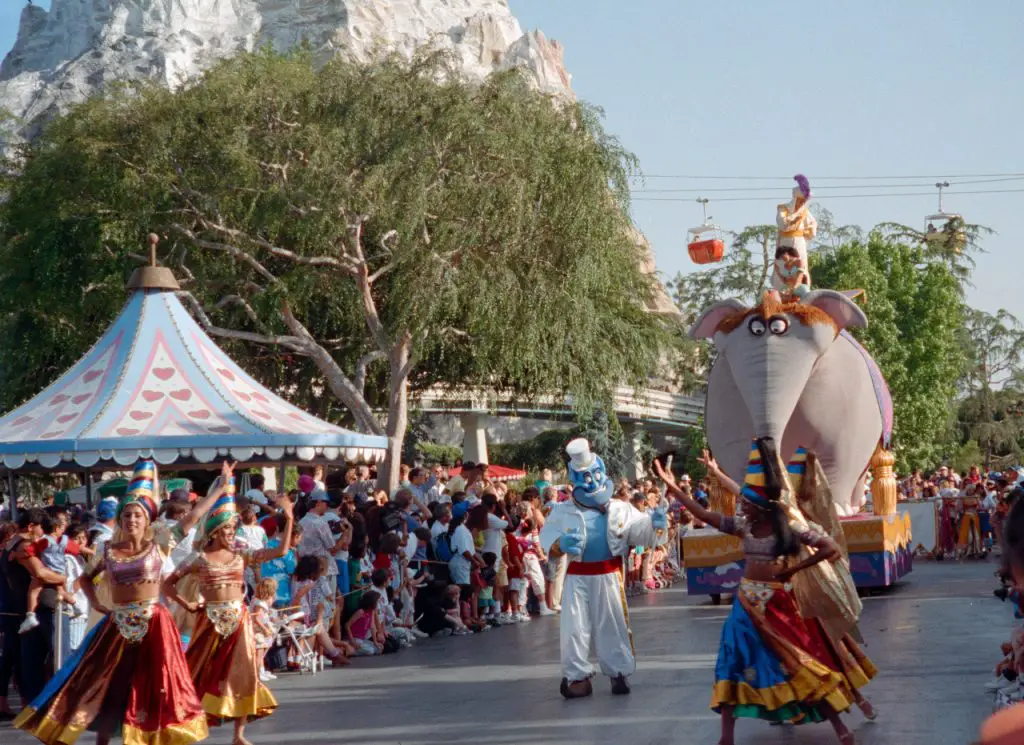 Bringing up to the rear of all the festivities was the film's villain, Jafar, as a haughty "White Wing." The original "White Wing Brigade" operated on the streets of New York in the late nineteenth century, using shovel and broom to tidy up after careless horses. Since there were no live animals in Aladdin's Royal Caravan, Jafar's shovel did not get much of a workout. But his rolling "honey wagon" made an excellent home for his wise-cracking parrot, Iago, who would peek out from under the lid and offer choice comments about his accommodations.
Aladdin's Royal Caravan was the first of four— and only four— parades themed to contemporaneous animated films. It was followed in 1994 by the Lion King Celebration, which proved so popular it was "held over" until 1997. That year guests were treated to the Hercules Victory Celebration. The last of the quartet was the Mulan Parade in 1998. As the Disney Decade wound to a close, not only was this type of corporate synergy phased out, so was the expected arrival of a new parade every year. The 2000s and 2010s saw only three major parades each.

But all of that was years away as guests packed along the sunny Disneyland parade route enjoyed the bombastic music, lively characters, and endlessly magical gags of Aladdin's Royal Caravan… thirty years ago at Disneyland.