On March 2, Daps Magic was invited to Knott's Berry Farm for a media preview of the 2023 Knott's Boysenberry Festival. The event took place after the park had closed for the day. Once all the guests had left the park, the group of media was invited into the park and back through Ghost Town to the checkin at the Town Hall. Once checked in and lanyards secured, it was off to the Wilderness Dance Hall where the event took place. Live music was played outside and a photo setup was there for people to capture the moment. Inside the Wilderness Dance Hall there were seven food stations, a table that was decked out with merchandise, and another long table at the front with an incredible assortment of foods, desserts, and beverages that will be offered during this year's Boysenberry Festival.
First things first, the seven stations that offered preview of the food being served during the Boysenberry Festival were all visited. There was a lot of food and all of it was good. However, there were three bites that I would love to be tasting again… hours later… after stuffing myself at this event… and honestly, I'm still full. I am still finding myself craving these three bites though!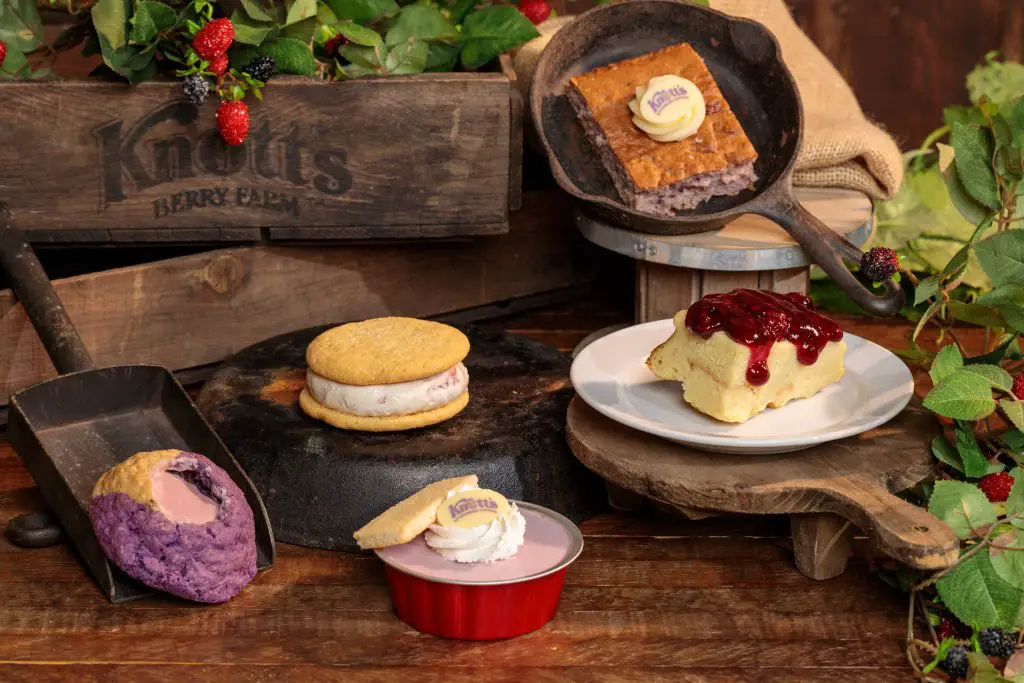 3. The Boysenberry Blondie
This is a dessert that was offered among several desserts, all of which were delicious. However, this one stood out to me of the three that I tried. It's a wonderfully moist cake (seen in the cast iron skillet in the photo above) with subtle boysenberry hints and a bit of frosting on top. There was also a little Knott's Boysenberry Festival sugar candy on top. The cake I think was a spice cake. It was one of the last things I ate during the preview and it was delicious. It wasn't too sweet, it wasn't too heavy, and it also conversely wasn't too light. It was balanced and it was one of my favorite desserts I think I've ever had at Knott's.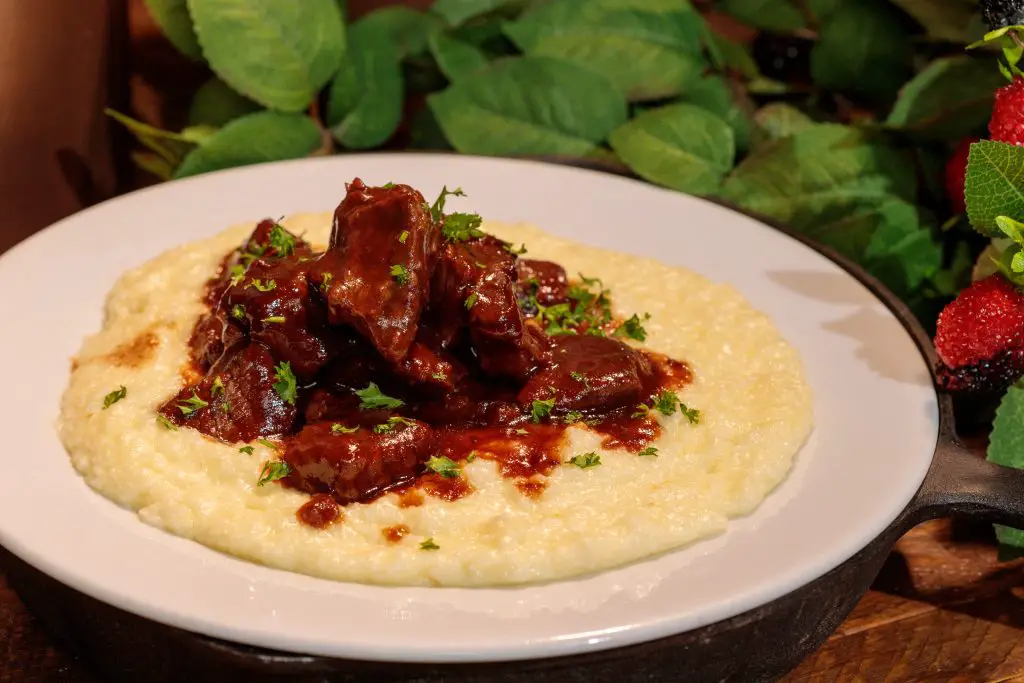 2. Boysenberry BBQ Beef Tips over Parmesan Grits with Green Onions
This is a delicious and hearty dish that was perfect for a cool night at Knott's. This was the first dish that I tried upon arriving at the preview. The Boysenberry BBQ Beef Tips are delicious. They aren't overpowered with the Boysenberry and they were nice and tender. The Parmesan Grits were a wonderful complement to the Beef Tips and balanced things out nicely. When I picked it up I was sort of wishing that the dish came with mashed potatoes instead of grits, after my first bite I didn't think that anymore. The green onions on top added a lovely bit of freshness to the dish. Overall, this was a dish I would love to eat over and over again. It is one I would not skip.
1. Buffalo Chicken over White Mac and Cheese with Boysenberry Ranch
The Buffalo Chicken over White Mac and Cheese with Boysenberry Ranch (top left in the photo above) was easily my favorite dish of the night. First off, the White Mac and Cheese base is delicious. It is one of the better versions of Mac and Cheese I've ever experienced in a theme park. It wasn't too rich but it did have a nice creamy depth to it. On top of that was the Buffalo Chicken and the Boysenberry Ranch. The combination that all of these delivered was fantastic. It did have a little bit of a kick but not anything unbearable. The spicy mixed with the creamy mixed with the hint of Boysenberry had me polishing off my bowl and immediately wishing for another. If I could only get ONE dish at the Knott's Boysenberry Festival, this would that dish.
There were many other dishes throughout the night that really could made for a top five or a top ten but at the end of the day, these are the three that really hit home runs for me. I enjoyed everything I ate tonight. And then after eating, I checked out all the other food that will be offered during the festival and interviewed the chefs that created them and I found myself wishing I could eat everything on that display table as well!
The Knott's Boysenberry Festival is always an absolutely delicious time of year to visit Knott's Berry Farm. This year it runs from March 10 through April 16, 2023. Make sure to stop by and enjoy the foods (especially the three I LOVED), get caught up in the entertainment, and check out the merchandise (there are some flavors of Boysenberry Jerky that are definitely worth checking out too)! You won't regret it! I can't wait to go back!
What are you most excited to try at the Knott's Boysenberry Festival? Will you be going? How many times do you intend to experience it this year? Share your thoughts and experiences in the comments below!
[Review Disclaimer]