For guests visiting EPCOT during the last few years, there has been a lot going on. As a massive transformation has brought EPCOT into a new era, guests have seen new attractions at EPCOT, new buildings, new entertainment, and new neighborhoods pop up to name a few things. Today it was announced that the transformation of EPCOT will be completed before the end of this year.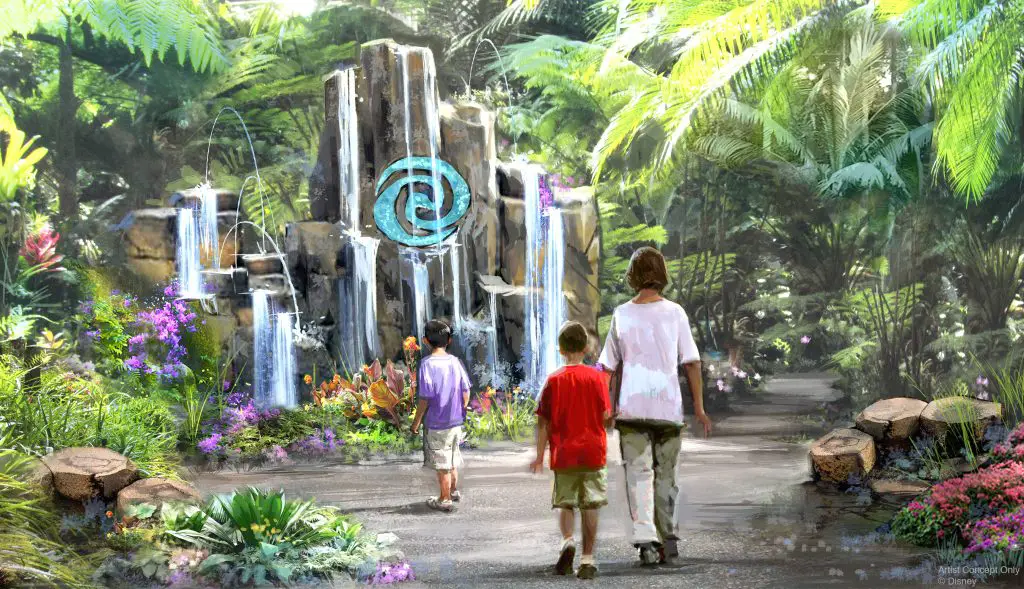 Guests who have visited EPCOT recently will have noticed that a bulk of the work that is left to be done is focused on World Celebration and World Nature. World of Nature will see Journey of Water, Inspired by Moana debut this fall. This isa. self-guided exploration trail that takes guests through the natural water cycle. This goes from the skies to oceans and then all the way back again to start again. Guests will be encouraged to become protectors and friends of natural resources, just like Moana.
CommuniCore Hall will also be opening later this year. When it opens in World Celebration, it will be the center of festival programming for EPCOT. Disney shared new renderings that show how this will also be the home for a new character greeting location called Mickey & Friends. This will be where guests can meet Mickey Mouse and friends in a very colorful location.
CommuniCore Hall will also have a dynamic exhibition space. It will be changed for the arrival of each festival at EPCOT during the year. Concept art for what it could look like for the EPCOT International Festival of the Arts has been released. This plays with lights, shapes, and reflections in the space. The building was designed by Walt Disney Imagineering to celebrate the legacy of EPCOT and also the original CommuniCore buildings.
Later this year, EPCOT will also be the focal point for the Disney100 celebration at Walt Disney World Resort. This celebration will include photo ops with Mickey and friends in their platinum outfits, a new nighttime spectacular, a platinum selfie opportunity, and Spaceship Earth lighting up the night.
What do you think about the transformation of EPCOT being completed before the end of the year? What are you most looking forward to with its completion? Share your thoughts and opinions in the comments below!