The Roundup Rodeo BBQ will be opening in Toy Story Land on March 23, 2023. Ahead of its opening, Disney is sharing a much closer look at the restaurant. This includes a full tour of the restaurant itself and also a look at the food with Chef Brian Piasecki. When Roundup Rodeo BBQ opens for lunch and dinner, it will be $45 for adults and $25 for kids ages 3-9. Reservations can be made on the My Disney Experience App or on the Walt Disney World website.
FULL TOUR: Roundup Rodeo BBQ Restaurant at Disney's Hollywood Studios
Chef Brian Piasecki Shares About the Food at Roundup Rodey BBQ
Recently Disney shared a look at the menu for the Roundup Rodeo BBQ restaurant. It includes a range of different bbq options that looks to have something for just about anyone who would love to visit Andy's backyard for a meal.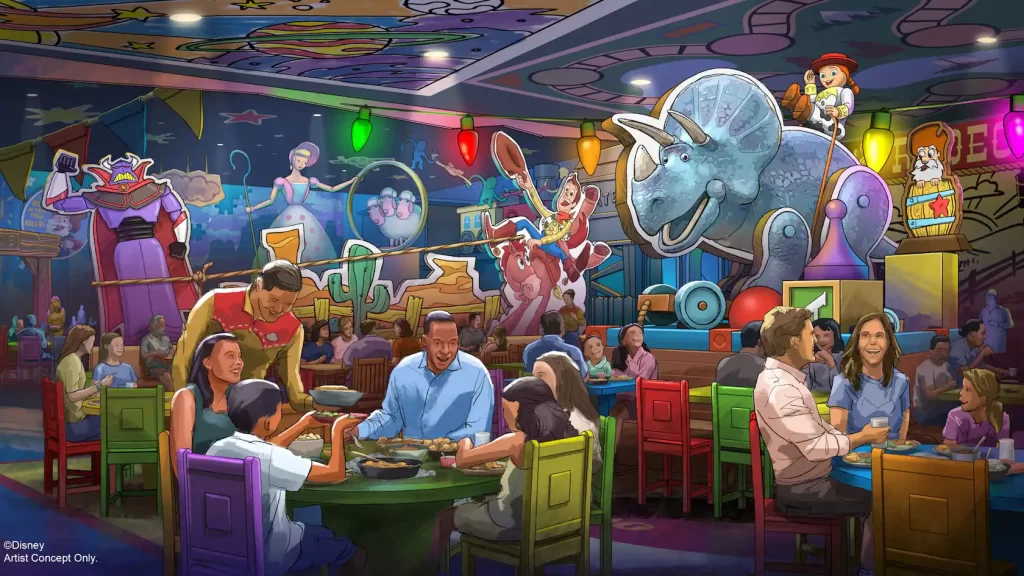 Description and Details About Roundup Rodeo BBQ
Andy's Rodeo Playtime

Discover what it feels like to be one of Andy's honorary toys. At Roundup Rodeo BBQ, you will be surrounded by Andy's rodeo at play––everything from western towns and train station playsets.

Plus, take a gander at images of popular characters, including a larger-than-life display of Jessie riding on the back of a Trixie pull toy! You can also view a scene of Bo Peep and her sheep posed to perform in the rodeo.

Grab a meal and enjoy a whimsical kaleidoscope of toys, games and playsets!

Rustle Up Some Grub

Mosey on over for some tasty vittles at our family-style BBQ! Check back soon for more details.

Reservations

Advance reservations are highly recommended. Learn when advance reservations can be made.

Cancellations

There is a 2 hour cancellation policy. You must cancel at least 2 hours prior to the dining reservation time to avoid a $10 per person cancellation fee. If you fail to cancel at least 2 hours prior, or if you no-show, the credit card provided at the time of reservation will be charged $10 per person.

Your credit card will automatically be charged if you no-show or if you fail to cancel at least 2 hours prior to the dining reservation time.
What do you think about the tour of Roundup Rodeo BBQ? Are you excited to dine there? What is your favorite part of the restaurant? Share your thoughts and opinions in the comments below!