There really are two anticipation stories in any Disneyland vacation trip. The first happens on the journey — the exciting anticipation of arriving at the hotel the night before. The second, of course, is the anticipation of and preparations the night before for that next magical day at Disneyland (or, in this case, Tokyo Disneyland).
As before, I am writing this in the present tense to help traverse time and space and transport you to Japan to join us in the moments of wonder and experience. It is great to have you with us to share in the magic!
Welcome to the Tokyo Disney Celebration Hotel. There are actually two Celebration hotels next to each other — Wish and Discover. This is the best choice for those like us who want the Disney Resort hotel experience at the most affordable budget price. It's about a 15 minute shuttle to Tokyo Disney from the hotel and never a long wait. 
From the moment we walk through the entrance, you can feel the first hints of Disney magic. This isn't Disneyland yet there is a certain sense of leaving the world of today and entering into another land. I am not altogether sure what to call it but immediately there's a spirit of fun and adventure. Look, there's almost a Frontierland feel here in the center of the lobby.
Check-in is one of those unfortunate time-consuming necessities but there's so much to see and enjoy right here, the window is a welcome opportunity to soak in the Disney Discover adventure. The visual centerpiece here is Mickey excitedly looking like Davy Crockett ready to whitewater the fiercest waters. Let's take a look.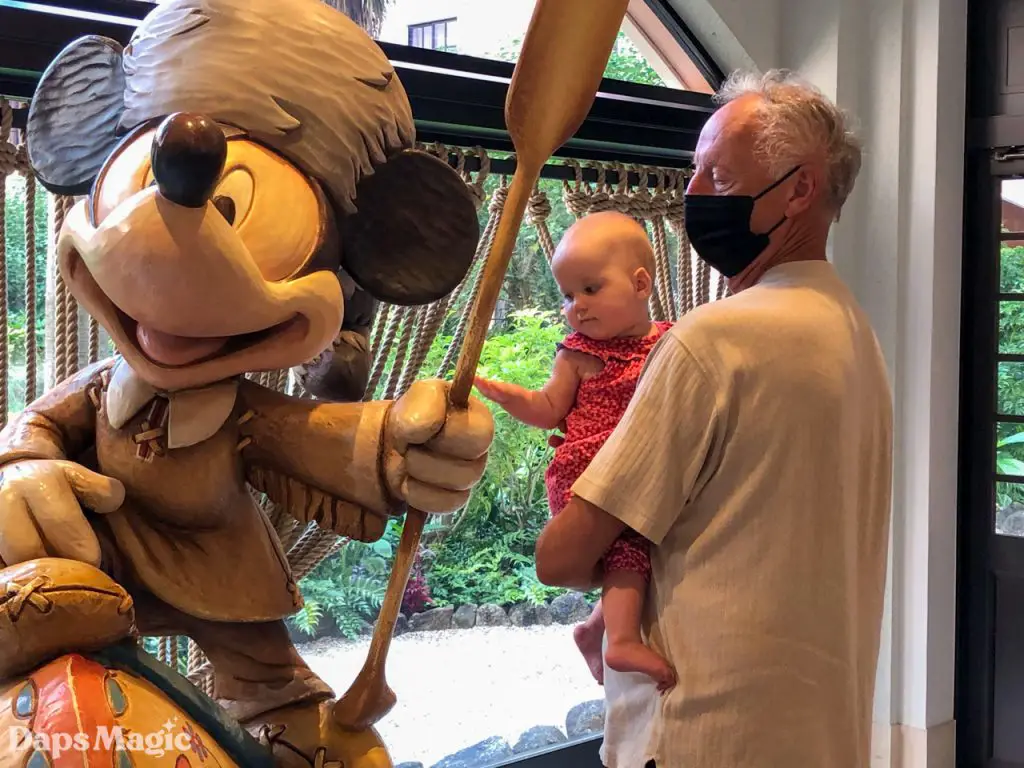 Let's do our own exploring, shall we? Take a look around
I'm not sure I recognize the music. Perhaps unique to the hotel? What do you see? Anything catch your eye?
I am noticing a couple things. First, of course, are the expected hotel lobby seats and side tables. But I am also seeing myriads of colors! Not exactly sure what's creating them but this isn't just a Fort Wilderness recreation. 
It's stained glass window panels! Look. The Disney folks never fail to do the little things to bring the magic to every Disneyland guest. Looking out the front window, instead of seeing a parking lot or bus stop, we're in the Tiki Room in stained glass.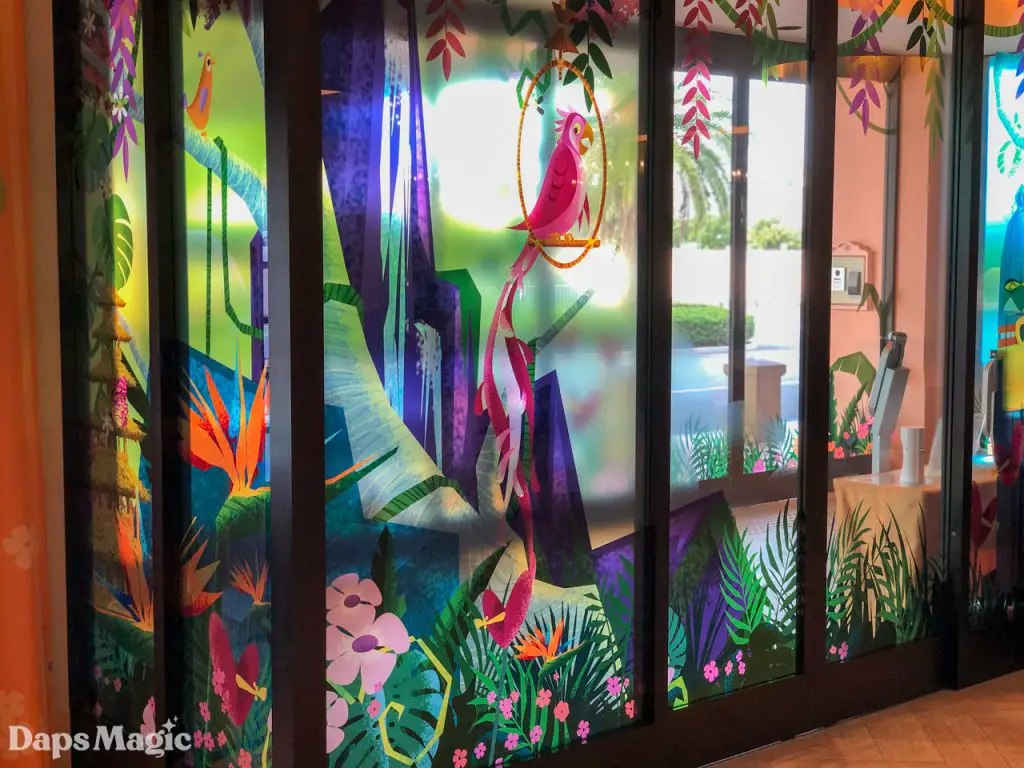 Stop reading for a moment and soak in that happy photograph. Enjoy the colors and images etched into the glass. Don't know if that's Jose perched up there but he looks like he's enjoying himself. So am I. How about you? The birds of paradise. Are those pink impatiens neighboring the ferns? This really is Walt Disney's Wonderful World of Color Tokyo version.
There's more to see and do here but kids are kids and while you and I might relish the colors and designs of stained glass, they are going to get restless. Or not! Should have known. This will keep them happy and occupied for however long check-takes.
It's almost a shame we are all checked in and have to leave the lobby but there's a room to get to. We're on the 4th floor. Wow, this is quite the elevator!
We're here! Perfect. Three beds, a couch that turns into a bed, a refrigerator — now THAT'S going to come in handy! — and complementary slippers we can take home and robes we can't. Happy decor, isn't it?  Oh, and an ocean view out the balcony.
You ready for tomorrow and Tokyo Disneyland? It's surprisingly quiet here so looking forward to a good night's sleep!
But before we finish the day, have to check out that elevator one more time! Ever heard Mickey Mouse speaking Japanese? Listen.