The Disney Cruise Line has unveiled its new Shimmering Seas Collection as it celebrates its 25th anniversary. This line of merchandise is a beautiful collection that is in line with the rest of the Disney Cruise Line's Silver Anniversary at Sea celebration. The collection is described as featuring "light blue colorways and sparkling fabrics throughout the collection that are reminiscent of sunshine reflecting upon turquoise waters as well as festive silver accents." Take a look below at this Shimmering Seas Collection.
Shimmering Accessories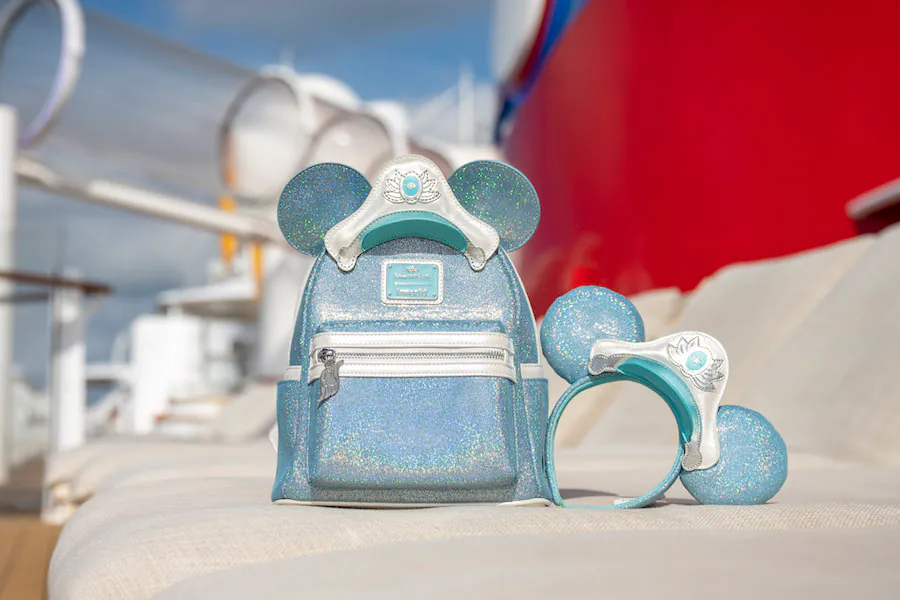 This matching Loungefly backpack and ear headband feature the signature blue color of the 25th anniversary celebration and find design inspiration from a classic captain's hat silhouette with a playful Disney Cruise Line twist. 
Festive New Wears
Sail the high seas in style with new clothing pieces debuting as a part of the Shimmering Seas Collection. The line will include this stunning multi-toned Spirit Jersey with iridescent lettering and a sleek, logo-embroidered Nike polo, made of lightweight material that's great for a day at sea or Port Adventure.
Commemorative Jewelry 
A new line of commemorative Disney Cruise Line jewelry lends a touch of maritime magic to any cruise outfit! From whimsical necklaces by Rebecca Hook to an elegant earring and bracelet set by Crislu, there are jewelry options to match every taste. And you can't go wrong by adding a little extra Disney charm to your ensemble with a character-inspired set of Pandora charms. 
The full Shimmering Seas Collection will become available aboard stores on the Disney Cruise Line fleet starting in May 2023. There will also be a Silver Anniversary at Sea ornament, trading pin and collectable ship replica.
More information about cruising on the Disney Cruise Line during the Silver Anniversary at Sea can be found at disneycruise.com or through Mouseways, the official travel partner of Daps Magic!