The Disneyland Resort has released new details about its upcoming fireworks nighttime spectacular Wondrous Journeys. This fireworks show will be part of Disneyland's Disney100 celebration. This new show includes moments, music, and characters from every Disney animated feature film. It will also see Baymax flying over Sleeping Beauty Castle during the climax of the show to the song Immortals from Big Hero 6. All of this will be enhanced with projections that can be found throughout the parks and more! The new song It's Wondrous, that features music and music from Alex Geringas.
Jordan Peterson, Show Director for Disney Live Entertainment, shared that "'Wondrous Journeys' honors the legacy of Walt Disney Animation Studios through a story that mirrors the journey of an artist: starting out with big dreams, buckling down to do some really hard work and finally seeing something that you dreamt about for so long come true. Along the way, all Walt Disney Animation Studios films to date come to life through brand new projections, special effects and an amazing score."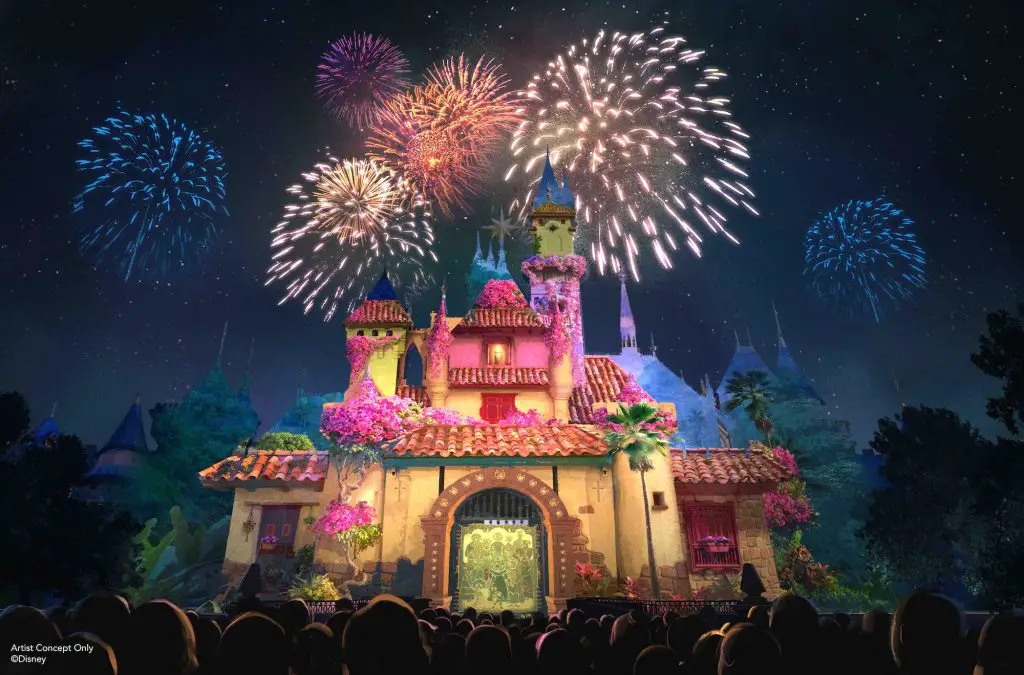 To share about how the animated moments were brought together, Roger Gould, Creative Director for Walt Disney Animation Studios, said that "To curate the moments brought to life in 'Wondrous Journeys,' we gathered a trust of Disney Animation artists and directors to discuss their favorite memories and which stories made them fall in love with animation. We also partnered closely with Disney Live Entertainment from the very beginning to develop a story that reflected on an extraordinary century of artistry."
Christopher Lennertz, Composer, Music Director and Arranger, talked about the impact of music on Disney stories. He said, "What sets Disney Animation apart is the ability to bring so many iconic songs together and experience the sum of all those feelings, while still celebrating them individually. When guests hear the musical score for 'Wondrous Journeys,' we hope they will feel as if they're experiencing these stories for the first time again."
Wondrous Journeys will be presented nightly at Disneyland. On select nights it will include fireworks as well. Check the Disneyland App or Disneyland.com's entertainment schedule to see what version of the show is being performed when. Below are some fun-facts that Disney released about the new nighttime spectacular:
Wondrous Journeys Facts
The nighttime spectacular weaves in music, characters and moments from every film released by Walt Disney Animation Studios over the past century, including "Hercules," "The Princess and the Frog," "Peter Pan," "Treasure Planet," "Big Hero 6," "Frozen" and the upcoming "Wish."
State-of-the-art projection effects surround guests with blank pieces of paper, pencil sketches and splashes of color, as the artistry of animators breathes life into beloved characters ranging from Mickey Mouse and Bambi to Ariel and Mirabel.
MagicBand+ enhances "Wondrous Journeys" by glowing with color and pulsing with haptic vibrations along with the show.
The projections are customized for each primary viewing area – Main Street, U.S.A., Sleeping Beauty Castle, Rivers of America and the façade of "it's a small world" – creating a unique experience for each location.
During a climactic moment in the story, the thumping bass of the song "Immortals" from "Big Hero 6" can be heard as Baymax takes to the skies over Disneyland Park (for the first time!) with his rocket boosters propelling him into the night.
Butterflies appear as a recurring motif throughout "Wondrous Journeys," representing a physical manifestation of wonder. Butterflies are a wonder of nature and show up regularly in Walt Disney Animation Studios films, from "Alice in Wonderland" and "Winnie the Pooh" to "Tarzan" and "Encanto."
18 Disney songs are heard throughout "Wondrous Journeys," including the original song, "It's Wondrous." The new song features music and lyrics by Duddy Brown and GRAMMY® Award-winning artist Alex Geringas.
The musical score was recorded by an 80-piece orchestra and includes 16 lead vocalists and a 33-voice choir.
Are you excited about Wondrous Journeys and the arrival of Baymax to the skies above Disneyland? What are you most looking forward to in this nighttime spectacular? Share your thoughts and opinions in the comments below! Daps Magic will be on hand for the opening night of Wondrous Journeys and the kickoff of the Disney100 celebration at the Disneyland Resort. Make sure to subscribe to Daps Magic's newsletter, social media, and YouTube so as not to miss any of the exciting coverage coming out of the Disneyland Resort for this historic time for The Walt Disney Company!