New Year's Eve is always a wonderful time to be in a theme park to ring in the new year. Knott's Berry Farm is no exception. The Buena Park theme park has announced the multitude of offerings that will be available for guests visiting on December 31, 2022, for Knott's New Year's Celebration.
There will be plenty of ways to celebrate the night at Knott's Berry Farm. Throughout the evening there will be the classic midnight fireworks spectacular, Krazy Kirk and the Hillbillies, dueling pianos, a comedian, a DJ, live music, dancing, and of course the Peanuts characters. On top of all of that, there will be the food that Knott's Berry Farm is known for. For those wanting a buffet meal to end the year, Spur's will be available for walk-up only between 5:30 PM and 10:00 PM.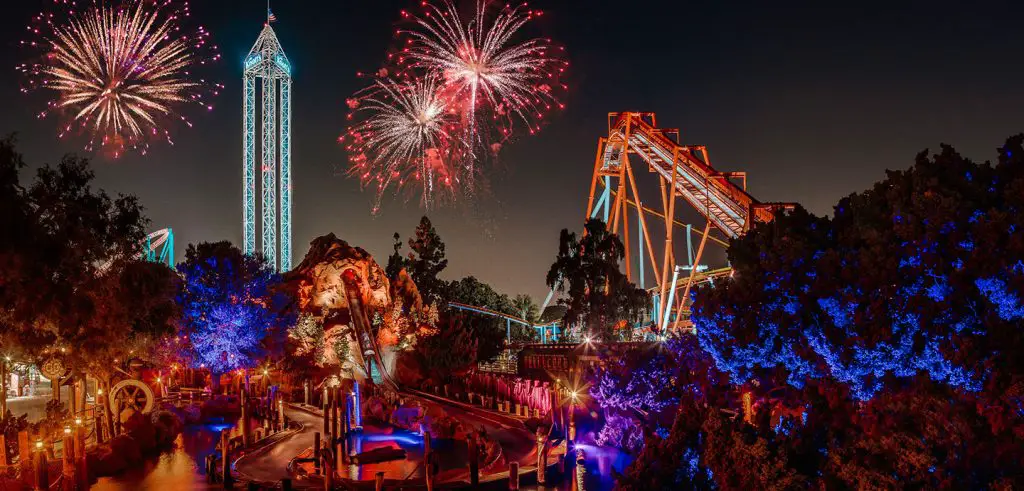 Knott's New Year's Eve Celebration Offerings
Midnight Fireworks Spectacular, guests can ring in the New Year with a bang as the park's skies wonderfully light up for an aerial fireworks display that will leave the young and young at heart in awe.
Krazy Kirk and the Hillbillies, four country boys from deep in the hills of Anaheim will have the crowd's toes tappin', hands clappin' and guts bustin'. The best darn-tootin' entertainment this side of the Santa Ana freeway. The comical and musical number can be seen at the Wagon Camp Theatre.
A Top 40 DJ brings the party to the farm for a special New Year's celebration, with high energy music and dancing taking place at the Calico Mine Stage. 
Next to the Calico Mine Stage, the PEANUTS characters will be posing for pictures with guests to celebrate the New Year in their favorite party outfits. 
Surf on by Boardwalk BBQ where you can catch PianoMania Dueling Pianos. These two talented musicians go head-to-head in a musical battle you won't want to miss.
The Calico Mine Stage will blast unforgettable pop and rock music courtesy of the band Mic Dangerously and the Royal We.  It'll have guests dancing in the aisles.
Family-friendly comedian Chipper Lowell brings his hilarious comedy, magic and audience participation to the Bird Cage Theatre.
Jitterbug Pop Swing Band, Dance Instructors, and the Jitterbug Jumpers are on hand to play the slickest standards ever. Swing, sway and jump with the hippest cats in town. The Jitterbug Pop Swing Band provides the tunes and you're invited to dance the night away in the legendary Boardwalk Ballroom. Dance instruction classes included!
A New Year's Eve celebration is not complete without a delicious meal. Spur's Restaurant is serving up a special New Year's Eve Buffet from 5:30 pm-10 pm. Walk-up only.
Knott's Berry Farm Holiday Offerings
Snoopy's Night Before Christmas – this exciting show filled with whimsy and spectacular ice skating, Join Snoopy and his friends along with the Knott's Ice Skating Ensemble for a retelling of the classic poem 'A Visit From St. Nicholas".
When the sun sets on the farm, the buildings and paths in Ghost Town twinkle brightly to the beat of a holiday favorite as snow gently falls on all guests. Park guests can enjoy more of the nightly snow and glow experience in most of Ghost Town, from School House Road to the Saloon and down to the Assay Office.
The holiday season celebration continues at Camp Snoopy with Best Wishes at the Camp Snoopy Theatre. When Lucy Van Pelt comes to realize the true meaning of Christmas, she enlists the aid of Charlie Brown, Sally, Linus and Snoopy to help spread the word that it is indeed better to give than to receive in this heart warming musical tale.
In the intimate setting of Ghost Town's historic Bird Cage Theatre, catch A Christmas Carol and The Gift of the Magi, 1885.
Savor the ultimate comfort foods with Knott's world-famous holiday treats. Santa's Christmas Cabin serves up holiday delights like Santa's homemade cookies and more. Guests can also enjoy the legendary cooking at Mrs. Knott's Chicken Dinner Restaurant. 
Relax and unwind in Knott's Christmas Crafts Village, as Ghost Town transforms into a shopping wonderland filled with dozens of local artisans selling their unique gifts. 
Knott's New Year's Eve Celebration is included with regular daytime admission. The park hours on December 31, 2022, are from 9:00 AM until 1:00 AM on January 1, 2023. Knott's Berry Farm suggests using a 2023 Knott's Season Pass to visit on New Year's Eve. It includes unlimited visits in 2022 and 2023 with no blockout dates, discounts on select food and merchandise, and also access to year-round season events. The Regular Season Pass includes unlimited admission in 2023 to Knott's Berry Farm and the Gold Season Pass includes unlimited admission in 2023 to both Knott's Berry Farm and also Knott's Soak City Waterpark with no blackout dates.
Have you spent New Year's Eve at Knott's Berry Farm before? How was your experience? Share your thoughts, experiences, and opinions in the comments below!