Today, Disneyland has a staggering array of holiday-themed promotions, one blending into another through several months of the year. It may seem hard to believe, but just thirty years ago fans of the Happiest Place on Earth had to be content with a few one-day events, and then the "big" Christmas season after Thanksgiving. Here are a few images showing Disneyland's holiday best in the early 1990s.
By 1992 the tree at the head of Main Street had become a tradition. Because it was a live tree, it was slightly different each year. This one is tall and narrow and flocked with artificial snow. Also flocked with artificial snow, the Matterhorn can be seen peeking above the roofs to the east. Looking due north from the train station platform, one cannot see the decorated Sleeping Beauty Castle.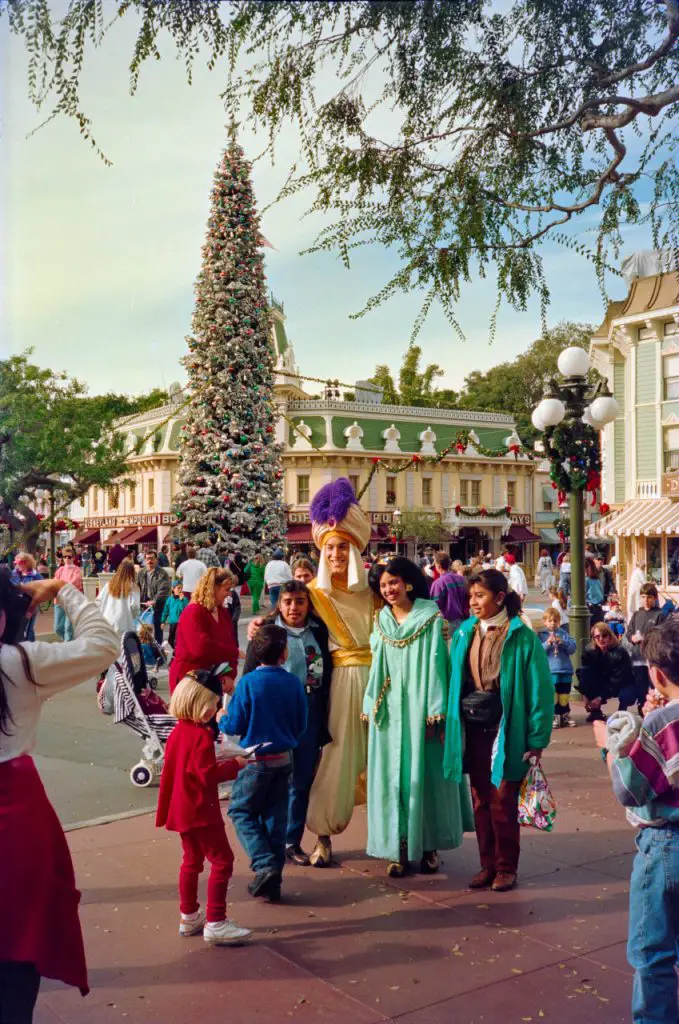 Down at street level, who better to present a wintry vision of holiday cheer than… Aladdin and Jasmine? Since this latest Disney animated film had just been released in November, Disney synergy dictated that they don their "cold weather" gear and greet guests for a morning photo opportunity in Town Square.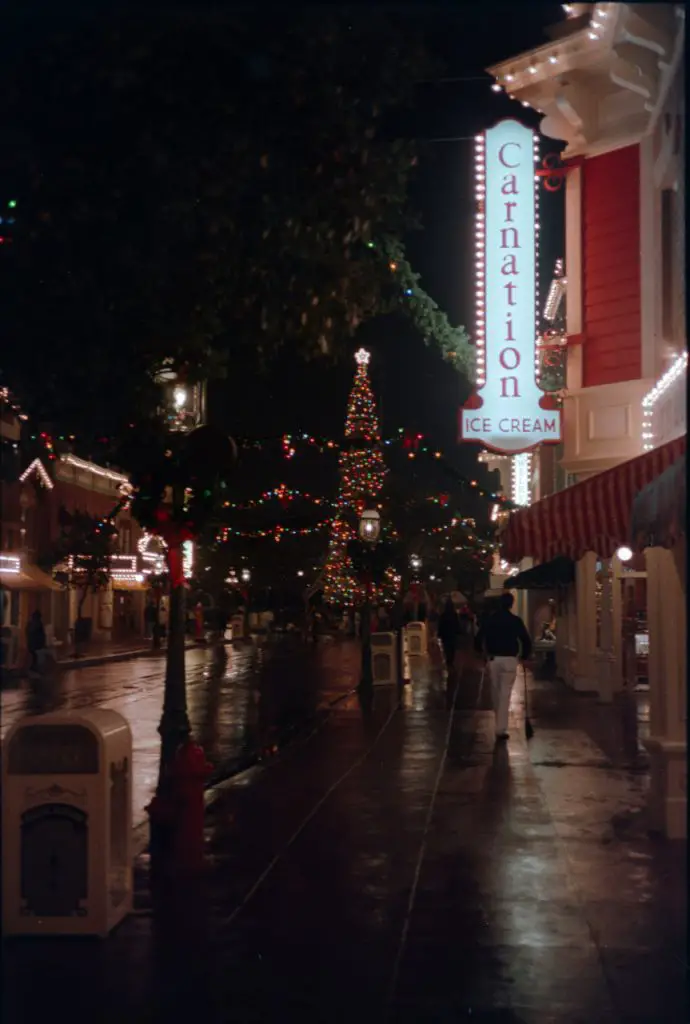 Of course, the real magic of the holidays sprang to life at night, as Main Street's familiar white lights were augmented with colorful lights and garland. (But is that really a faulty bulb among those outlining the sign for the Carnation Ice Cream Parlor? Perish the thought!)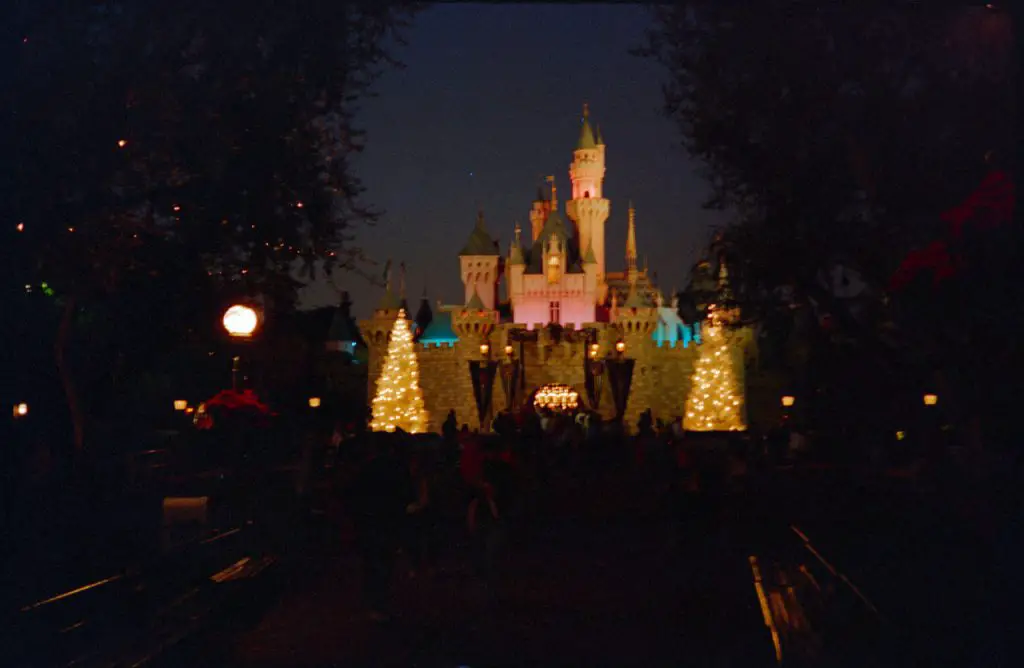 Beckoning at the end of Main Street, and across the central plaza, was Sleeping Beauty Castle, robed in awesome splendor. See that garland over the center entrance? And the two white-lighted trees in the moat? Those trees were a beloved annual tradition at the castle, right up through December 1998. (Read more about their fate in my December 2028 blog entry!)

I just couldn't stay away from Main Street. Mostly because the rest of the park was not really decorated for the holidays. No Tiki-themed trees in Adventureland. The small world dolls stuck to their original tune. And Jack Skellington couldn't deliver his version of holiday cheer to the Haunted Mansion, as his film did not debut for another year. (And Haunted Mansion Holiday would not appear until 2001.)

On late nights when it was rainy, and crowds had thinned, the lights would reflect on the shining pavement. Up ahead, the tree beckoned, offering one last photo opportunity at the end of the day.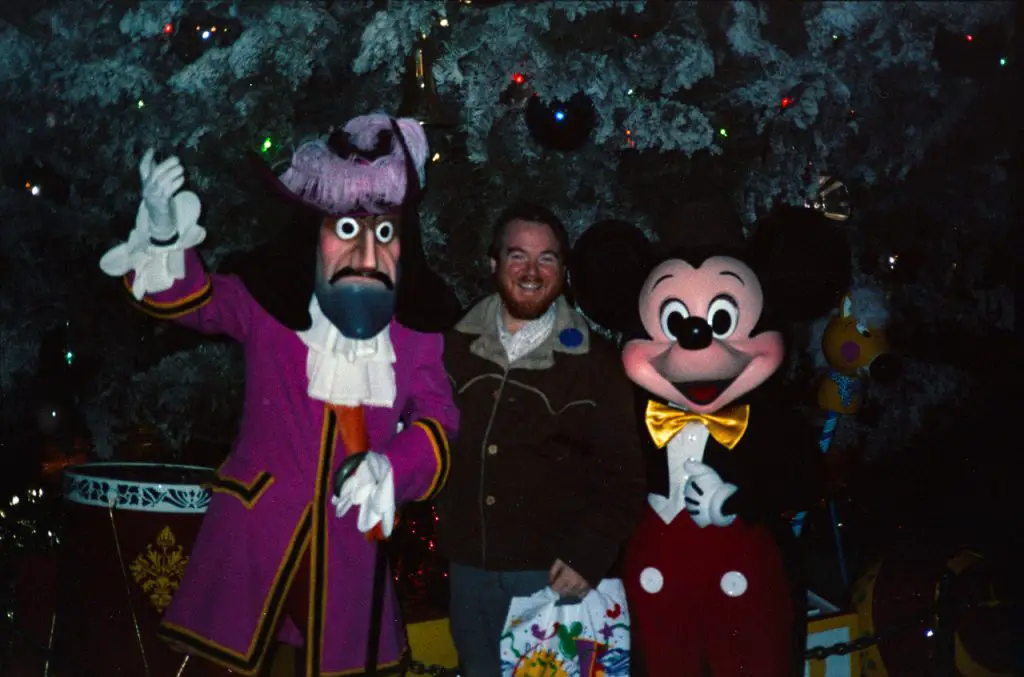 So it's not Aladdin and Jasmine. So it's that jolly pair, Captain Hook and Mickey Mouse. And the tree. And me. All wishing you a very Merry Christmas and a Happy New Year!