On Walt Disney's 121st birthday, the mayor of Chicago, Illinois has declared it to be Walt Disney Day. This is the city where Walt Disney was born in 1901. His first home at 216 N Tripp Ave was built in 1892 by Walt's father Elias Disney. Walt was born on the second story of the home. The family sold the home and moved to Marceline, Missouri in 1906.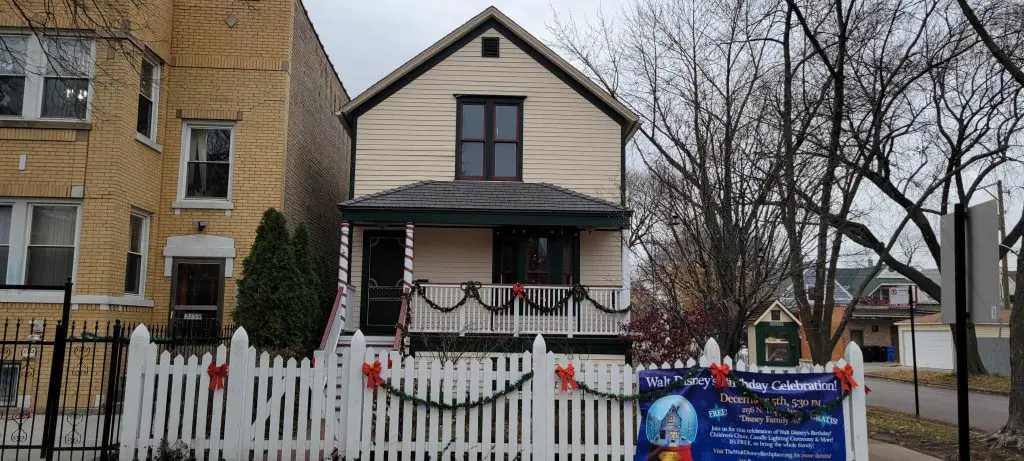 In a declaration that was released today, mayor Lori E. Lightfoot proclaimed "December 5, 2022 to be WALT DISNEY DAY IN CHICAGO, and encourage all residents to recognize the indelible contributions this man has made to our great city, this country, and the world." In the proclamation, there were many reasons given for the honor that were listed out. About the man himself, Mayor Lightfoot said, "one of the world's most iconic and celebrated people, Walt Disney is respected for his business savvy, cherished for his creative genius, and beloved by millions the world over" and also "a true renaissance man, Walt Disney played many roles including but certainly not limited to those of animator, director, screenwriter, and entrepreneur, and also founded The Walt Disney Company." There were also moments in the house's history that were recognized.
The news was shared by Walt Disney Birthplace on Twitter. The proclamation recognized the
Walt Disney Birthplace isn't just celebrating Walt Disney Day today. It is also hosting the Chicago's 9th Annual Birthday Tribute to Walt Disney Day as well with The YMCA of Metropolitan Chicago. This will be at 5:30 PM CST and include children's choir, holiday treats, a candle lighting ceremony, and promises surprise guests. In previous years for the Walt Disney Day celebration, Santa Claus has showed up. There was also an art contest for kids with the winner getting to light a candle in Walt's room.
"To see what it's done to the people here and to the pride that the neighborhood has about this home is really exciting," said Dina Benadon, co-owner and founder of the Walt Disney Birthplace, said during the 2019 celebration of Walt Disney Day.
More information about Walt Disney Birthplace can be found at thewaltdisneybirthplace.org. The Walt Disney Birthplace hopes to be "a portal to new approaches in early childhood development and helps to inspire future Walts and Roys."
What do you think of this year's Walt Disney Day proclamation by Mayor Lightfoot of Chicago? Have you been to the Walt Disney Birthplace? Share your thoughts, experiences, and opinions in the comments below!