The Mandalorian and Grogu aka Baby Yoda, arrived at Star Wars: Galaxy's Edge this morning to a large crowd of fans. At around 10:30 AM, Boba Fett came out into the land, and Mando and Grogu followed moments later. Within moments they were surrounded by fans with cameras, phones, and video cameras as they made their way into the land. Daps Magic was on hand to document the moment. Mr. Daps, Caitie, Annie, and Caitlyn all braved the adoring fans to try and capture this magical moment.
During his appearance, Mando walked up and down the main path outside of the Marketplace. Due to the amount of attention he was getting from fans, this seemed to be the only place that would accommodate everyone. Cast Members did their best to clear the way for him throughout the entire journey. After about 20 minutes, they made their way back to presumably a waiting ship away from the crowd. Throughout the experience, Mando and Grogu would stop and chat with guests. They were very quiet, however, and hard to hear. Boba Fett followed moments later.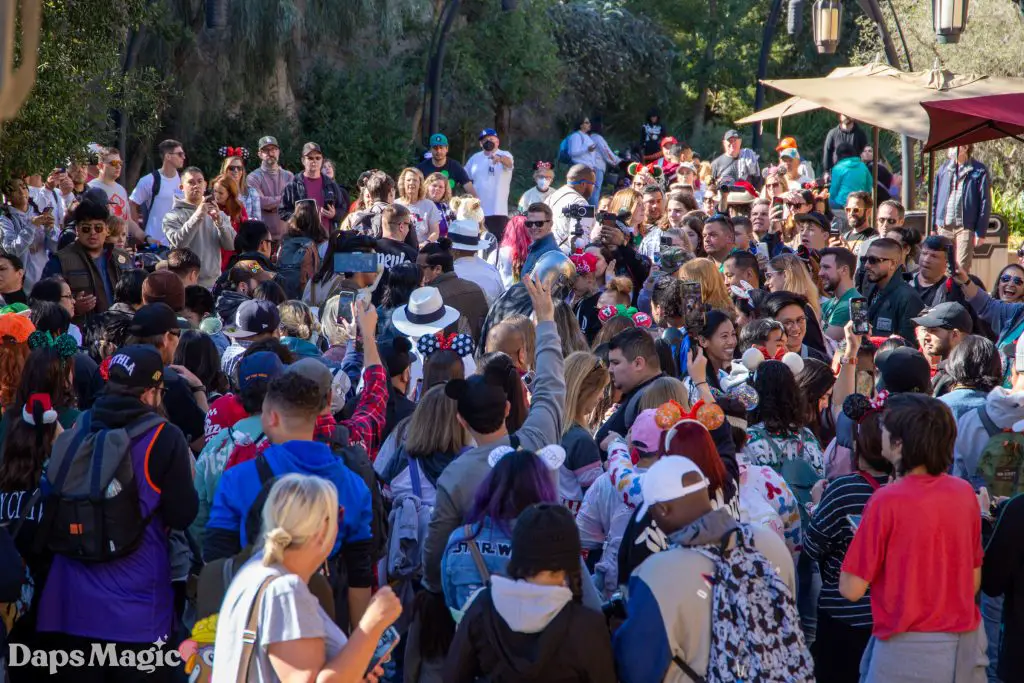 The arrival of The Mandalorian and Grogu comes just months after it was initially announced that they would be coming to the land at D23 Expo. During the Disney Parks, Experiences and Products panel, Josh D'Amaro the Chairman of Disney Parks, Experiences and Products was joined by The Mandalorian show creator Jon Favreau to announce his arrival. During the announcement, they were also joined by Mando and Grogu. The crowd went wild. The level of energy at Star Wars: Galaxy's Edge was also energetic today.
The Mandalorian and Grogu will be meeting guests at Star Wars: Galaxy's Edge for a limited time. One can expect that this will be a very popular experience that guests will be seeking out. Bring patience when trying to see Mando and Grogu. Also please listen to the Cast Members who are trying to protect both the characters' and guests' safety. They have a job to do, don't make it difficult for them. Many guests were ignoring Cast Members and blatantly disregarding their directions in order to get the "perfect shot." Everyone wants the same thing, show some kindness and patience and the experience will be better for everyone involved.
What do you think of the arrival of The Mandalorian and Grogu at Star Wars: Galaxy's Edge? Will you be stopping by to see them? Share your thoughts and opinions in the comments below!