The Disneyland Resort is the merriest place to be during the holidays! Throughout both of the parks there are entertainment offerings to be make guests smile, foods to be enjoyed, merchandise for gifts or just for fun, and so much more. Downtown Disney District also is a wonderful place to get some holiday cheer! The whole district has been transformed to celebrate the holiday season and there are no shortage of festivities to enjoy while visiting Downtown Disney during the merriest time of the year.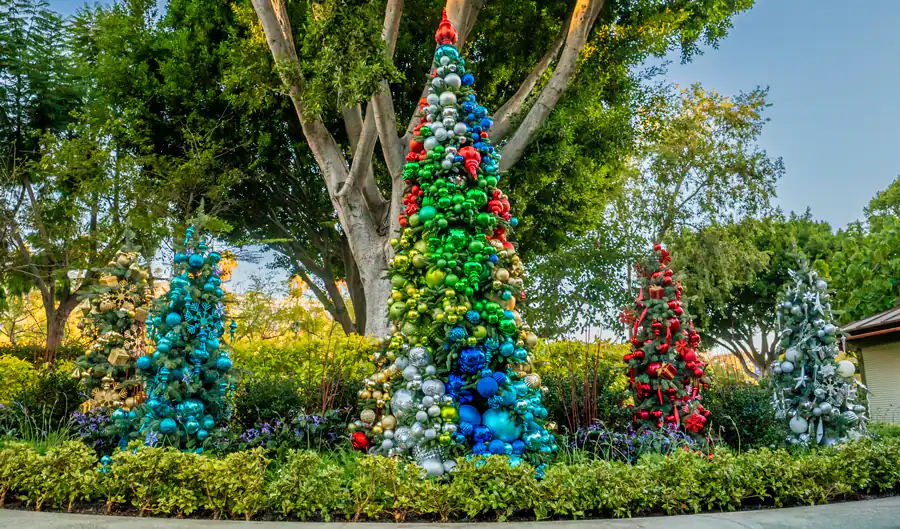 With all of the different ways to celebrate the holidays, here are a few highlights that are worth checking out!
Friends of the Festival Foods
There are plenty of holiday treats to enjoy at Downtown Disney District. The "Friends of the Festival" is an extension of Disney Festival of Holidays in Disney California Adventure. During a visit to Downtown Disney District, enjoy holiday ice cream flavors from Salt & Straw, a Mickey Mouse Holiday Crisped Rice Treat from Marceline's Confectionery, a spiced Gingerbread Cupcake from Sprinkles, and Maple and Bacon Glazed Beignets from Ralph Brennan's Jazz Kitchen.
There are also some adult beverages to enjoy including the Mistletoe Mule from Catal Restaurant and Uva Bar & Cafe or the Candy Cane-Rita at Tortilla Jo's!
This year marks the first time that Downtown Disney District is offering the "Friends of the Festival" menu items as an extension of the Disney Festival of Holidays. Naples Ristorante e Bar is offering some Diwali-inspired selections and Tortilla Jo's also has limited time specials.
Check out the Disneyland Resort and Disney Festival of Holidays foodie guides for the complete listings! 
Holiday Crafts Table
Near the Downtown Disney LIVE! stage, there is another extension of the Disney Festival of Holidays. This time, it is in the form of a craft table where young Disney fans can make paper garland in the colors of Christmas/Navidad, Hanukkah, Diwali and Kwanzaa. This offering is available from 11:00 AM to 6:00 PM daily.
Shopping Opportunities for Disney Fans
Downtown Disney District is the best place to go shopping for Disney fans. This is great for Disney fans themselves and also for their loved ones. Stop by World of Disney, Disney Home, The Disney Dress Shop, Star Wars Trading Post, and WonderGround Gallery. When visiting these locations there can be found Disney toys, apparel, home decor, collectibles, and other keepsakes!
There are also some other places to get holiday shopping done as well. Find some modern design products from Black creatives at Post 21 or holiday pop-up cards at Lovepop. For soccer fans, stop by Pelé Soccer for official World Cup gear. There are sock and stocking stuffers at California Sole. Curl Surf is the place to get stylish beach vibe clothes. Over at The LEGOStore there is a new Holiday Main Street set, among many others to be found. Pandora Jewelry has the Disney x Pandora holiday-style bracelet charms and Sephora has the latest skincare, make-up and hair products.
Holiday Entertainment
Entertainment is always a highlight during the holiday season at Downtown Disney. This year will see the return of Holiday Harmony in their "ugly sweaters." The Moonrays and The Sugarplums will also be performing in their holiday finest. This will be near the Downtown Disney LIVE! stage Fridays through Sundays from 5:30 PM to 9:00 PM from November 25th through December 25, 2022.
Holiday Spa Treatments
Over at Disney's Grand Californian Hotel & Spa, stop by the Tanya Stone Spa for some holiday spa treatments from November 25, 2022 through January 2, 2023. There, enjoy the Candy Cane Lane Foot Treatment that includes a refreshing peppermint cocoa foot soak, scrub and also a minty massage to sooth and invigorate the feet and legs. The Underrate the Tree Signature Massage blends customized massaged techniques with the scent of fir, California lemon, wild mint, and also eucalyptus to help with relaxation. There are also new Tanya Stone Spa gift cards available now. The spa is just next door to Downtown Disney District and open to non-hotel guests. It is suggested that reservations are made ahead of time at Disneyland.com.

Disney Ultimate Toy Drive Supporting Toys for Tots
Help support the Disney Ultimate Toy Drive and Toys for Tots in bringing some joy and hope to those who so desperately need it this holiday season. Donate new or unwrapped toy, or toys, in person through December 12, 2022 at Downtown Disney District. Donations bins can be found near World of Disney, Star Wars Trading Post, and also at all of the three Hotels of the Disneyland Resort. On December 10th and 11th, the U.S. Marines will be found near the Downtown Disney LIVE! stage to accept donations as well.
This holiday tradition of supporting U.S. Marine Corps Reserves' Toys for Tots goes all the way back to Walt Disney. He personally supervised the creation of the Toys for Tots logo and was a founding sponsor of the program in 1947, when it began. The Disneyland Resort continues this tradition over seven decades later!
What do you think of all of the holiday offerings at Downtown Disney District? Which one are you most excited about? Share your thoughts and opinions in the comments below!