Empire Magazine has released the first images of the upcoming Indiana Jones 5. One of these photos shows Harrison Ford as Indiana Jones on what appears to be a boat. The other two are cover photos for the magazine and show Indiana Jones ready to go on his fifth and final outing. The image and these covers come before a trailer has been released for the film. However, director James Mangold promises that one will be coming soon.
The first picture appears to show Indy aboard a boat of some kind, not looking overly happy. Seeing that there is no trailer or synopsis for the film yet, the context of what is happening in this picture is unknown.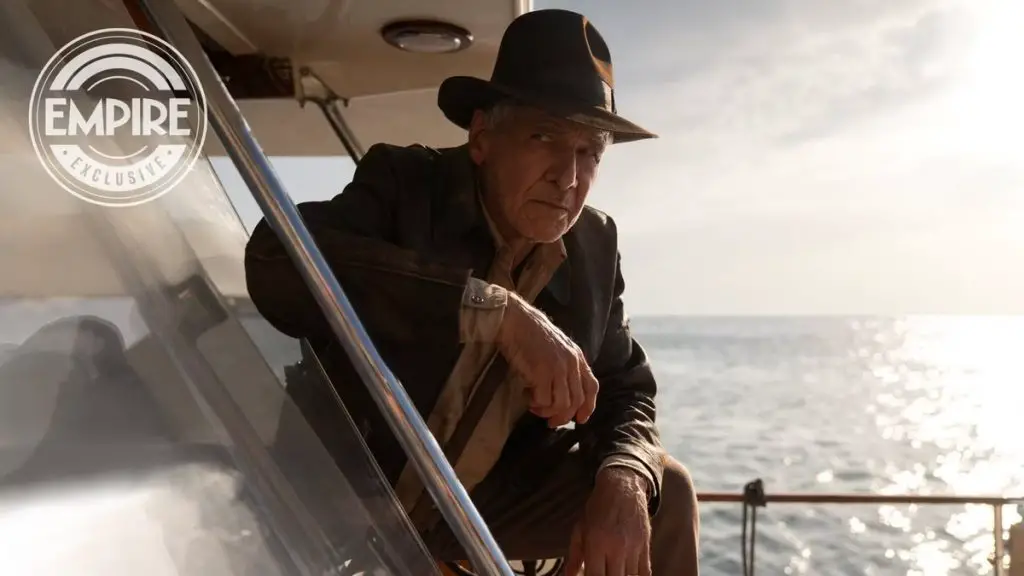 The two covers for Empire Magazine show two different versions of Indiana Jones. One variation is for subscribers, and one is for general sales. They can be seen below.
The magazine promises to give an in-depth look at the upcoming Indiana Jones movie. Empire Magazine shared a little bit about what was shared about the film. "It's full of adventure, full of laughs, full of real emotion. And it's complex and it's sneaky," Harrison Ford toled Empire. He shared that getting back into the role of Indiana Jones wasn't the easiest. "The shooting of it was tough and long and arduous," he says. "But I'm very happy with the film that we have."
On the continuing of the Indiana Jones story in Indiana Jones 5, Ford shared a bit as well. "I just thought it would be nice to see one where Indiana Jones was at the end of his journey," Ford explains. "If a script came along that I felt gave me a way to extend the character." Jez and John-Henry Butterworth joined James Mangold in making the script for the film.
Mangold also shared a bit about the movie with Empire Magazine. "It became really important to me to figure out how to make this a movie about a hero at sunset," he says, noting that he pushed the film even further into that direction. "The issues I brought up about Indy's age were not things I thought were being addressed in the material being developed at the time. There were 'old' jokes, but the material itself wasn't about it. To me, whatever you greatest liability, you should fly straight towards that. If you try to pretend it's not there, you end up getting slings and arrows the whole way."
At this point, not a lot is known about the film. However, when Empire Magazine releases this issue on November 24th, more will be known. There will be interviews with Harrison Ford, James Mangold, Phoebe Waller-Bridge, Mads Mikkelsen, Shaunette Renée Wilson, Boyd Holbrook, James Mangold, Jez and John-Henry Butterworth, Kathleen Kennedy, Frank Marshall and Simon Emanuel.
Are you excited about the next installment of Indiana Jones? What do you think of this photo? Share your thoughts and opinions in the comments below!
June 30, 2023.