It isn't often that I sit down and write a food review. However, today is one of those rare days where I sit and recount and review a specific food item at the Disneyland Resort. In this case, it is the Ghost Pepper Nachos that are currently a seasonal offering at Lamplight Lounge – Boardwalk Dining. The Ghost Pepper Nachos is one of three seasonal offerings being offered at the location currently. The other two are the Piggy Sliders and One Last Toast cocktail. For $21, the Ghost Pepper Nachos offers a culinary adventure for those who like to eat spicy food. The Ghost Pepper Nachos are $2 less than the popular Lobster Nachos, which are still on the menu.
The description for the Ghost Pepper Nachos is as follows:
Charred Ghost Pepper-marinated Chicken, Smoky Ghost Pepper Cheese Sauce, Black Bean Puree, Avocado Tomatillo Salsa and Seasoned Tomatoes

Lamplight Lounge – Boardwalk Dining Menu
The Ghost Pepper Nachos are piled nicely on a plate with enough to easily be shared. The nachos we received were generous with the chicken, cheese sauce, bean puree, some tomatoes, and salsa. It also had a very generous helping of cilantro on top. Note, it's a good idea to order water ahead of time rather than halfway through, as we did.
The big question for those looking to eat the Ghost Pepper Nachos really comes down to just how hot the spice level is. Short answer… they are hot, very hot. In fact, this might be the hottest thing I've eaten at the Disneyland Resort. These are not for those who don't handle heat super well. They did taste good though. More on the heat before getting into that. Each bite starts warm and seems like things will be fine. However, then the heat starts growing and you feel it in your mouth, your nose, your brow gets warm, and you realize how hot the ghost pepper nachos really are. Surprisingly enough the charred ghost pepper-marinated chicken wasn't too bad when eaten alone. The cheese sauce and the salsa seemed to be the two hottest parts of the dish. I think the salsa probably won out as the spiciest part of the dish but I'm not going to go back and try them again to confirm this. The black bean puree is a nice counterbalance to the heat. However, in my case, it wasn't a strong enough counterbalance as it was still very hot!
The eating of these nachos is definitely a process and an adventure. At times, it seems like eating a whole plate of Ghost Pepper Nachos is totally doable. Then, a couple of minutes later, I found myself wondering if I could make it through the next bite. Thank goodness for the multiple glasses of water that I went through while eating them.
Throughout the experience, I found myself going back and forth on if I would eat them again. It really is a culinary adventure in the truest sense of the word. There are parts of this dish I really liked. In fact, most of it I really liked. However, the spice factor is probably a bit above my tolerance level where as much as I liked the individual elements of this dish, the overall experience was just too much.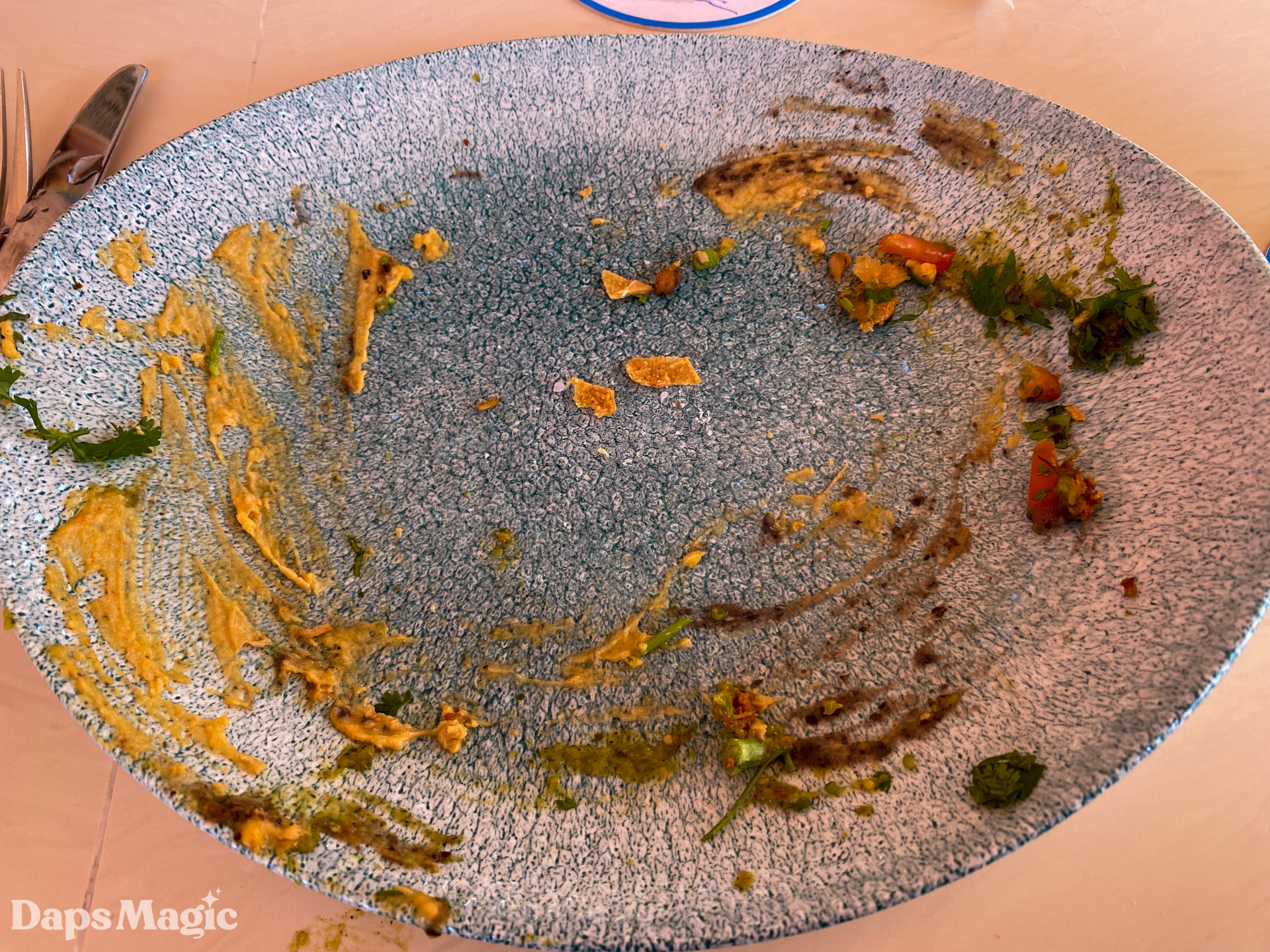 Am I glad that I went and tried the Ghost Pepper Nachos at Lamplight Lounge – Boardwalk Dining? Absolutely. Is this something worth trying? Yes, but with a caveat. If you have a hard time with spicy things, probably shouldn't try this one. Would I try this dish again? Absolutely not. It was definitely one of my more adventurous eating adventures in terms of heat. It was also one of the harder ones. While I wouldn't ever try this dish again, I really am glad I did this. I'm going to give this dish a hat tip, even though I was sweating so much from the heat I wanted to take my hat off. Those who can handle heat will really enjoy those. Those on the other end of the spectrum, not so much.
I'm very curious to hear what other people thought of the Ghost Pepper Nachos! I know I can't handle the spice at the same level as some people, but I also definitely have grown a tolerance over the last few years to spice and heat. I feel like my spice level tolerance is probably somewhere in the middle now. Let me know what your experience was eating these nachos in the comments below!
The Ghost Pepper Nachos will continue to be on the menu of Lamplight Lounge – Boardwalk Dining during the Halloweentime celebration at the Disneyland Resort through October 31, 2022.
Mr. DAPs Hat Rating Scale
No Hat – Didn't meet expectations
Hat Nod – It was ok
Hat Tip – It was good
Hat's Off – Loved it!