The list of mobile order-friendly restaurants across the Disneyland Resort has expanded! Rancho del Zocalo Restaurante in Disneyland Park has added the mobile order feature and DAPS MAGIC was there on opening weekend to test it out.
Rancho del Zocalo is a quick service Mexican restaurant located in Frontierland. This popular dining spot offers a selection of street tacos, enchiladas, burritos, tostada salads, and fire-grilled chicken. The prices for entrées range between $12.49 to $14.99 for adults and $7.99 for kids. Outdoor and covered seating is available on a lovely hacienda-style patio, complete with luscious bougainvillea and views of Big Thunder Mountain Railroad trains careening by. Rancho is open for lunch and dinner between 11AM and 9PM, and Magic Key holder discounts are available.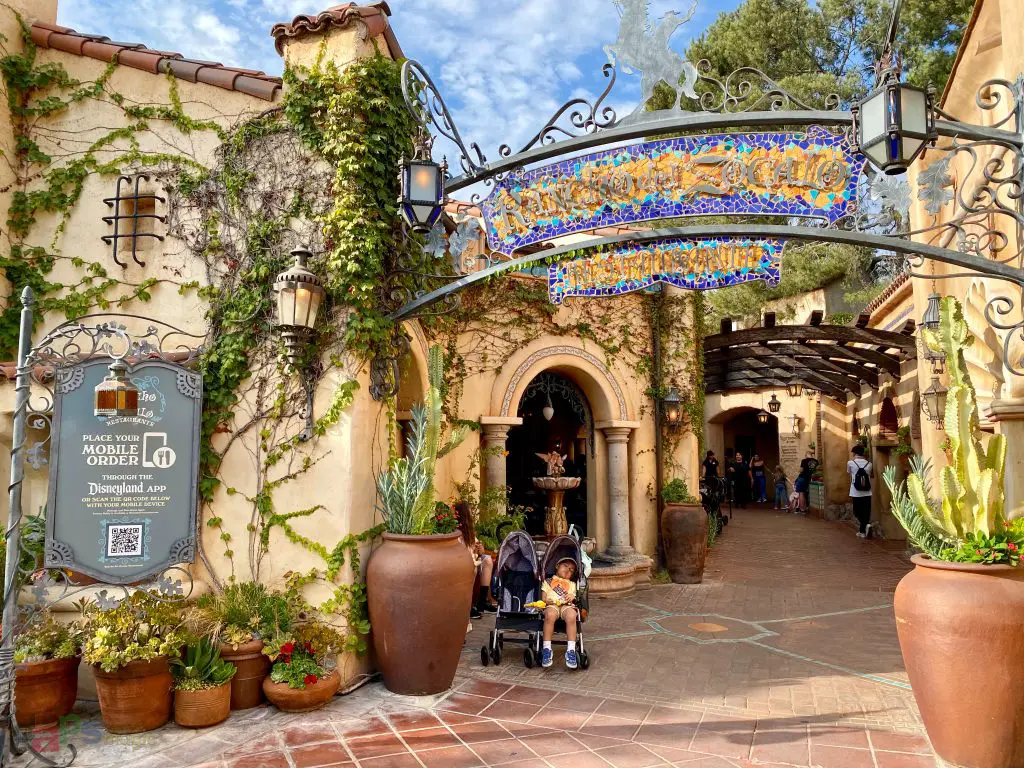 I have enjoyed many a lovely meal at Rancho del Zocalo in the past, but I must admit that I have not visited in quite some time. In the current mobile-driven environment at the Disneyland Resort, it has been be easy to forget that Rancho is an option. I've been guilty of writing off any location without mobile order as being automatically too time consuming. However, as anyone who has experience with mobile order knows, the system can be either a huge time saver when it works properly, or a major miss when it malfunctions. With those things in mind, as well as Rancho's made-to-order format, I was very interested to see whether mobile ordering added to or detracted from the dining experience.
I started the process at 5:15PM on a Sunday afternoon, on the early side of the dinner rush. I opened the Disneyland app and selected Order Food from the quick actions menu (the "+" icon if you're new to the process). From there, I found Rancho del Zocalo on the list of restaurants, and was pleased to see that the Now – 5:50PM time window was still available. It was easy to select my items and make the payment, just like always. With that said though, my Dream Key 15% discount was not applied to the total. This was the first time I've run into this issue, and I'm not sure if it was just a glitch with the system or something tied to the mobile order rollout at this new location. The discount is normally honored at Rancho, so my guess is this was only a temporary problem.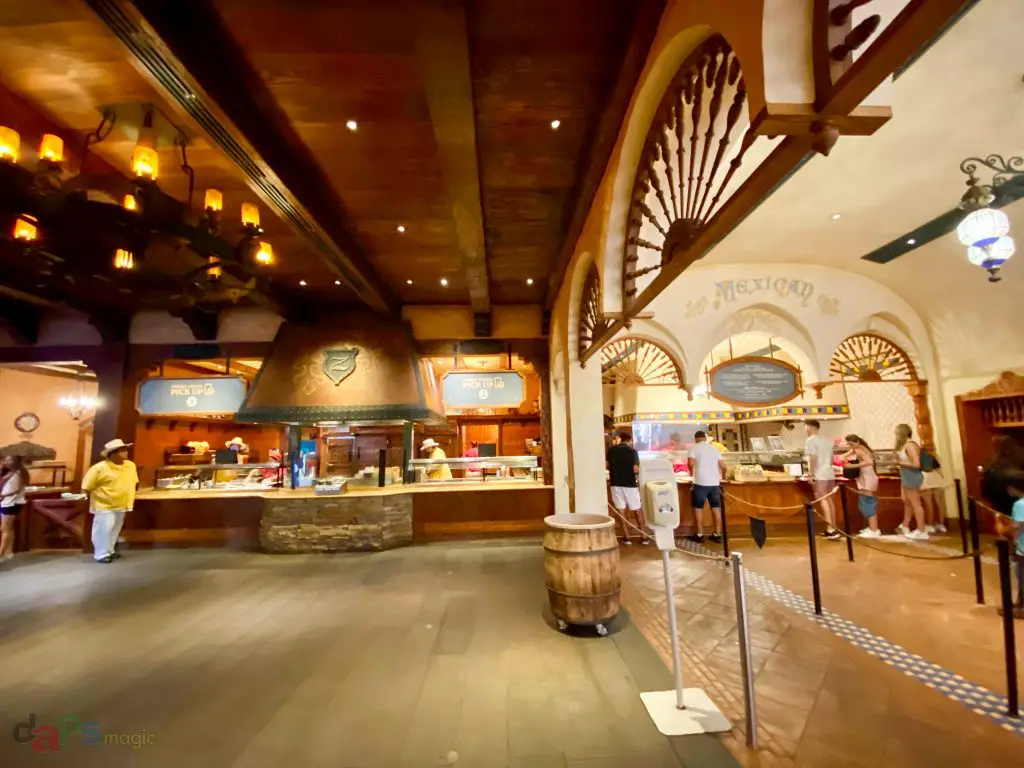 Upon arriving at the restaurant, the first thing I noticed was the new layout. Previously, guests would select one of two queues to order food. Each half of the kitchen prepared separate items, so those wanting to order both burritos and enchiladas, for example, would need to go through both lines. Now this process has been simplified, with the right side offering all items to standby guests and the left side doing the same for mobile order pickup. As the mobile order option becomes more well known and the traffic to both sides evens out, I can see this change being a win for standby guests.
Once I oriented myself, grabbed a tray, and tapped Prepare My Order in the app, it took less than two minutes for the food to be ready! This was definitely one of the quickest prep times I've received, but I do caution that your mileage may vary here. While it seemed like the Cast Members were very well prepared for the dinner rush, there were only a handful of guests in the restaurant when I came around 5:30PM. I did notice a significant line of guests queued up outside the restaurant when I passed by during lunchtime, which may lead to longer prep time.
A friendly Cast Member stationed next to the mobile order counter greeted me and asked for my order number. He relayed this back to the kitchen staff who handed me a separate green tray with my food. I offered to move the items over to my own brown tray, but was told that the green tray was important. The trays are color coded to indicate who has already paid for their meals and who still needs to see the cashier. What I didn't realize is that mobile order guests do not need to pick up a tray at the entrance. Apparently this was not obvious to other guests either, as I saw another party near me with both a green and brown tray, and overheard that they had a similar experience to mine.
Once I had my food, I was directed to use the opposite entrance to the left of the soda machines. There was a new Mobile Order Exit sign pointing the way. This meant crossing the space diagonally, back toward the entrance and past a set of disused cash registers. Standby guests still use the traditional registers, located to the right of the soda machines. During my visit this was only slightly awkward, but I could see these crossed paths creating some confusion during busy mealtimes.
One important note with the cafeteria system is mobile order guests are expected to pick up their items and leave through the designated exit. It is tempting to grab additional drinks or add-ons from the displays, but doing this could send you back to the cashier and counteract the time savings of mobile order. It was a muggy July day on this visit, so without thinking I grabbed a cup full of ice with the intent to fill up at the water station outside. I recognized after the fact that had I reached for a soda instead (without ordering it ahead of time), it would have been a mistake.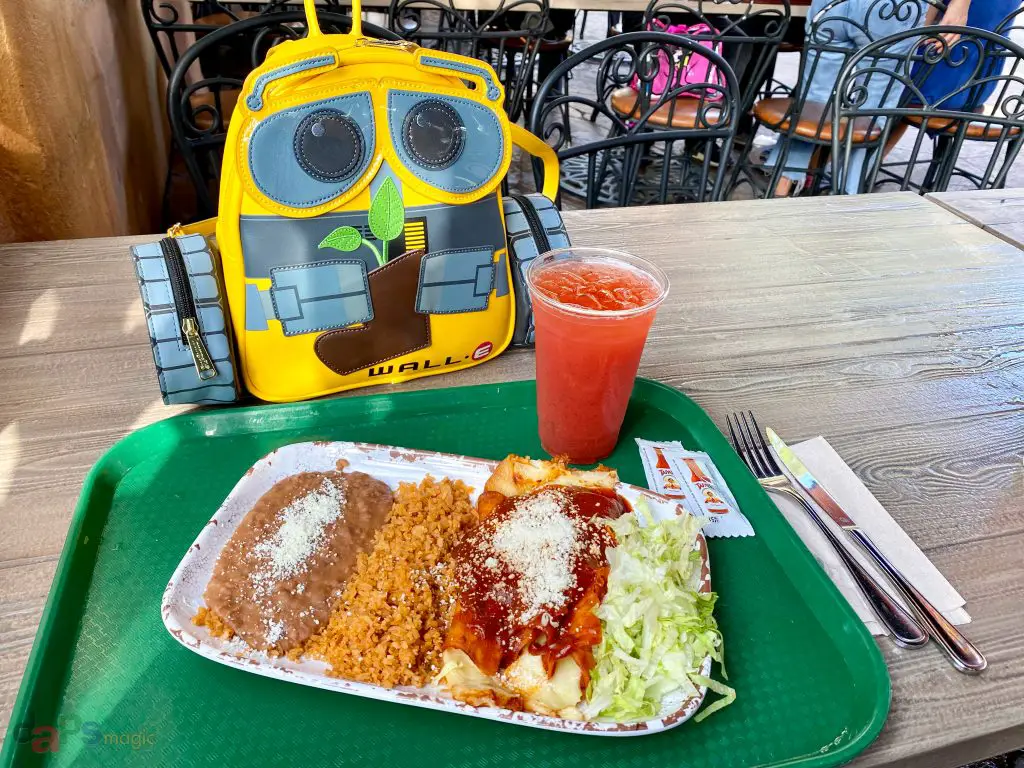 With a growling stomach, I made my way outside and found a front row seat to watch the Big Thunder Mountain Railroad trains pass by. I selected an old favorite entrée—the Red Chile Enchilada Platter. This meal includes three cheese enchiladas accompanied by rice, beans, and a lettuce garnish. Although I could tell my meal had been prepared previously, it was still as hot and tasty as always. I decided to wash it down with the excellent seasonal Strawberry-Agave-Limón Agua Fresca. This lightly sweet and thirst-quenching drink is a strawberry-basil limeade sweetened with agave nectar. The ordering system aside, Rancho del Zocalo's food is still a great choice for a satisfying lunch or dinner.
My experience at Rancho del Zocalo Restaurante was a big win, and evidence that mobile ordering done right can really streamline a day in the parks. I was impressed that the quality of the food was consistent with my past visits, considering that my order wasn't made right in front of me. The only room I saw for improvement was in resolving the Magic Key discount error, clarifying the mobile and standby traffic routes, and addressing the tray confusion. Of course, the true test will come during peak volume periods, but my experience leads me to believe Rancho is well on its way to becoming a mobile order staple.
Have you tried out mobile ordering at Rancho del Zocalo yet, or do you plan to on your next visit? What is your favorite meal to order? Let us know in the comments below!