Disney Legend Ron Logan passed away at the age of 84 years. The former executive vice president and executive producer for Walt Disney Entertainment was known for revolutionizing live entertainment for Disney. He was born in 1938 in Leavenworth, Kansas. It was there that he also grew up as well. During this time he learned multiple instruments including trumpet, violin, piano, and also studied dance. By 9th grade, he was already performing professionally. He played in both orchestras and bands across the nation and also appeared as a trumpet player and singer on recordings, on television, and in films, as well as appearing live with name bands and lounge acts across the country. He would go on to earn B.A. and M.A. degrees in music and music education from UCLA.
His official Disney career began when he performed as a trumpet player at Disneyland while he was at UCLA. In this role, he performed in the Candlelight Processional and also performed as a fanfare trumpeter in the Walt Disney-produced 1960 Winter Olympics in Olympic Valley (also known as Squaw Valley), California. During those early years Logan would meet Walt Disney several times. In 1978 he moved to Florida and became the Walt Disney World music director. In 1980, he came back to California where he became Disneyland's director of entertainment.
In 1982, he returned to Walt Disney World as the vice president of entertainment. 1987 saw Logan promoted to vice president of creative show development for all of Walt Disney Attractions. It was in this last role where he produced many of this major spectacular shows at the Disney Parks throughout his career. He also helped bring to life Beauty and the Beast on Broadway. He would also become president of Walt Disney Theatrical Productions for several of the early years. Outside of the parks, Logan produced five Super Bowl halftime shows and also authored the book, Walt Disney Entertainment: A Retrospective Look. This book took a look at Disney entertainment from 1955 through 2000.
Throughout his career, Logan was known for creating spectacular entertainment. Under his watch, he brought the world some incredible shows that ranged from fireworks, music spectaculars, Broadway-style stage musicals, and more! He was a part of bringing to the public shows like Fantasmic! (Disneyland, 1992; Disney's Hollywood Studios, 1998), Indiana Jones Epic Stunt Spectacular! (Disney's Hollywood Studios, 1989), Festival of the Lion King (Disney's Animal Kingdom Theme Park, 1998), Buffalo Bill's Wild West Show (Disneyland Paris, 1992), and many others. He would retire from The Walt Disney Company in 2001.
He was named a Disney Legend in 2007.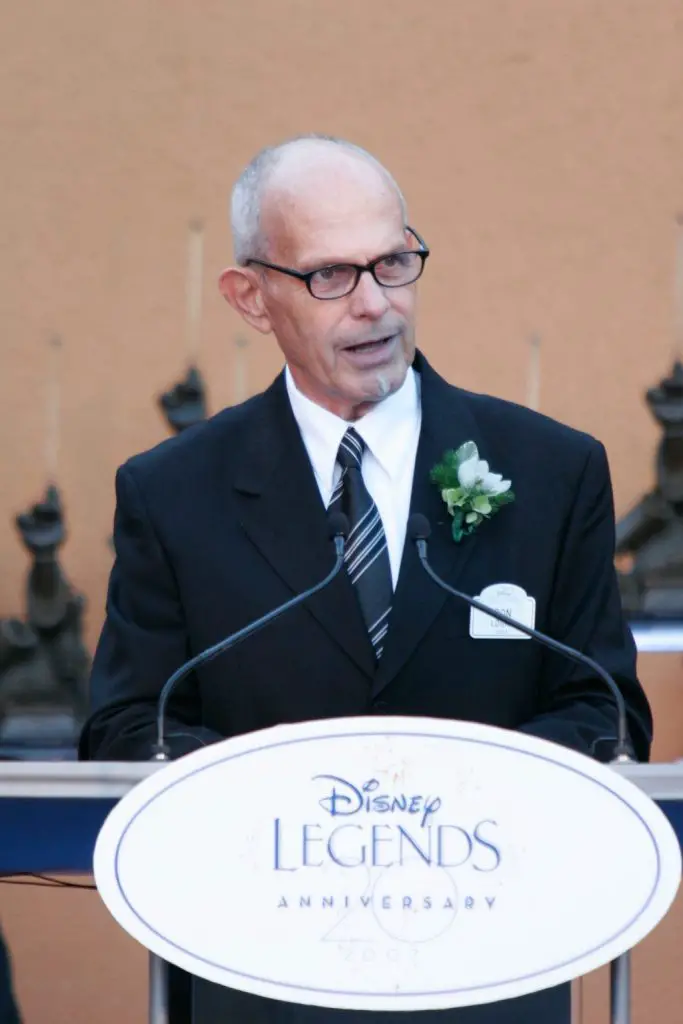 "It made it all worth it," Ron said. "The respect that we get as Legends makes it feel like a knighthood. You feel really proud to wear this pin, and to put it along with everything else—it's the pinnacle of indication that you did okay."
After his retirement, Logan would not only be named a Disney Legend but also was honored with a window on Main Street, USA. The window says, "Ron Logan, Leading the Band into a New Century."
"[Disney Legend] Marty Sklar did that for me when I retired from Disney," Ron said. "My grandkids will see it, and it will be there unless somebody breaks it. I'm really proud of that."
In 2010, Logan would return to Disneyland as part of the Disney All-American College Band's 40th Anniversary Reunion. Former participants of the band, in both its Disneyland and Walt Disney World iterations, converged at Disneyland for a very special day and performance. Logan was the first director of what is now known as the Disneyland Resort All-American College Band in 1971 when it was founded and he was teaching at Long Beach City College in Long Beach, California.
Logan is survived by his wife, Carol, daughters Sheryl Logan (Michael Stewart) and Michelle Haney, and grandsons Zachary, Adam, Cristian, Collin, Daniel, and Jackson.
*updated with correct title of Ron Logan