The Veterans Institute Summit takes place on August 19th and 20th. This summit is presented by the Disney Institute and Wounded Warrior Project. The conference is designed to empower companies to build effective veteran hiring, training, and support programs of their own.
Previously, a list of speakers for the summit was announced on the Disney Parks Blog. Now, more speakers have been added to the list.
Staff Sergeant (ret.) David Bellavia – Medal of Honor Recipient 
Tish Stropes – Vice President of Strategic Initiatives; Fisher House Foundation
Eric Eversole – Vice President, U.S. Chamber of Commerce; President, Hiring Our Heroes, U.S. Chamber of Commerce Foundation
Cheryl Mason- Chairman of the Board of Veterans' Appeals; U.S. Department of Veterans Affairs
Allie Braswell – Senior Vice President, Culture, Diversity, Equity and Inclusion; VyStar Credit Union
Carlandra "CT" Moss – Racial Equity & Inclusion Director; Blue Star Families
Lieutenant Colonel Ismael Ortizrivera – Employment Director; U.S. Army, Soldier for Life
Here is a look at the previously announced speakers:
U.S. Army General Paul Funk II, Commanding General, United States Army Training and Doctrine Command
Michael Linnington, CEO, Wounded Warrior Project, U.S. Army General, retired
Dr. Barbara Van Dahlen, CEO, WeBe Life; Founder, Give an Hour
Bob Woodruff, Founder, Bob Woodruff Foundation
Mark Elliott, Head of Military & Veterans Affairs, JP Morgan Chase, U.S. Army Colonel, retired  
William Reynolds III, Management Consulting Entrepreneur & Business Leader, SERVE Advisory Group, U.S. Army Captain, Retired
Jen Amos, Podcaster & Entrepreneur, Holding Down the Fort Podcast
Jen Anthony, Director of Veteran Services, The COMMIT Foundation, U.S. Air Force Chief Master Sergeant, retired
Brian Alvarado, Director, Military Spouse Programs, Hiring Our Heroes, an initiative of the U.S. Chamber of Commerce
Stephanie Brown, Founder and CEO of The Rosie Network
Jaime Chapman, COO and Co-Founder of Military Spouse Chamber of Commerce
Beau Higgins, Senior Manager, Military Affairs, Amazon; U.S. Marine Colonel, retired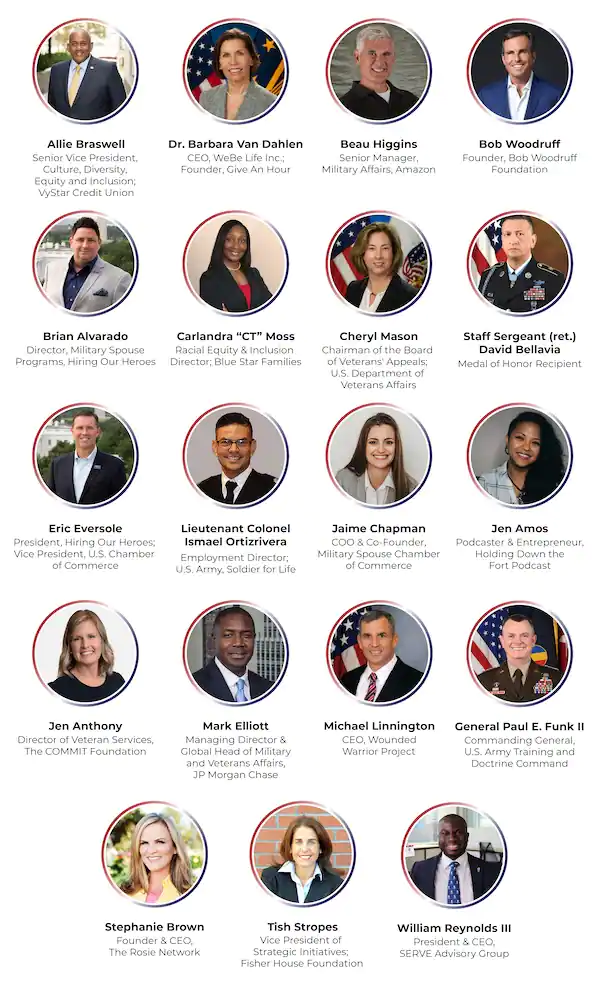 The 2022 Veterans Institute Summit will also be webcast live from the ESPN Wide World of Sports Complex on both August 19th and 20th. There is still time to reserve space. To learn more about the event and to register, visit the Veterans Institute Summit Website.
Disney is joined in support for the Veterans Institute Summit by sponsors Wounded Warrior Project, Amazon Global Military Affairs, The Hewlett Packard Enterprise Company, USAA, Optum Serve, Enterprise Holdings, Inc., and JPMorgan Chase & Co. Together, all of these companies strive to create workplaces where heroes can work and strive.