Jump to recipe
Anyone who has experienced the Hoop-Dee-Doo Musical Revue at Disney's Fort Wilderness Resort and Campground knows that the fried chicken is absolutely delicious. Just thinking about it will easily get the mouth watering! It has particularly been in many Disney guests' minds as the show recently returned to Disney's Fort Wilderness Resort and Campground after a hiatus due to the pandemic.
On an average night at the Hoop-Dee-Doo Musical Revue, chefs prepare over 800 pounds of chicken! That's a bit much though to recreate at home. Instead, Disney chefs have downsized the recipe and recreated it so that guests can make this magical meal at home. Give this recipe a shot and then share how it turned out in the comments below!
Fried Chicken Recipe from Hoop-Dee-Doo Musical Revue - GEEK EATS Disney Recipe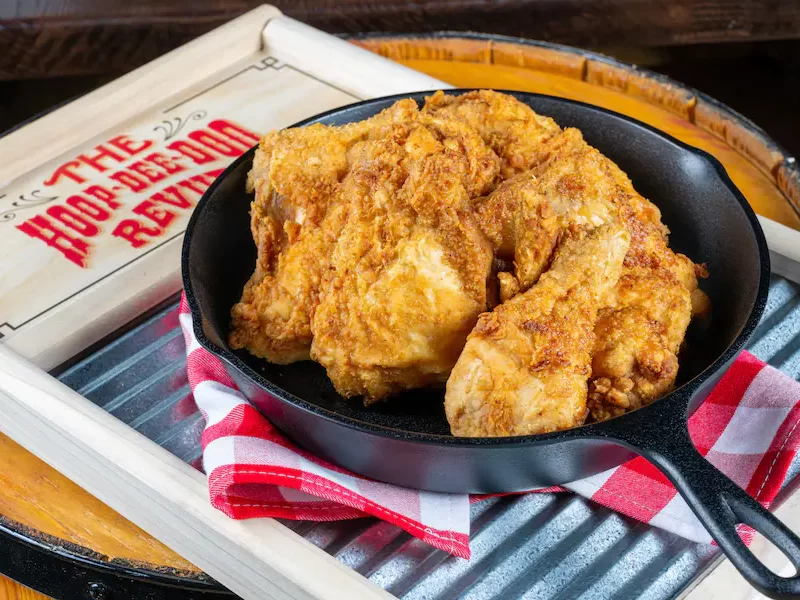 Notes
TIPS:
Don't over-bread the chicken, all it needs is one really good coat
Make sure your oil is between 325-350 degrees to get the chicken nice and crispy
Have fun with it! Fried chicken is a comfort food and is meant to be enjoyed!
Always use caution when handling sharp objects and hot contents.
Please supervise children who are helping or nearby.
This recipe has been converted from a larger quantity in the restaurant kitchens.
The flavor profile may vary from the restaurant's version.
Ingredients
BRINE
3 cups cold water
2 tablespoons garlic powder
4 tablespoons coarse salt
1 medium chicken, cut into 2 legs, 2 breasts, 2 thighs, and 2 wings
FRIED CHICKEN
Canola oil, for frying
Reserved brined chicken
3 cups all-purpose flour
1 cup cornstarch
1 tablespoon coarse salt
1 tablespoon paprika
1 tablespoon onion powder
2 teaspoons ground white pepper
Instructions
FOR BRINE:
Combine cold water, garlic powder, and coarse salt in a large glass bowl. Add cut up chicken.
Cover and refrigerate for 8 hours.
FOR FRIED CHICKEN:
With caution, heat 3 inches of oil in a heavy-bottomed pot until it reaches 350°F.
Remove chicken from brine and pat dry.
Whisk flour, cornstarch, salt, paprika, onion powder, and white pepper in a shallow bowl or pie plate. Dredge chicken in seasoned flour, making sure to fully coat each piece.
Carefully place chicken in hot oil, working in batches if necessary. Cook chicken, turning once, 13-14 minutes for breasts, 9-10 minutes for thighs, 7-8 minutes for legs and wings, until all meat reaches an internal temperature of 165°F.
Carefully remove from oil and drain on paper towels.
© 2023 dapsmagic.com
How did your fried chicken turn out? Did it bring back magical memories of the Hoop-Dee-Doo Musical Revue at Disney's Fort Wilderness Resort and Campground? Share your thoughts, experiences, and opinions in the comments below!