On our recent trip to Walt Disney World Resort for its 50th Anniversary, we stayed in The Cabins at Disney's Fort Wilderness and Campground. This was the first time any of our group had done this before. With four people sharing a cabin, it made the rates comparable to other moderate rates that were available when we booked.
We booked through our friends at Mouseways Travels, which turned out to be a very good thing. Matthew at Mouseways helped make sure we had all our t's crossed and i's dotted. This included making sure we were set for not just accommodations, but also the Magical Express, tickets, and perhaps most importantly a golf cart! All of these things contributed to a more magical trip where we didn't have to stress about the details and could simply enjoy showing up and enjoying Walt Disney World.
The Cabin
The cabin we stayed in at Fort Wilderness Resort & Campgrounds was basically right in the middle of the resort. It was also almost in the middle of the loop that it was located in as well. It wasn't massive, but it was clean, didn't share any walls, and was also cozy and quaint. The cabin accommodates up to six guests. There is room for four in the bedroom and then a pullout couch creates space for two more potentially. There is a very small cabin/closet in the bedroom to hang things. This is probably not enough for six people to hang all of their stuff in. However, there are also drawers where clothes and other items can be stowed while visiting. Both the main living area and bedroom have televisions. There is also a kitchenette in the main living area that includes a stove, microwave/oven combo, refrigerator, coffee maker, and even a dishwasher. The cabinets are stocked with dishes. There are NOT any knives to be found though, which can be a challenge when trying to make things in the kitchenette. Just across from the kitchenette there is a table that has a bench and three chairs. In theory, it could fit six people around it. In practicality, this would be pretty tight. There is also a bathroom that has a sink, toilet, and bath/shower. It isn't a large bathroom but it isn't tiny either. There are also plugs around the cabin for charging devices (or plugging in computers in our case). Finally, there is an extra chair and mixed-use table in the living area.
Nothing is huge in the cabin but things are orderly and functional. Four people can be quite comfortable in the cabin. For our trip, three of the four of us had brought laptops and there was also camera equipment. We had no problem finding places for all of these things on top of normal luggage. We also brought snacks and coffee for the kitchenette area. It turned out there was Joffrey's Coffee in filter bags that we could use with the coffee maker. While it was not a lot of space, we found it more than adequate for our group. With six adults, it might be getting a bit tight in terms of space and also the bathroom schedule. A family of six could probably be quite comfortable albeit cozy, however.
The beds in the cabin were all fairly comfortable. Obviously, the beds in the bedroom were more comfortable than the pull-out couch. However, it was not an uncomfortable pull-out. I have definitely slept in pull-out couches that were way more uncomfortable, even at a Disney Resort. I did not wake up sore in any way in the mornings, which was a very good thing when heading for long days in the parks!
The bathroom was functional and did its job well enough. The shower worked well, as did everything else in there. The one critique I might have for the bathroom is that the hangers for towels were not as accessible from the shower as I would have liked. While not the end of the world, it did make it harder to keep the water inside the shower and the small floor towel was not large enough so we ended up placing a second towel on the floor to avoid a slippery floor.
The decor in the cabin was actually something that surprised me. I expected it to be fairly woodsy and didn't consider that there would be some magical art on the walls. My favorite was a painting of the Fort Wilderness Railroad that once used to be at the Resort. I definitely spent some time just enjoying the artwork on the walls at the cabin and wished I could take some prints of the art home with me!
Perhaps one of the best parts of staying in a cabin though was the privacy. As I mentioned before, there are no shared walls. The entire area was also fairly quiet. This made it really a nice retreat in the morning and also at the end of the day after traipsing around the parks. It really was a lovely atmosphere to be in and really did feel like being in a campground somewhere. Seeing deer and turkey wandering around occasionally just added to that. A neighbor also said they saw an armadillo one morning! It scattered away before I could see my first wild armadillo though. Overall, the atmosphere at the cabin was really relaxing, quiet, and wonderful.
Each cabin also has wifi included along with complimentary parking. The wifi is slow and steady but the parking works for one vehicle and golf cart easily.
Transportation
I will admit that transportation to and from and around The Cabins and Fort Wilderness Resort & Campground was something I was a little worried about. Everything seemed a bit secluded and far away from everything else. The cabins seemed far from buses and boats. The Resort seemed far from the parks and Disney Springs. In my head, the cost for staying in such a relaxing locale was that it would take much longer to get to the places we wanted to be during the day. I couldn't have been more wrong.
Transportation ended up being a breeze for us while staying at Disney's Fort Wilderness Resort & Campground. It started off with Matthew suggesting we rent a golf cart while there. Yes, it's an added cost. However, it more than paid for itself. It made transportation around the Resort a breeze. It also was a LOT of fun!
There were also buses that can take people around the Resort as well. We did use these once to get from the Marina to the Outpost. We found we didn't have to wait super long and the circle over to the Outpost didn't take terribly long either. I do contend the golf cart would have been quicker, but we were going over to the Outpost to get it so the bus was a necessity.
To get to the parks and Disney Springs, there are buses that can get guests to and from the locations. The buses to EPCOT, Disney's Hollywood Studios, Disney's Animal Kingdom, and Disney Springs are all near the Outpost at the front of the Resort. The bus for Magic Kingdom is back by the Marina where the boats to Magic Kingdom are found. Our experience was that the buses continued to come and go regularly throughout the day. We also discovered that they often arrived before the time that was posted on the screens at the loading area.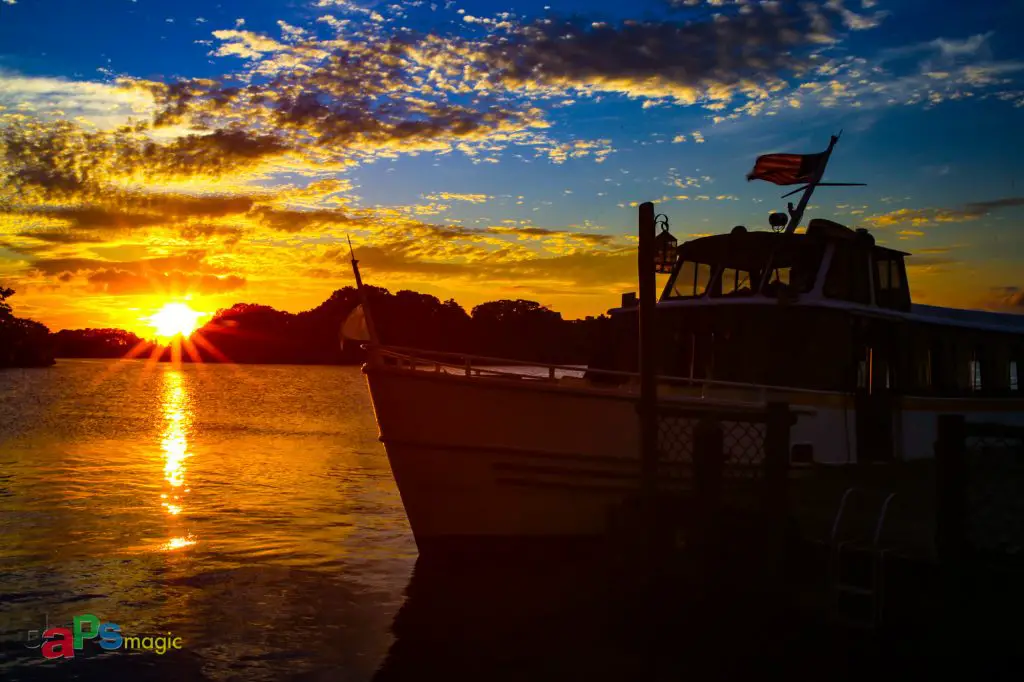 The boats to and from Magic Kingdom quickly became a favorite mode of transportation during the trip. We used this regularly and they seemed to arrive as frequently as buses did at the Outpost. We did not try the bus to the Magic Kingdom because we liked the boats so much. It did seem like they would take about the same amount of time though. They also were way more relaxing! If you are staying at a cabin, definitely ride the boats to the Magic Kingdom. You'll love it! My favorite times were at sunset and also at night while the Electric Water Pageant cruised by.
The bottom line about the transportation at Disney's Fort Wilderness Resort & Campground is that it was much quicker than I expected. In general, it took about a half-hour from the moment we walked out of the cabin door until we arrived at our destination. This included the parks and also Disney Springs. I was very pleasantly surprised at how fast we were able to get everywhere. I will also say that it was the golf cart that helped make this possible as we were only waiting for one bus or one boat instead of a bus to get to the next form of transportation.
Restaurants
There are several options for stores and restaurants at Disney's Fort Wilderness & Campground. For food, there are the following options:
P & J's Southern Takeout
Meadow Snack Bar
Crockett's Tavern
The Chuck Wagon
Trail's End Restaurant
Hoop-Dee-Doo Musical Revue
Check the Walt Disney World website for availability and details about dining options.
We did not experience all of the restaurants at the Resort. On this trip, we did get pizza from P & J's Southern Takeout, though. The pizzas were decent and reasonably priced. At $17, they would easily feed several people each. They were decent pizzas. They won't win any awards but they also weren't overly greasy and gross either. For the price, they were a good deal.
In previous trips, we have experienced the Hoop-Dee-Doo Revue as well when it was open. This is a blast and the food is delicious! All in all, if it is open this is a dining experience that you just don't want to miss!
Stores
There are two main stores, or trading posts, to be found at Disney's Fort Wilderness Resort & Campground. The Meadow Trading Post is the central store and the Settlement Trading Post is near the marina. We found the service at both locations to be wonderful. The cast members were friendly and more than helpful. While there wasn't the largest selection of merchandise, food, and beverages in the stores, there was still a nice variety. There was also some resort-specific merchandise available. Overall, we found the stores to be enjoyable experiences. Our one complaint is that they simply didn't stay open late enough for those returning from the parks after they closed.
Recreation
There are quite a few activities to enjoy at Disney's Fort Wilderness Resort & Campground. While we didn't do any of these while we visited, we did see other people enjoying them. Here is a list of what could be experienced there:
Pools
Fort Wilderness Archery Experience
Tri-Circle D Ranch (pony, wagon, and carriage rides)
Horse-Drawn Carriage Rides
Pony Rides
Wagon Rides
Chip N' Dale's Campfire Sing-A-Long
Movies Under the Stars
Motorized Boat Rentals
Fishing
Canoe Rentals
Kayak Rentals
Basketball Courts
Volleyball
Jogging Trails
Playgrounds
Daniel Boone's Wilderness Arcade
Davey Crockett's Wilderness Arcade
Wilderness Back Trail Adventure
Make sure to check the Walt Disney World Resort website or talk to cast members at Disney's Fort Wilderness Resort & Campground for details about any of these activities along with details about availability and prices.
One other fun thing that happens at this resort is both the cabins and campgrounds are decorated for holidays. This is especially fun during Halloween and Christmas! It is very fun to walk or drive your golf cart around the resort and see how people decorate. People also decorate their golf carts as well!
Final Thoughts
Staying at Disney's Fort Wilderness Resort & Campground really was a lot of fun. I have always wanted to stay at a cabin and it did not disappoint. In fact, the whole experience exceeded expectations. The cast members were great, the cabin was wonderful, the transportation was quick and timely. All in all, we all had a blast staying at the cabin. I think I speak for our entire group when I say that we would all enjoy staying there again! Disney's Fort Wilderness Resort & Campground was definitely a home run for us and easily gets a solid hat tip! This definitely earned the DAPS Hat Tip and I can't wait to visit again.