Knott's Berry Farm returns with the 2022 Boysenberry Festival, set to run from March 18 through April 24. This week Daps Magic was invited to a preview tasting of most of the food offerings that will tempt Festival visitors, along with a sneak peek at some of the merchandise.
While "boysenberry" may conjure up images of a dozen different desserts, the culinary artists at Knott's have conjured up over two dozen savory treats, a respectable number of sweets, and even some surprisingly sophisticated beverage selections.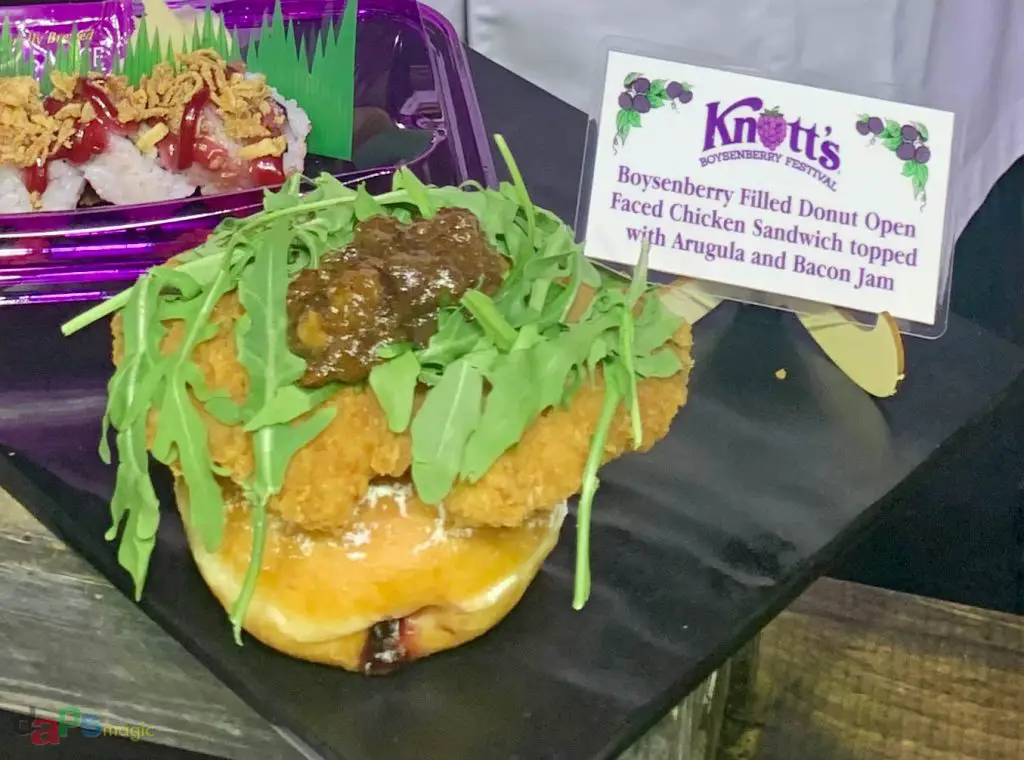 Perhaps not as sophisticated as some, this item is sure to spark some lively conversation on social media. Yes, it's a whole boysenberry jelly filled donut topped with a chicken cutlet, bacon jam, and a sprinkling of arugula. (I am sure you are asking: "Why the arugula?)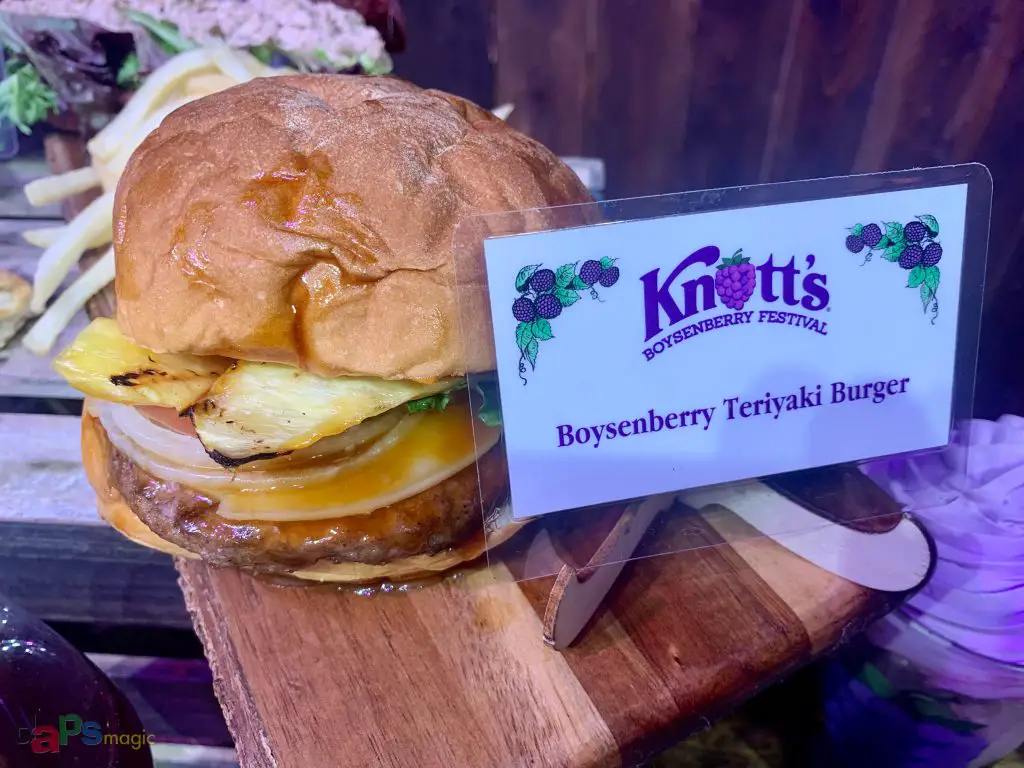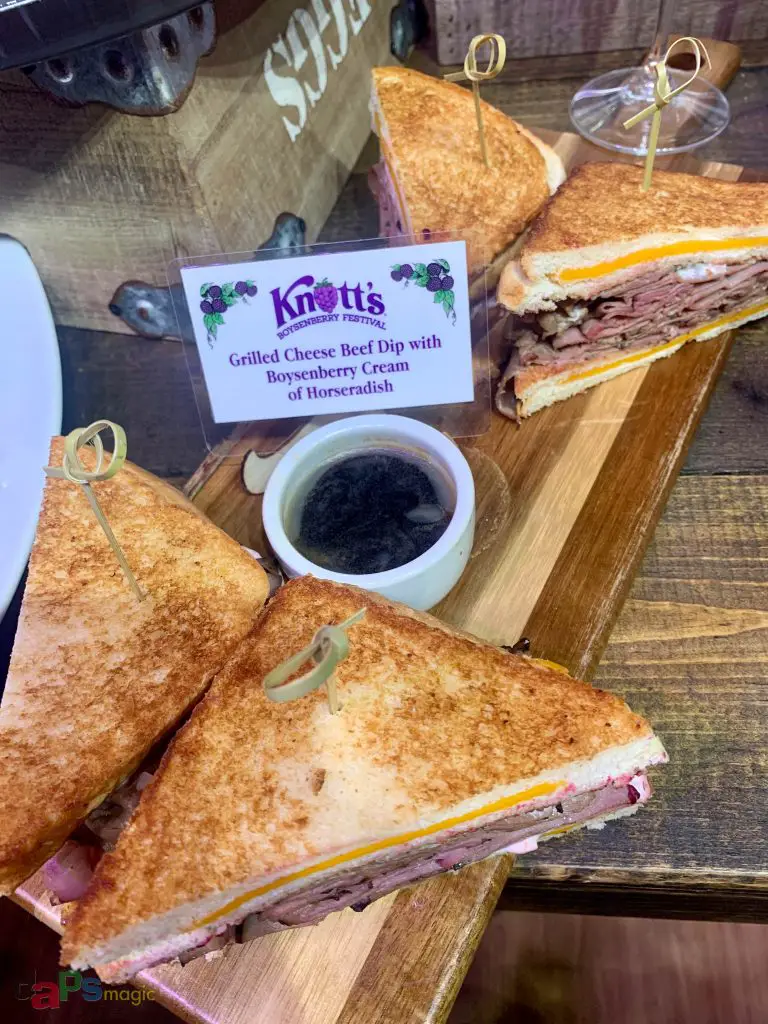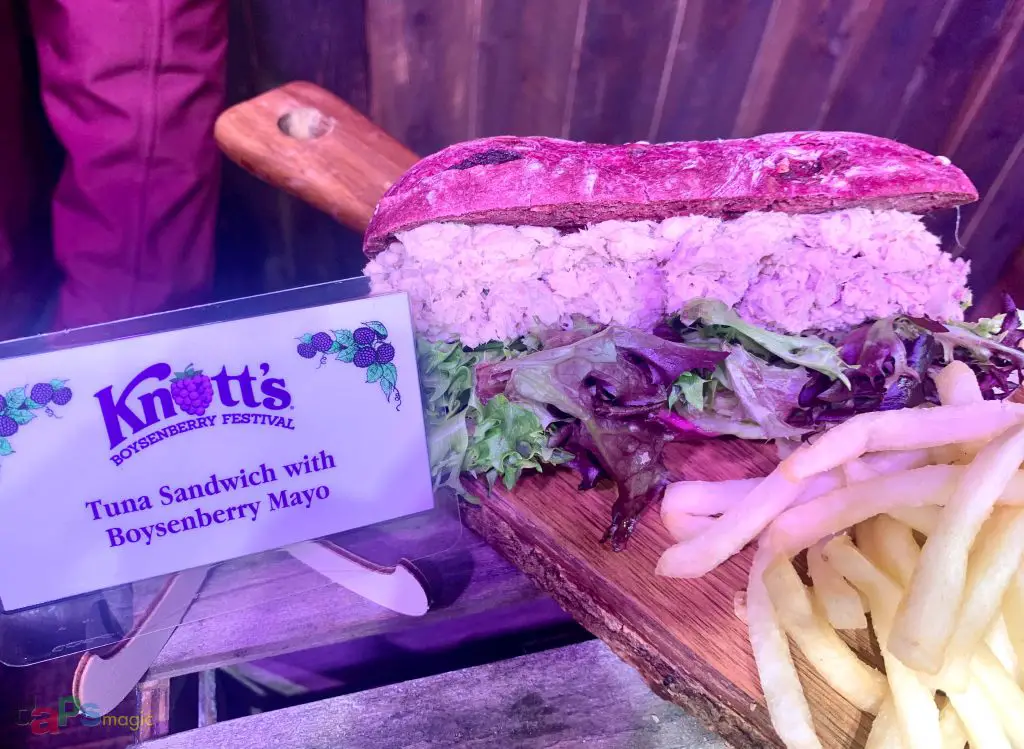 Other sandwiches include a teriyaki burger, grilled cheese and beef tips and tuna. All with boysenberry, of course.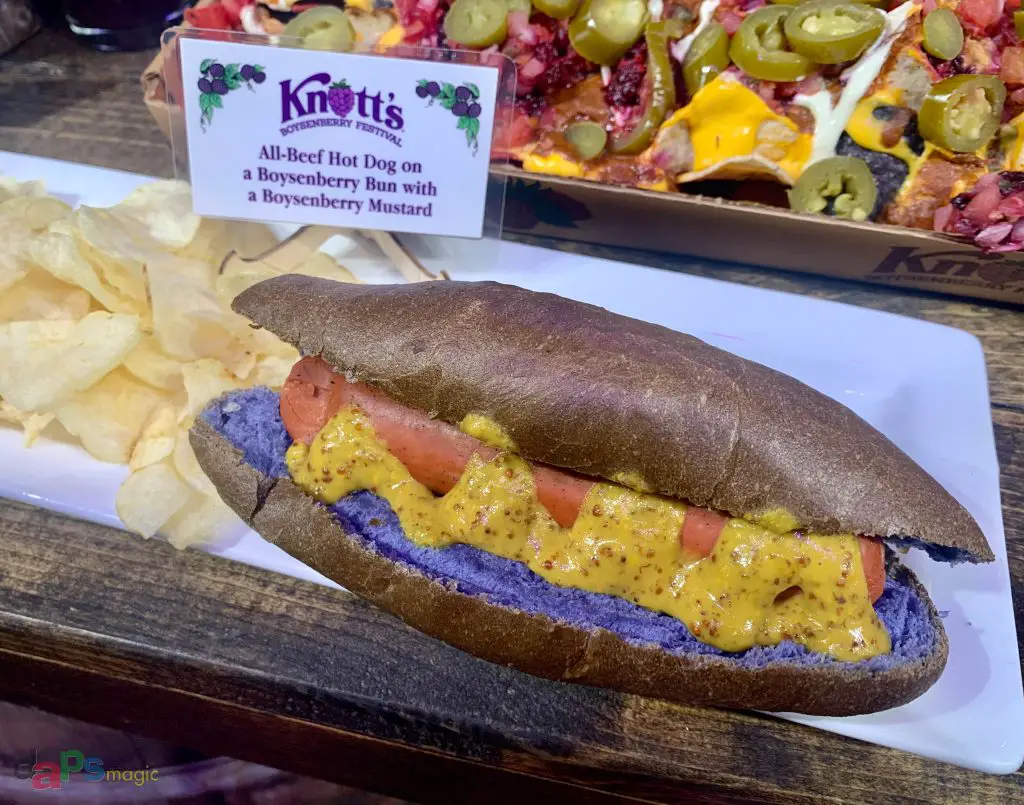 Boysenberry mustard is paired with either a corn dog, or an all-beef hot dog (on a boysenberry bun).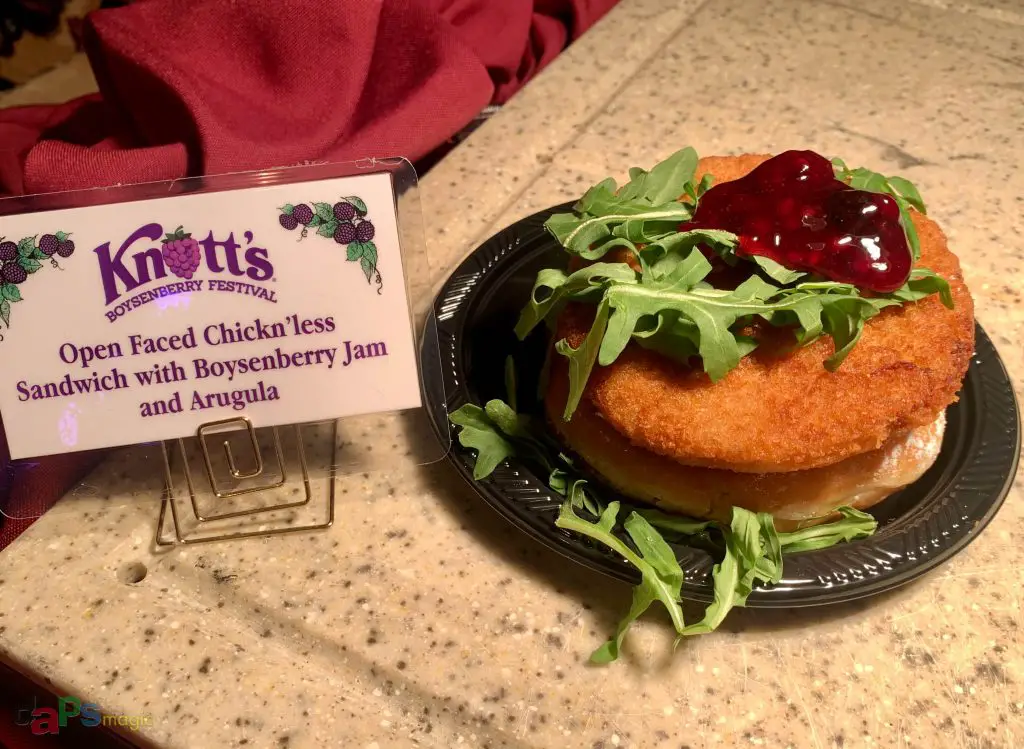 There is a vegetarian option, of course. This is the Chickn'less sandwich, served open faced with boysenberry jam and arugula.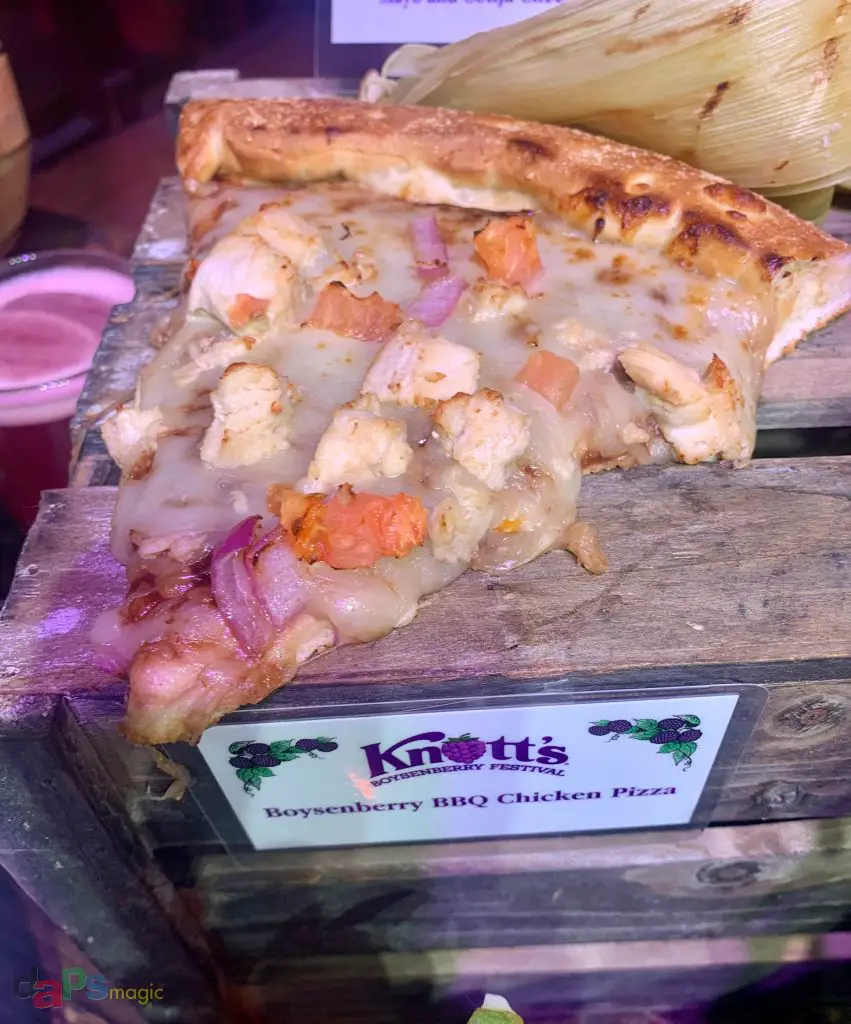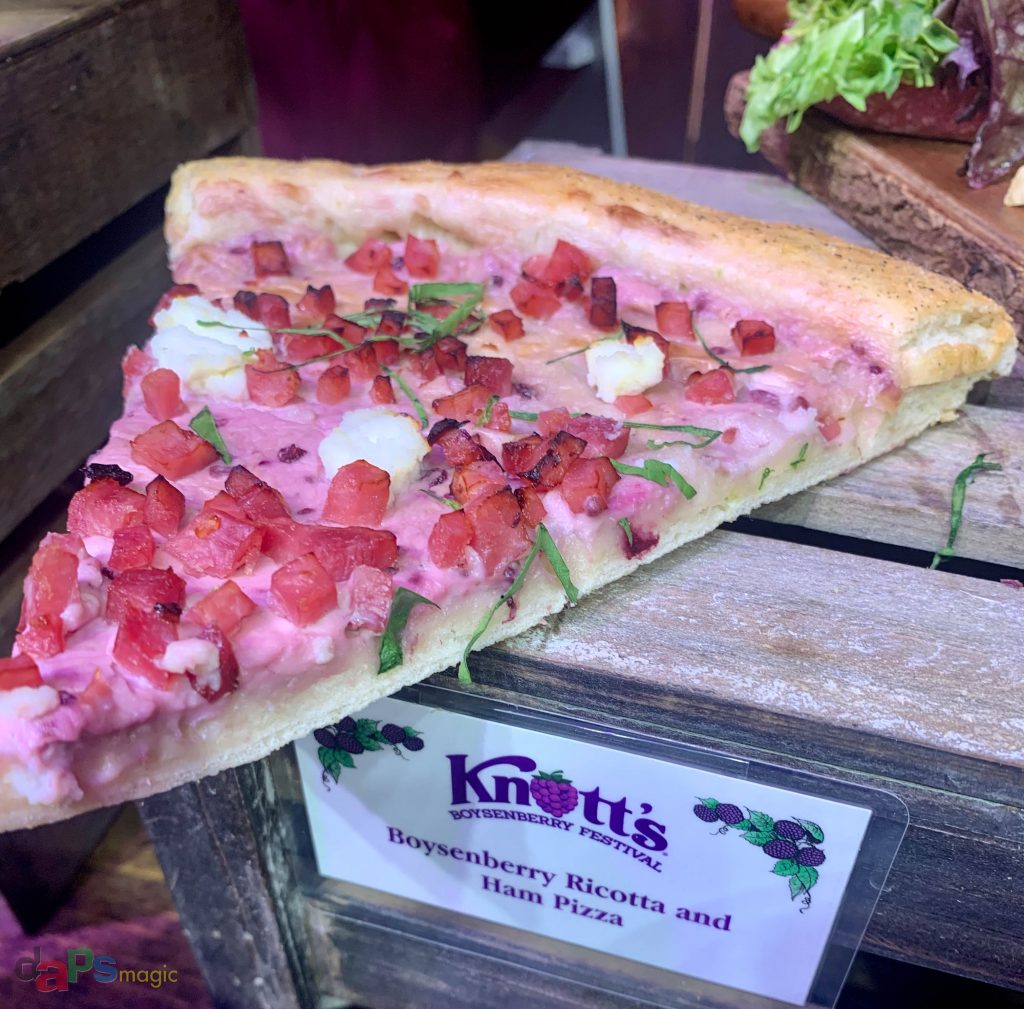 Did anyone order pizza? They will have boysenberry bbq chicken and boysenberry ricotta and ham.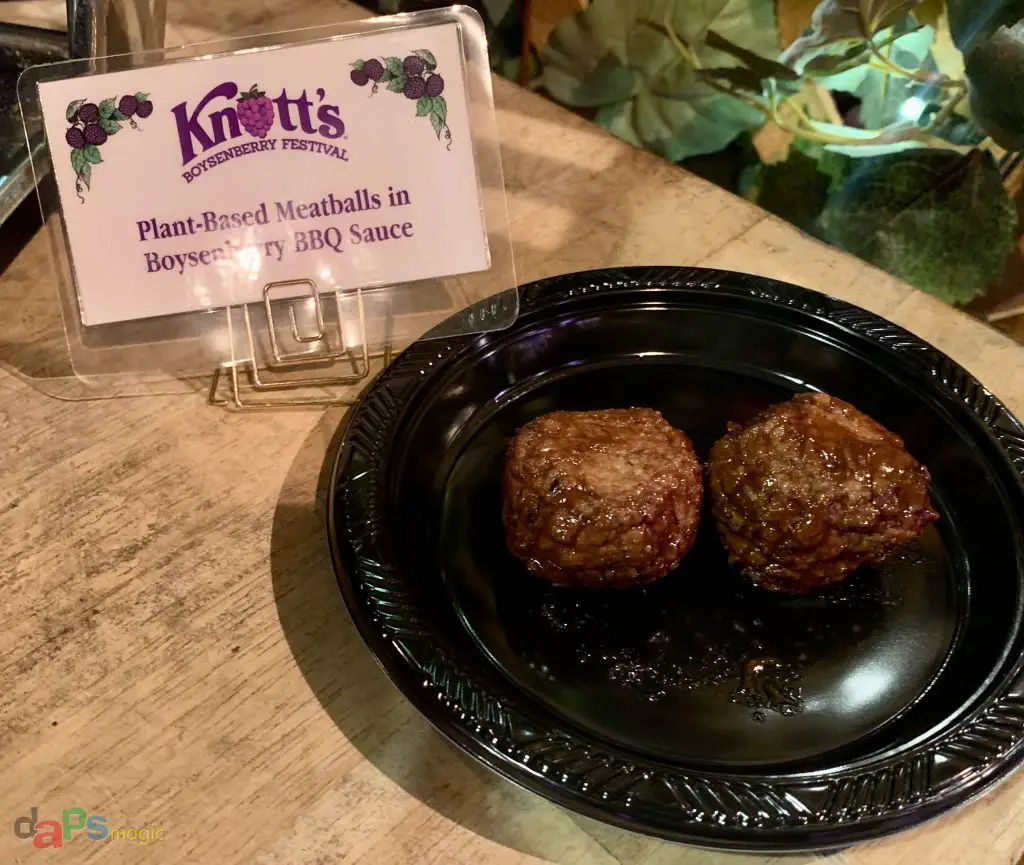 Knott's has already been offering these tasty boysenberry bbq sauce meatballs. For the festival they will be served on mashers. And for meatless fans there is a plant-based version.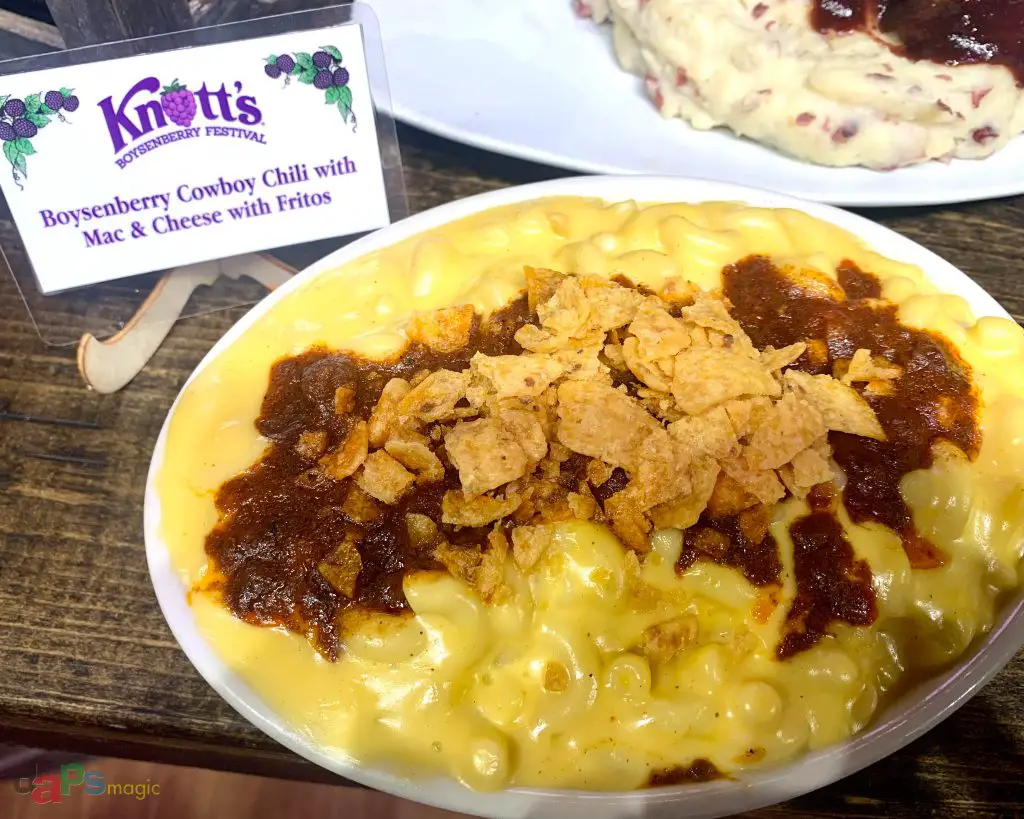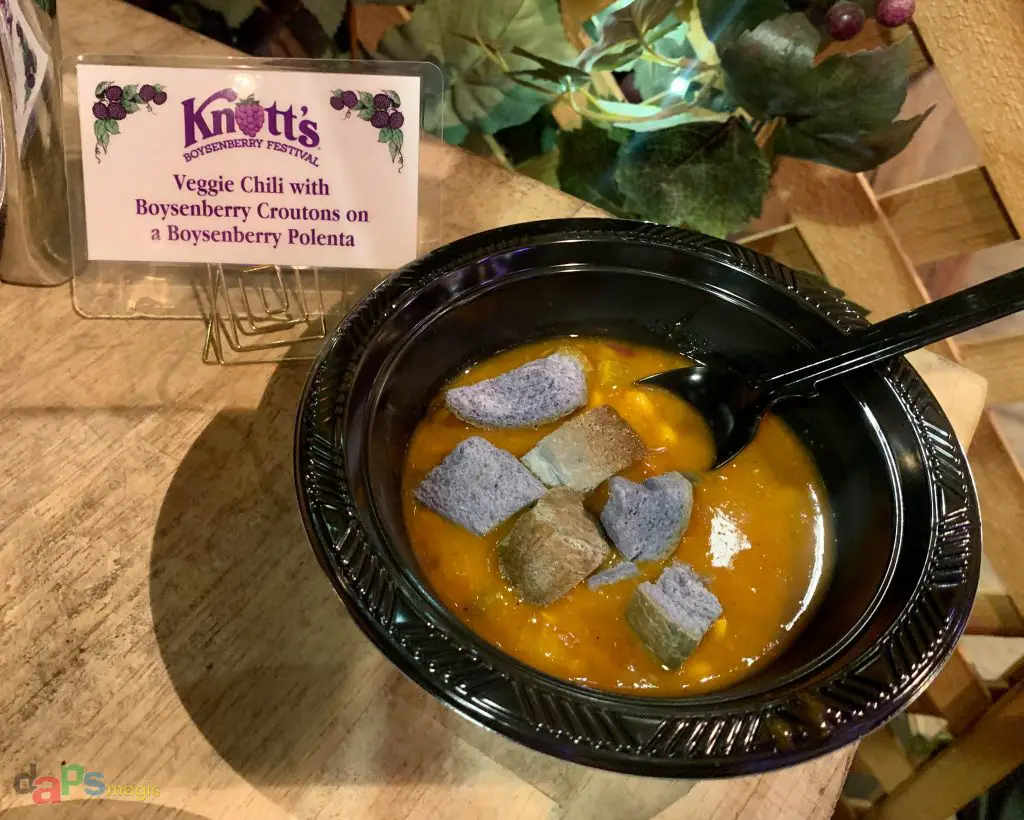 Chili is also offered cowboy style with Mac 'n cheese and fries, or veggie style over boysenberry polenta.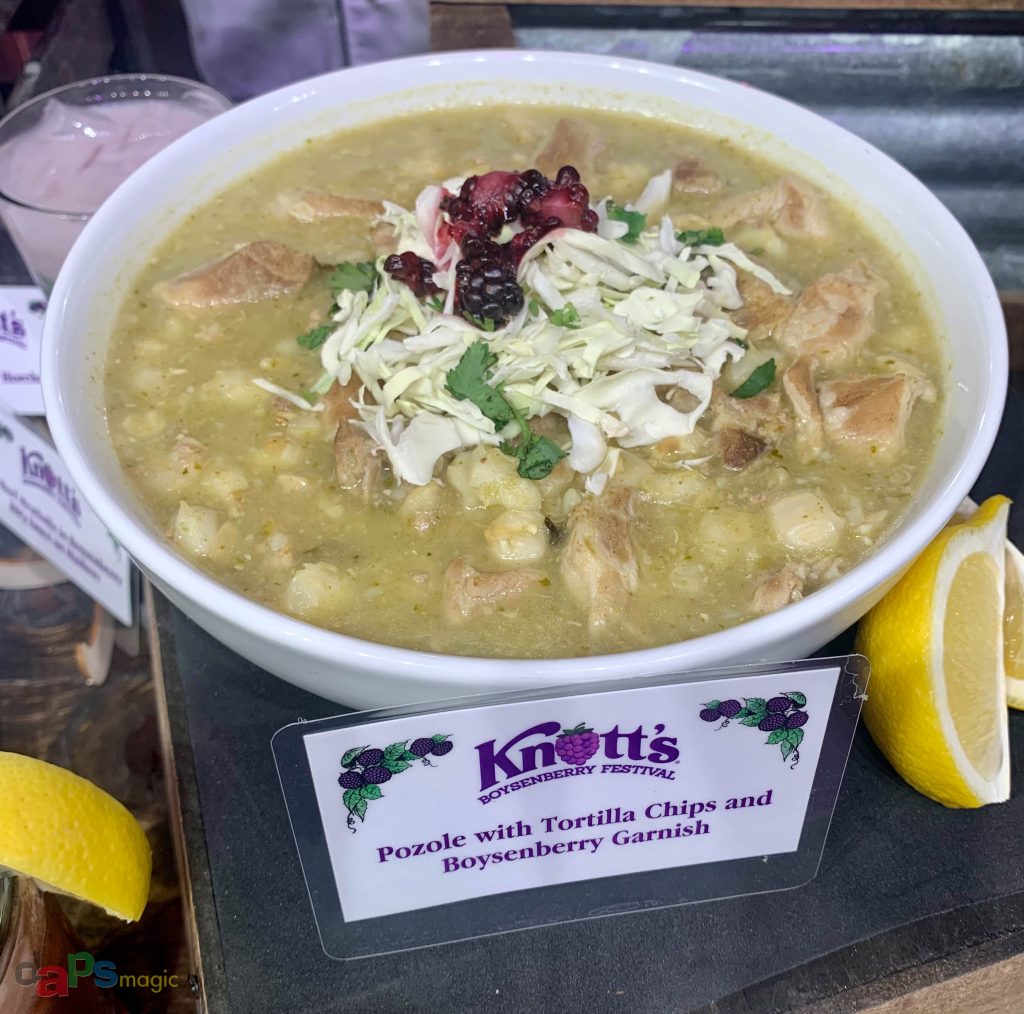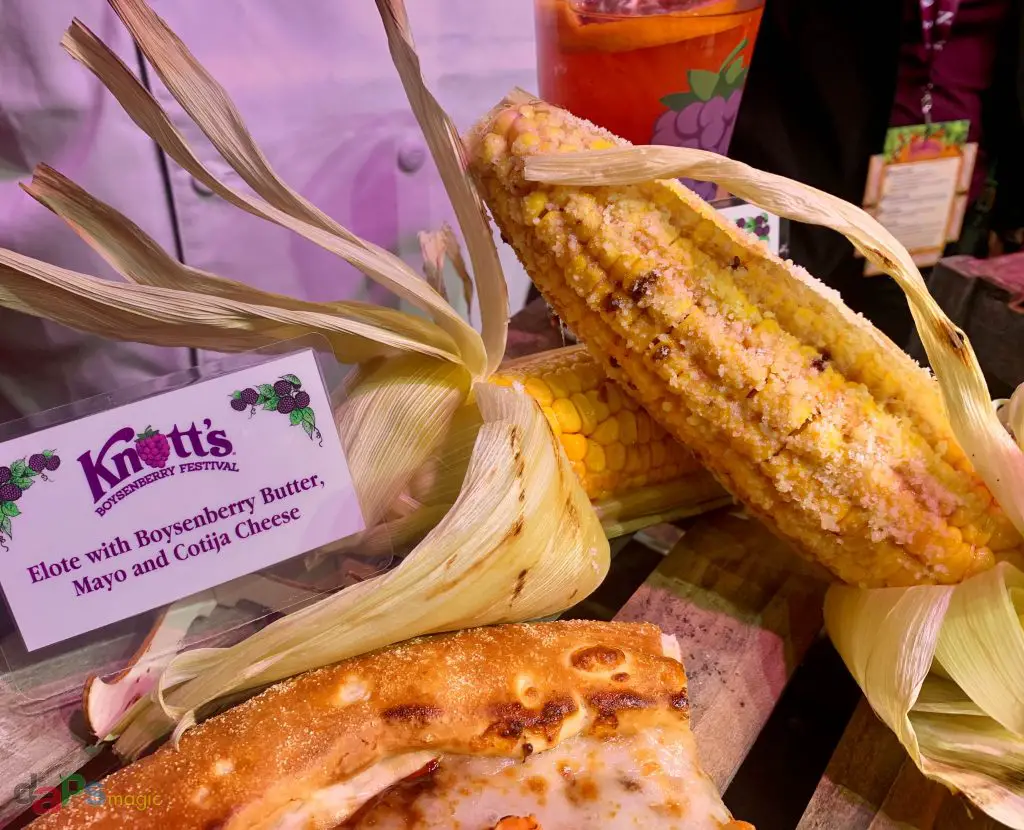 Traditional Mexican cuisine inspires tamales with boysenberry sauce, pozole (it's chicken) with tortilla chips and boysenberry garnish, and elote with boysenberry butter, mayo and cotija cheese.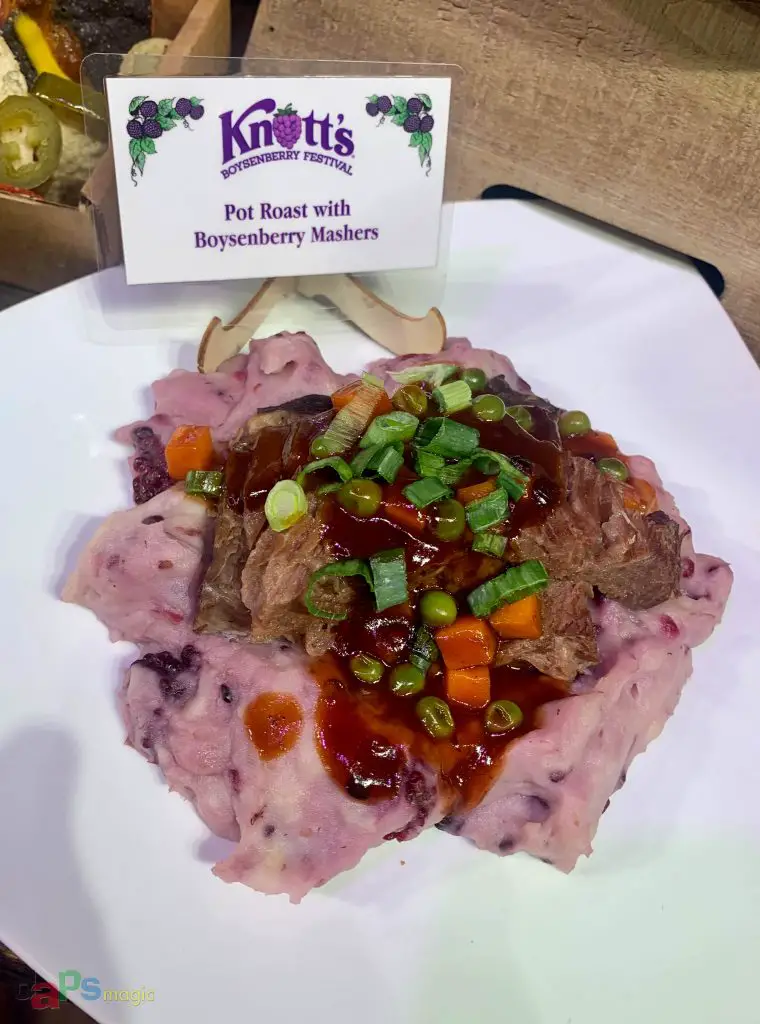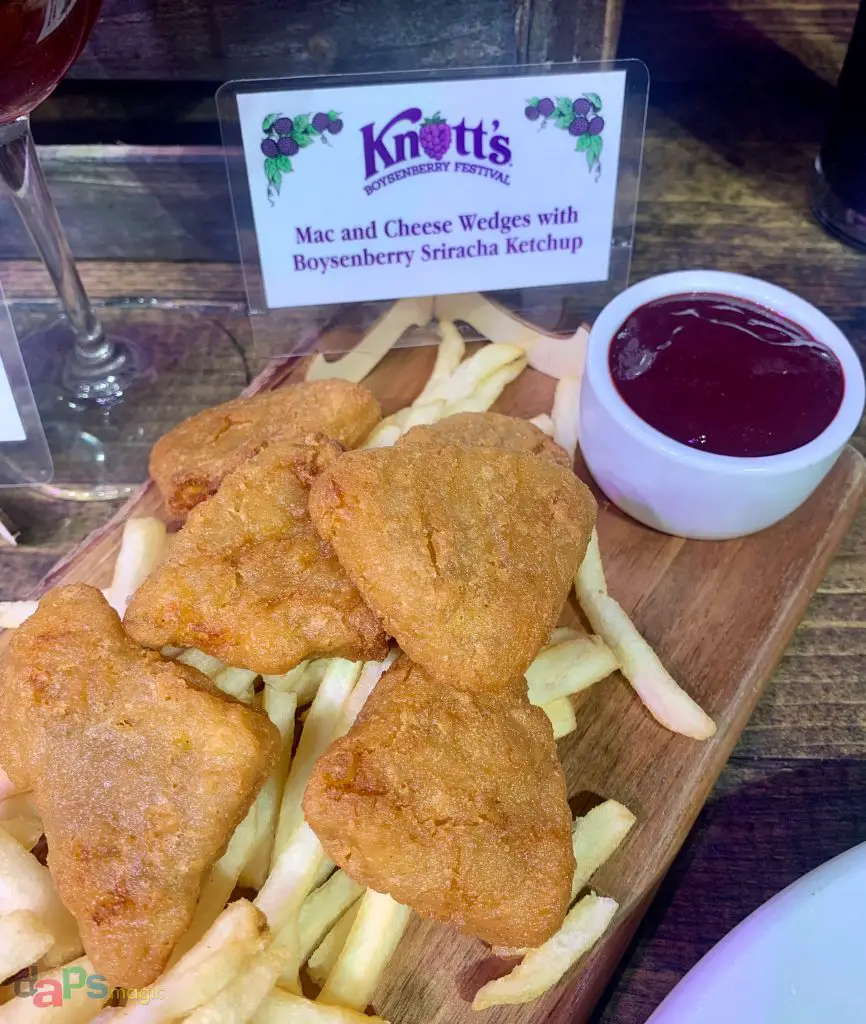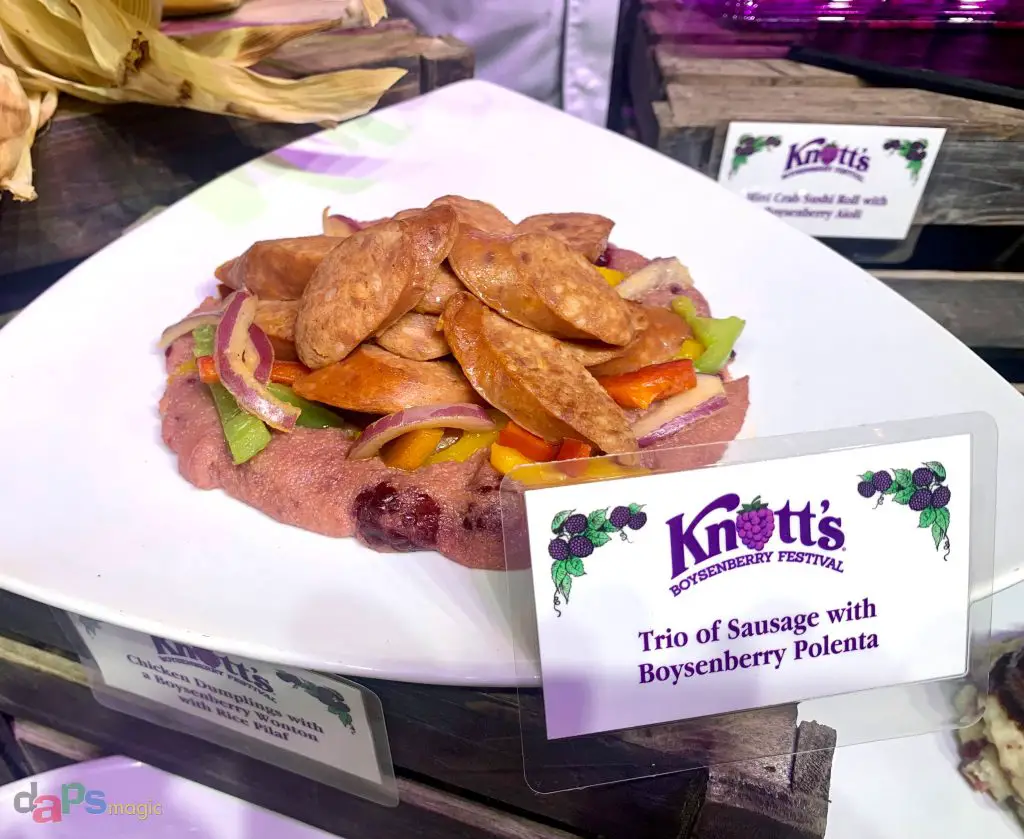 Guests seeking comfort foods with a boysenberry twist can choose from pot roast with mashers, mac and cheese wedges, trio and sausages, and chicken cordon bleu.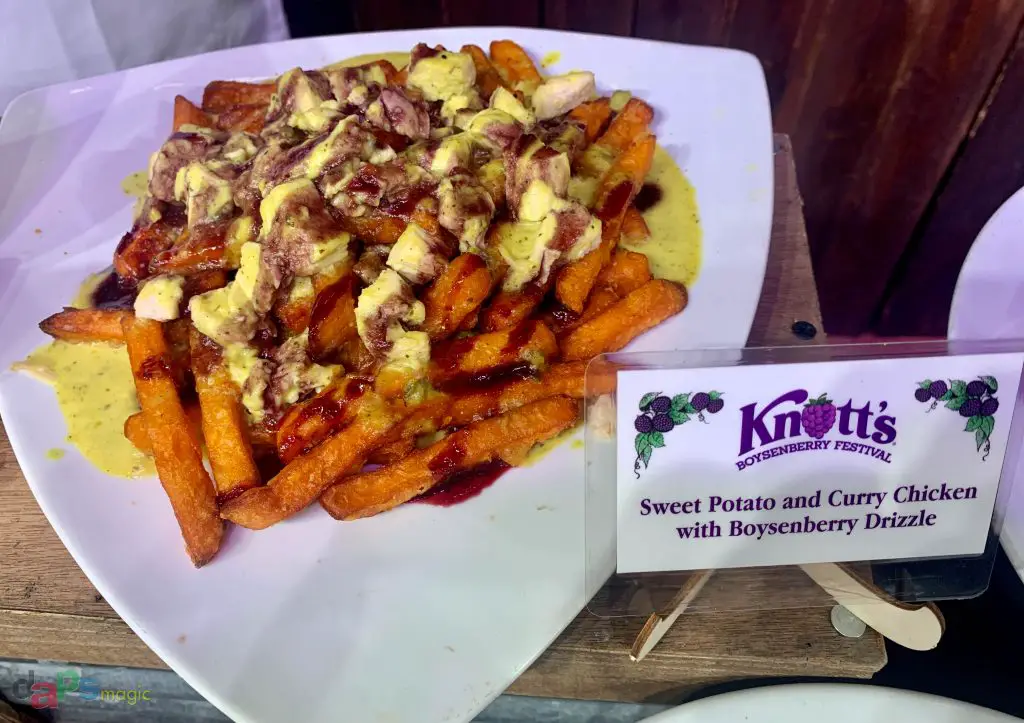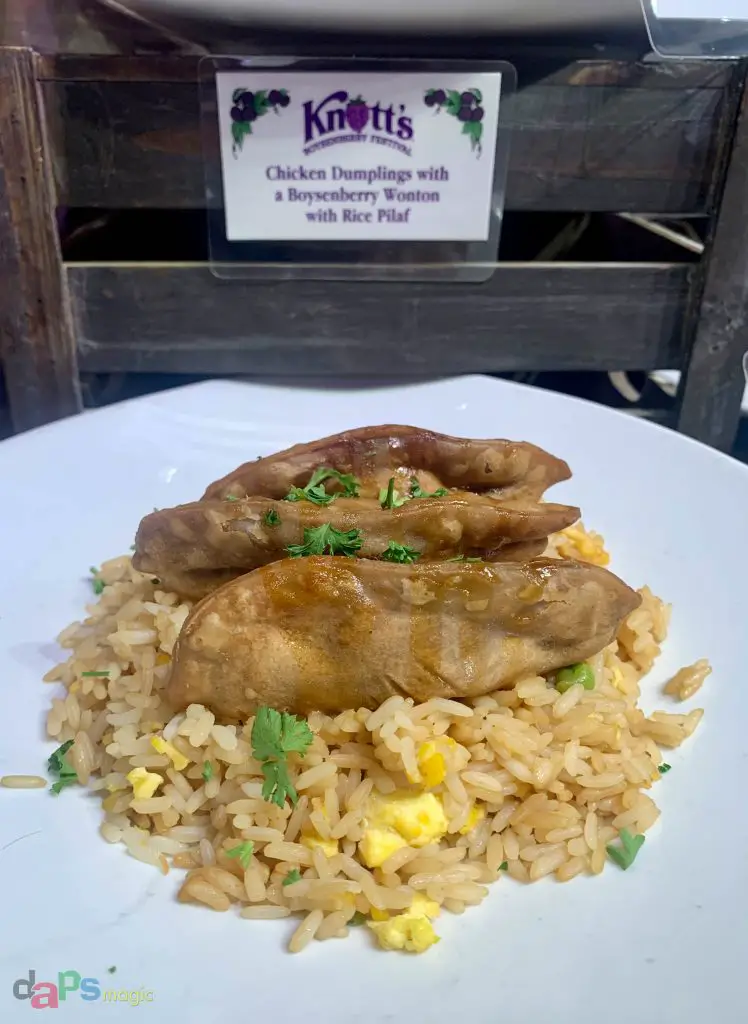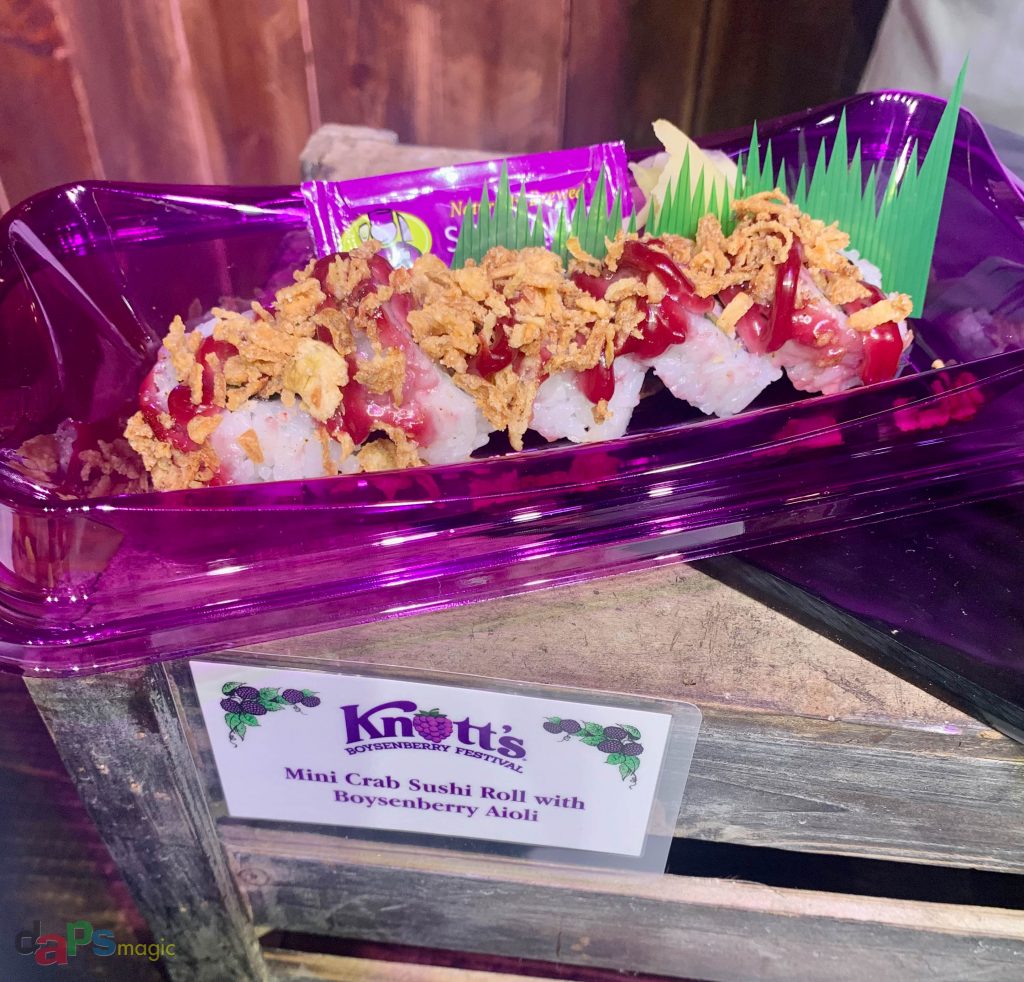 Asian inspired dishes include sweet potato and chicken curry, chicken dumpling wontons, and crab sushi with boysenberry aioli.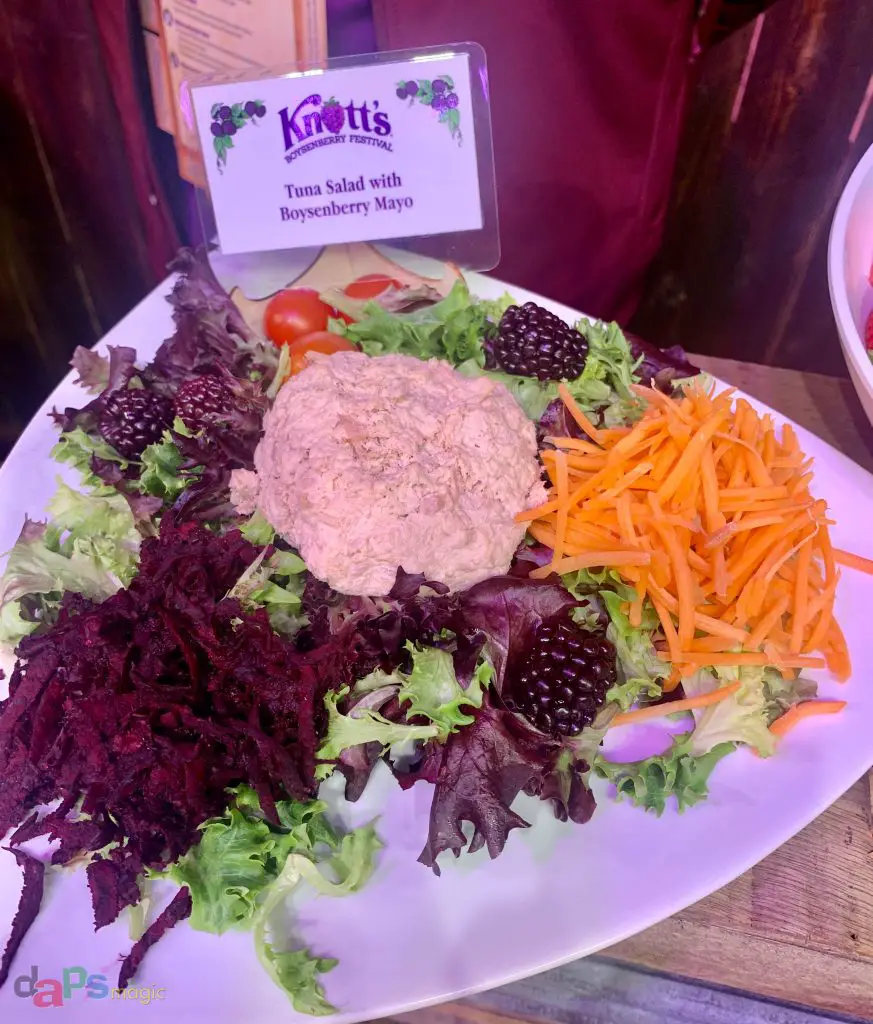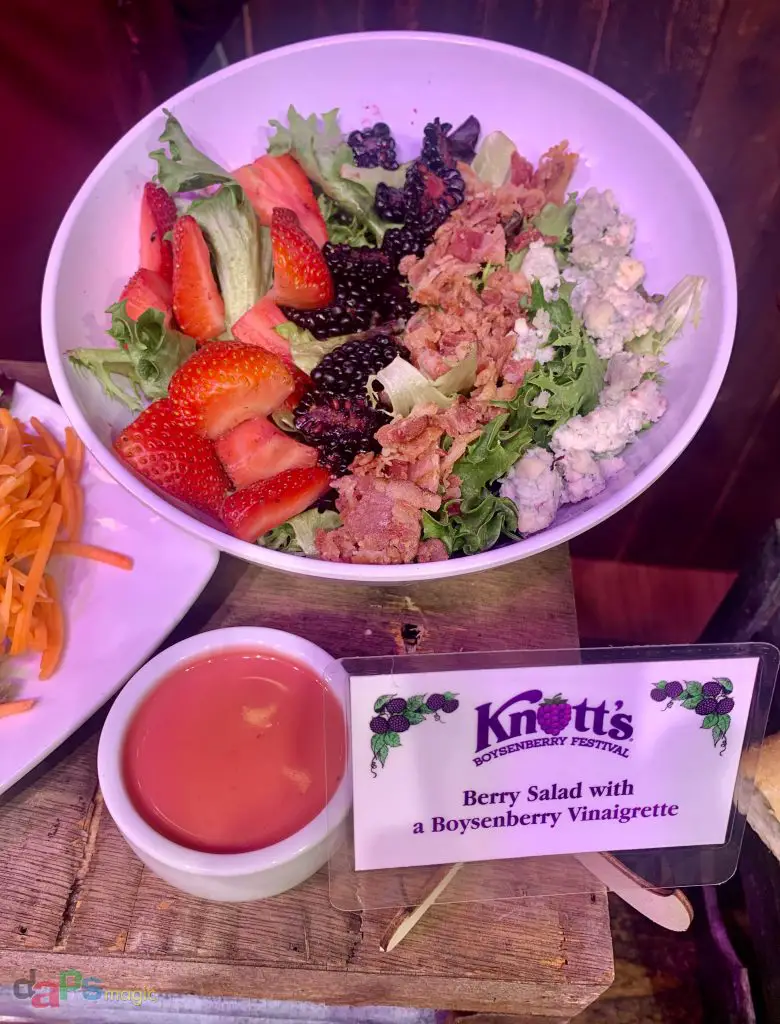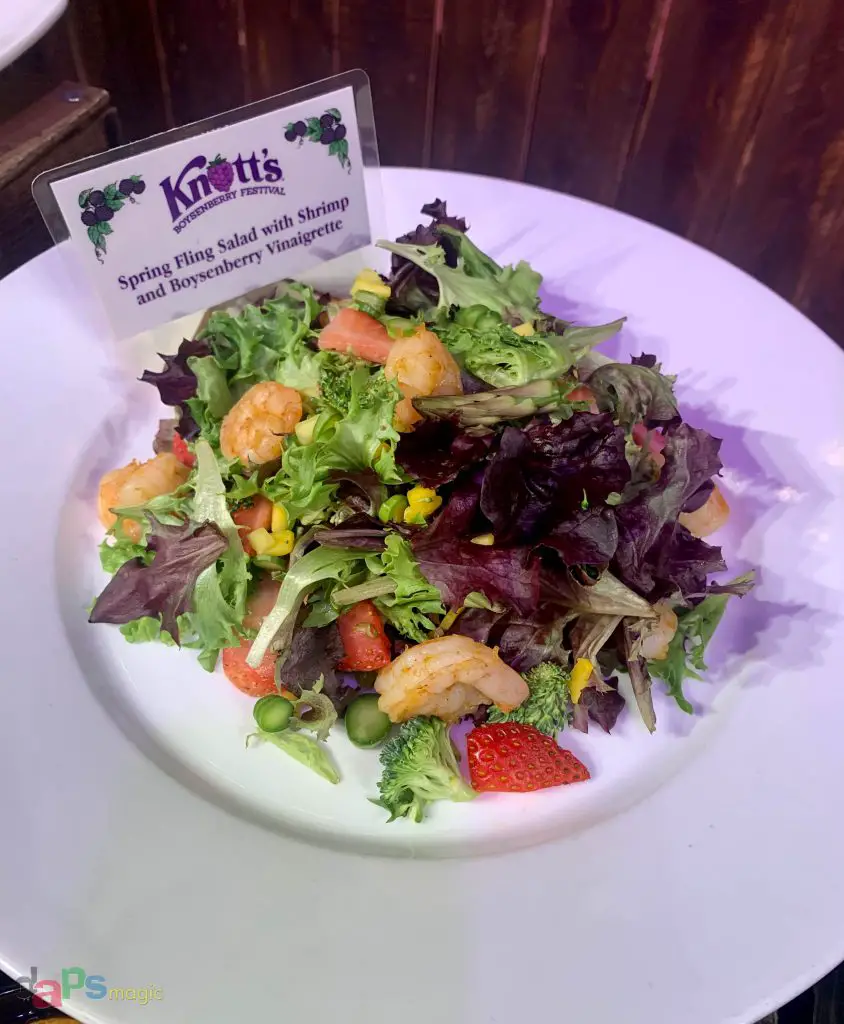 Of course, there are salads. Tuna salad is prepared with boysenberry mayo. Spring salad with boysenberry vinaigrette is available with or without shrimp.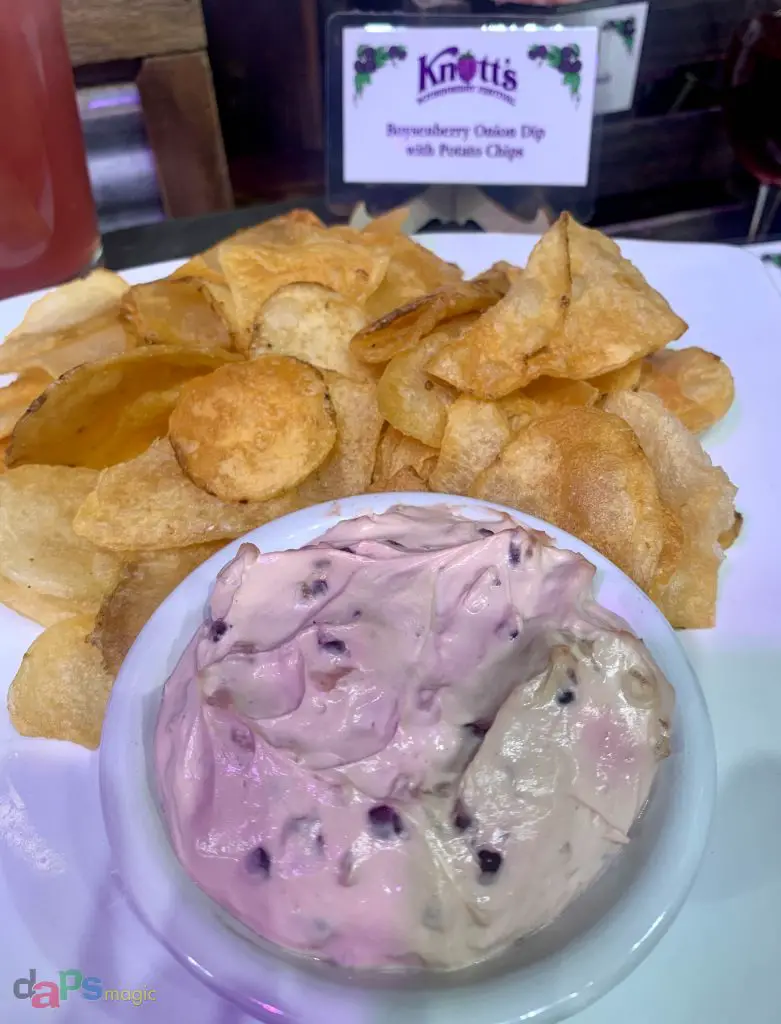 And if you're just seeking a savory snack, they have boysenberry onion dip, served with potato chips.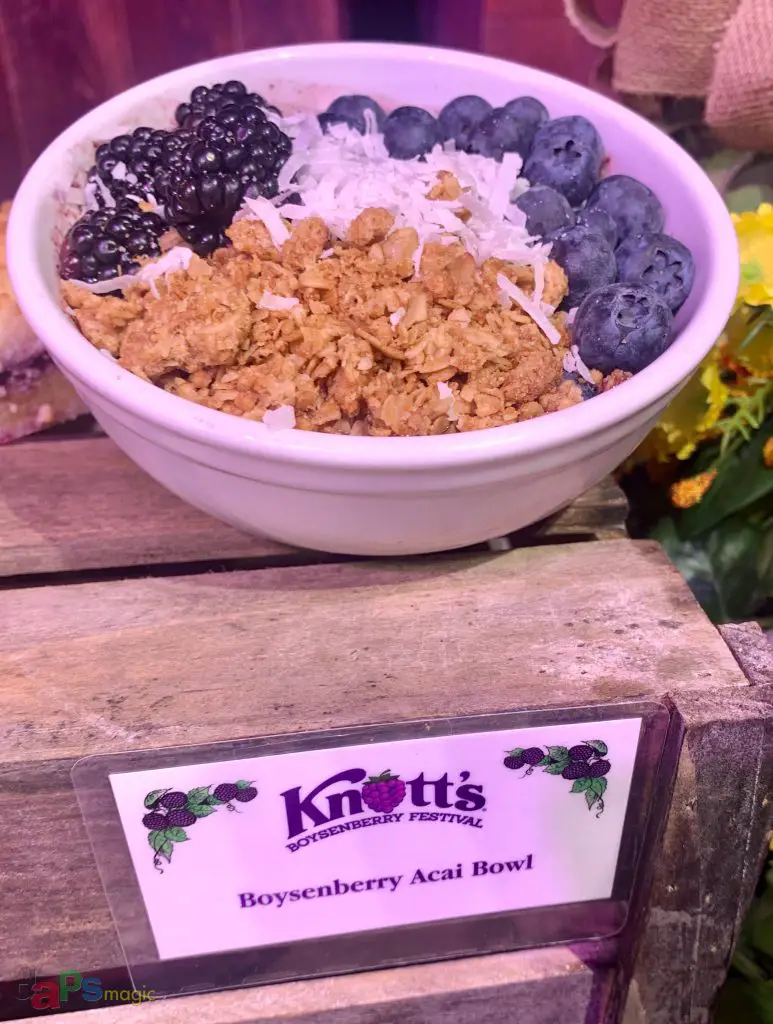 Something sweeter is this boysenberry acai bowl.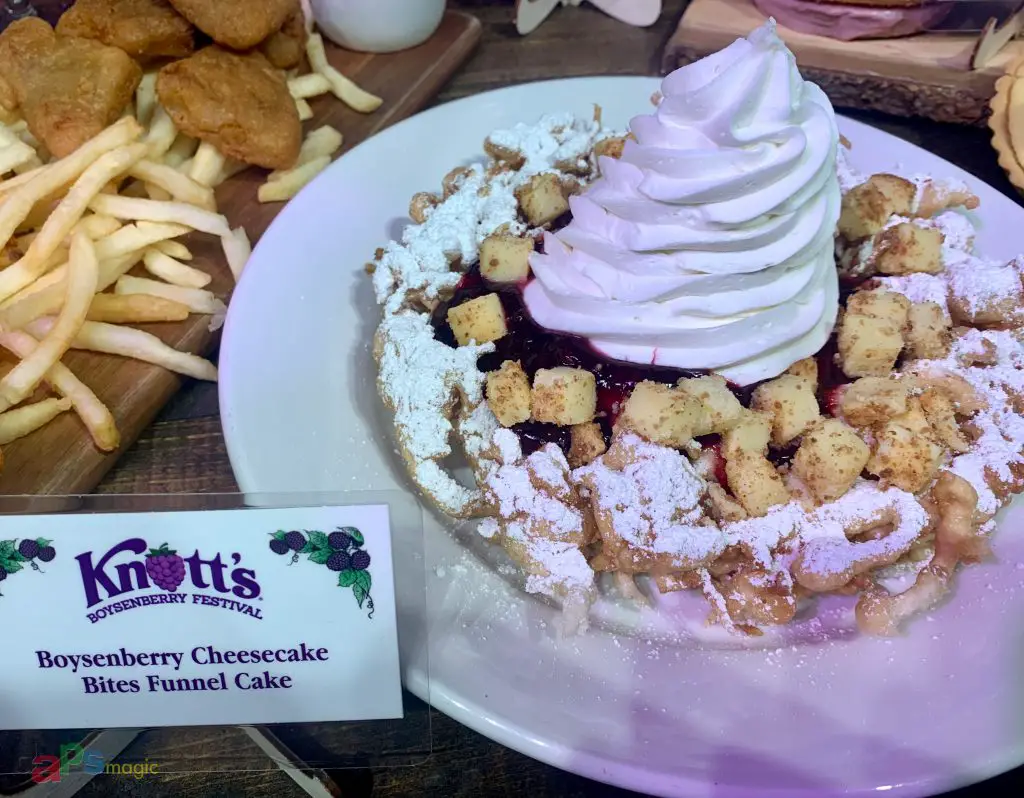 And with that, let's bring on those sweets! It wouldn't be a festival at Knott's without a funnel cake. This one is served with boysenberry cheesecake bites.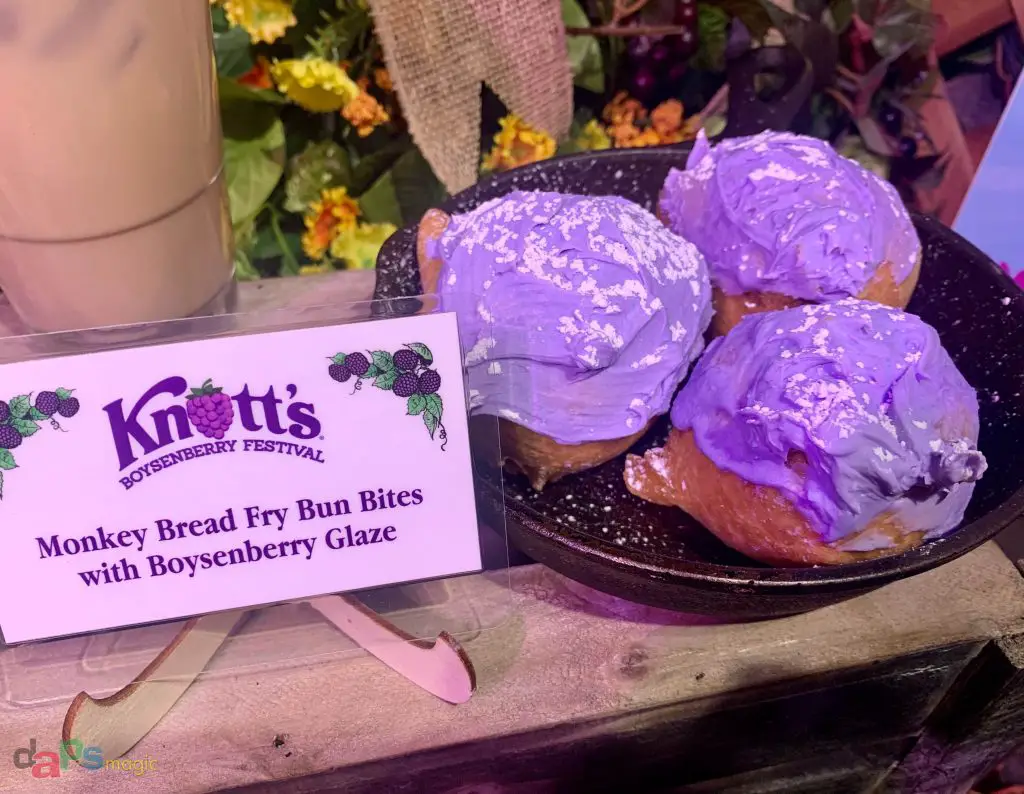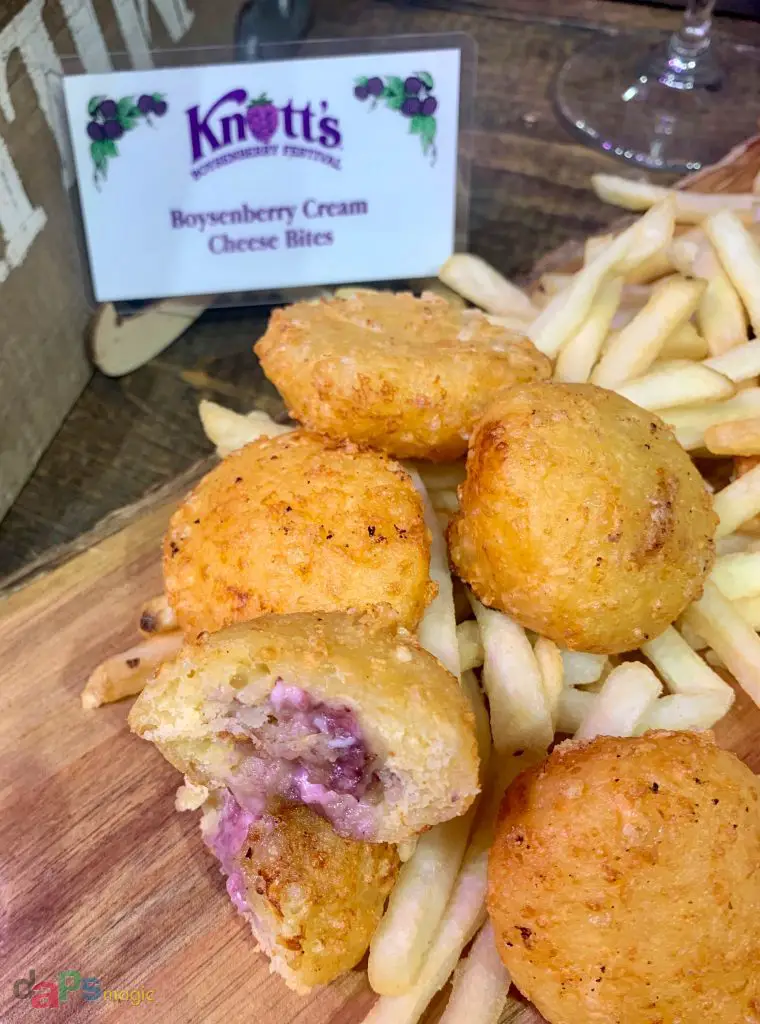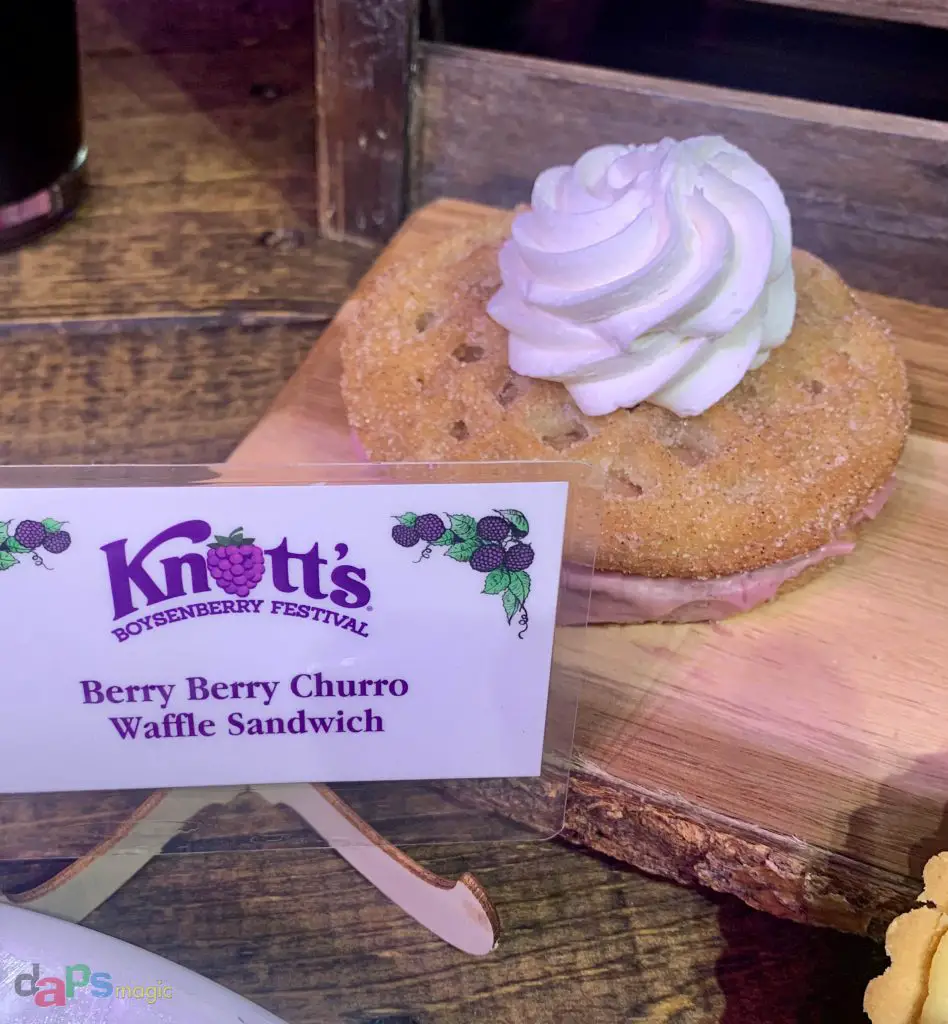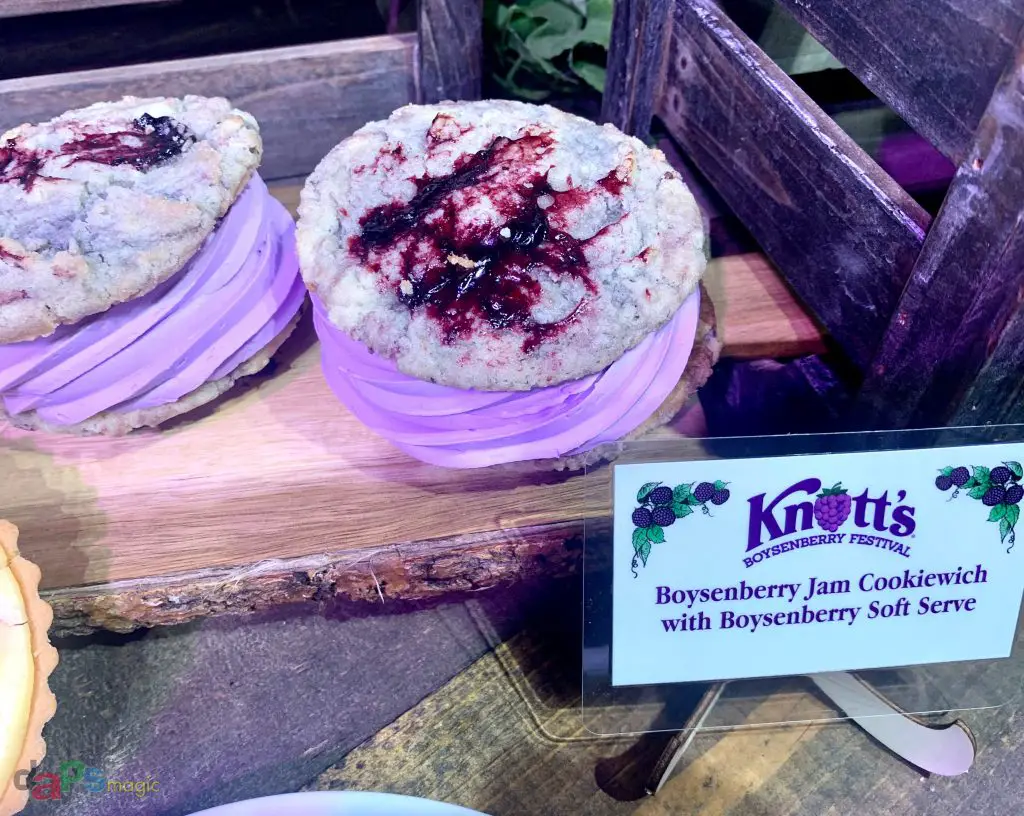 And who could resist monkey bread fry buns with boysenberry glaze, boysenberry cream cheese bites, a berry berry churro waffle sandwich, or a boysenberry soft serve ice cream cookiewich?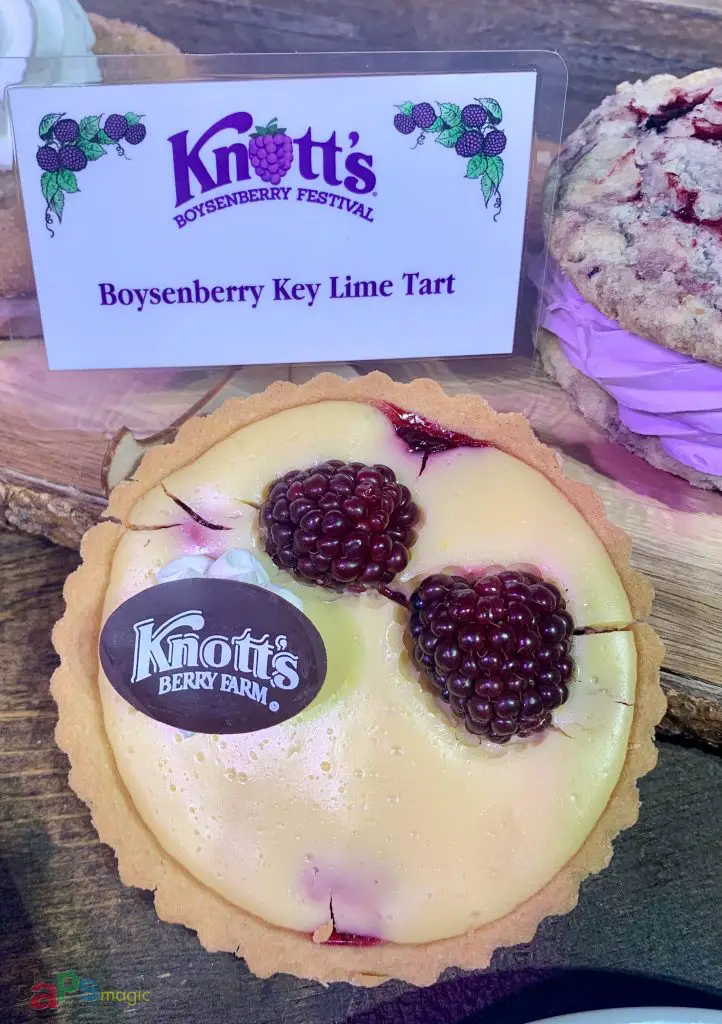 There will be a boysenberry key lime tart and a boysenberry mousse chocolate cake for guests seeking a more sophisticated dessert.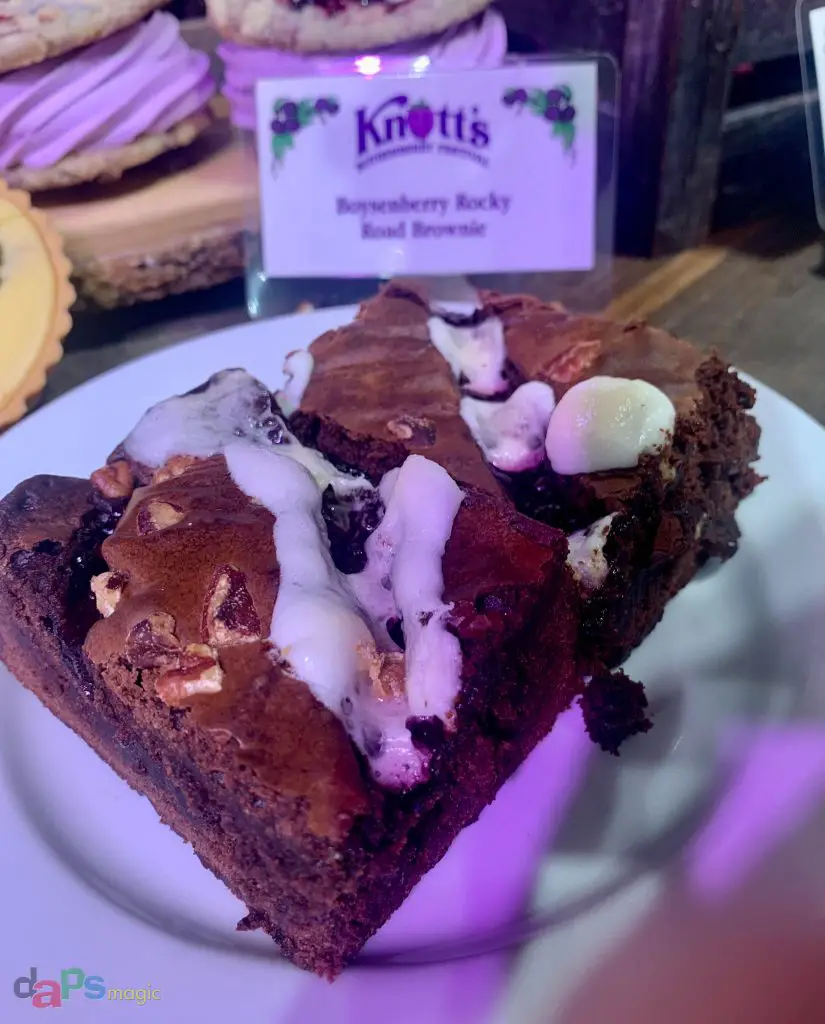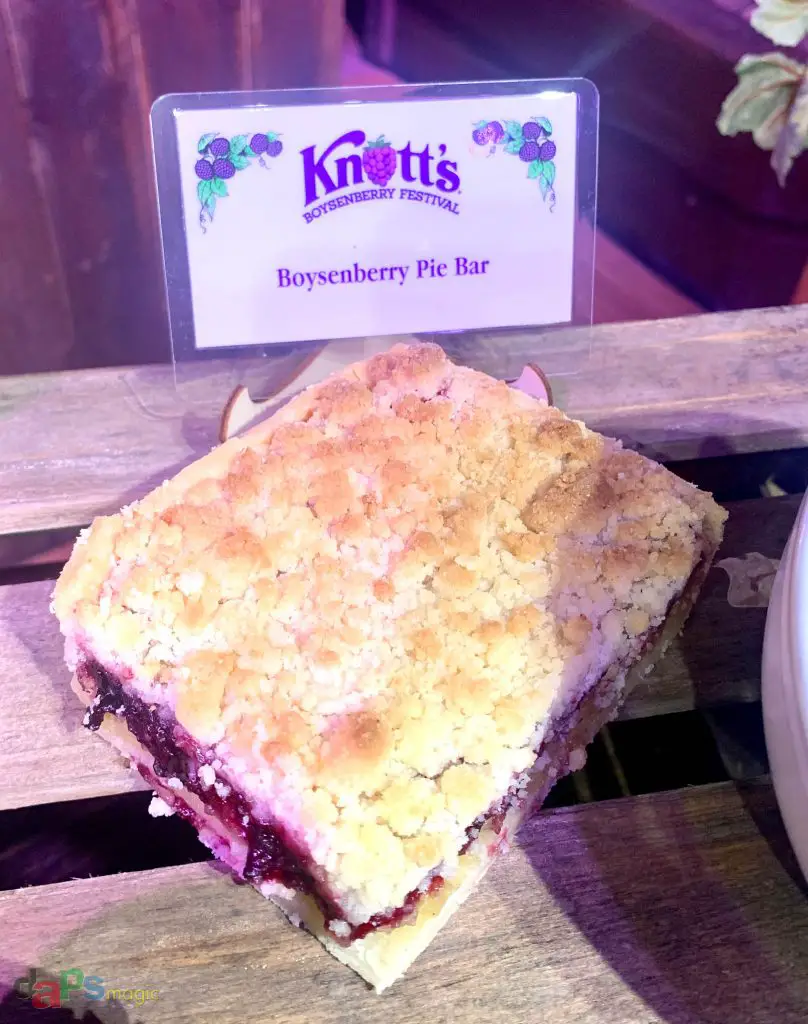 Inspired by traditional desserts is the boysenberry rocky road brownie and the boysenberry pie bar.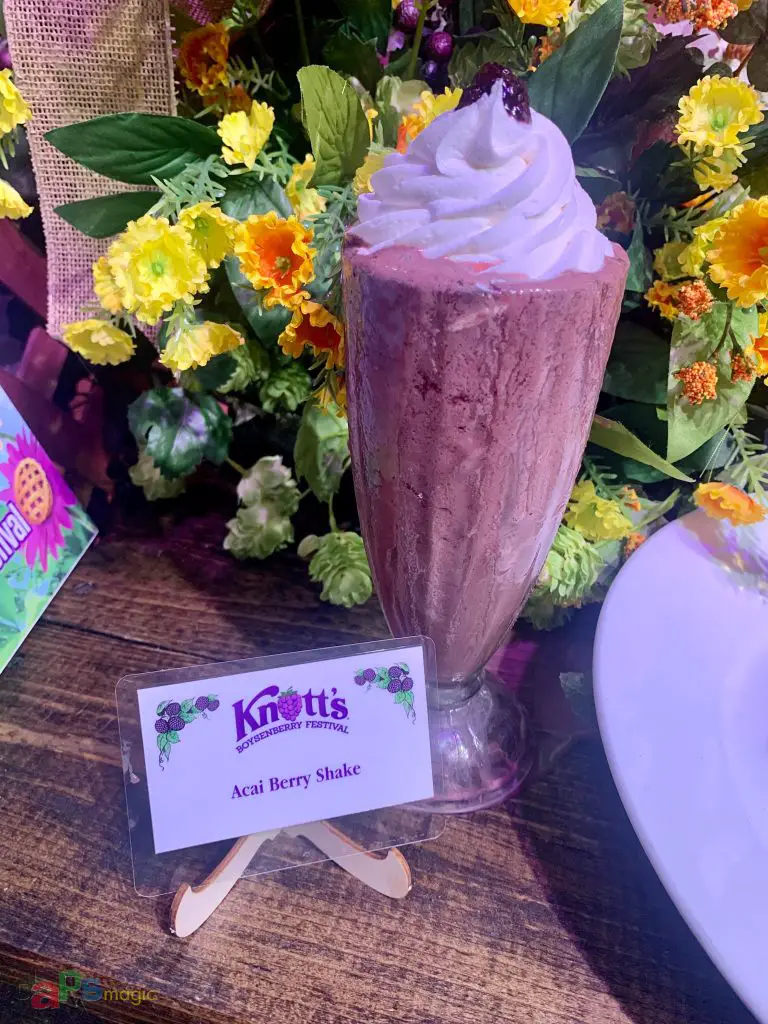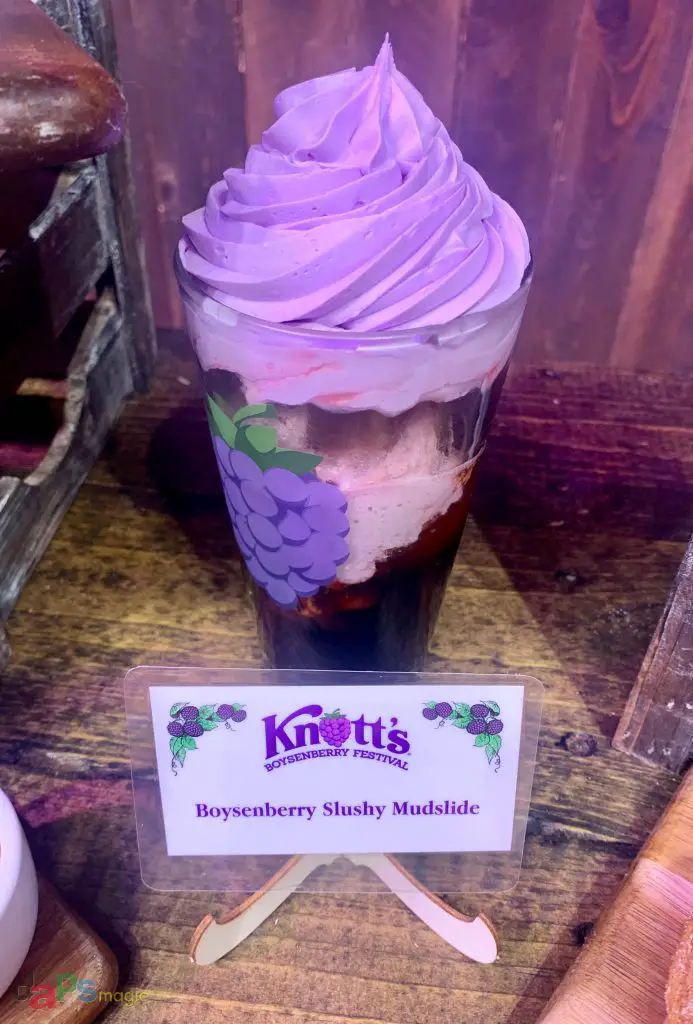 If frozen treats are more to your liking, Knott's will have an acai berry shake and a boysenberry slushy mudslide.
The next trio of offerings are collectively identified as Boysenberry Colossal Creations. And that is pretty much exactly what they are.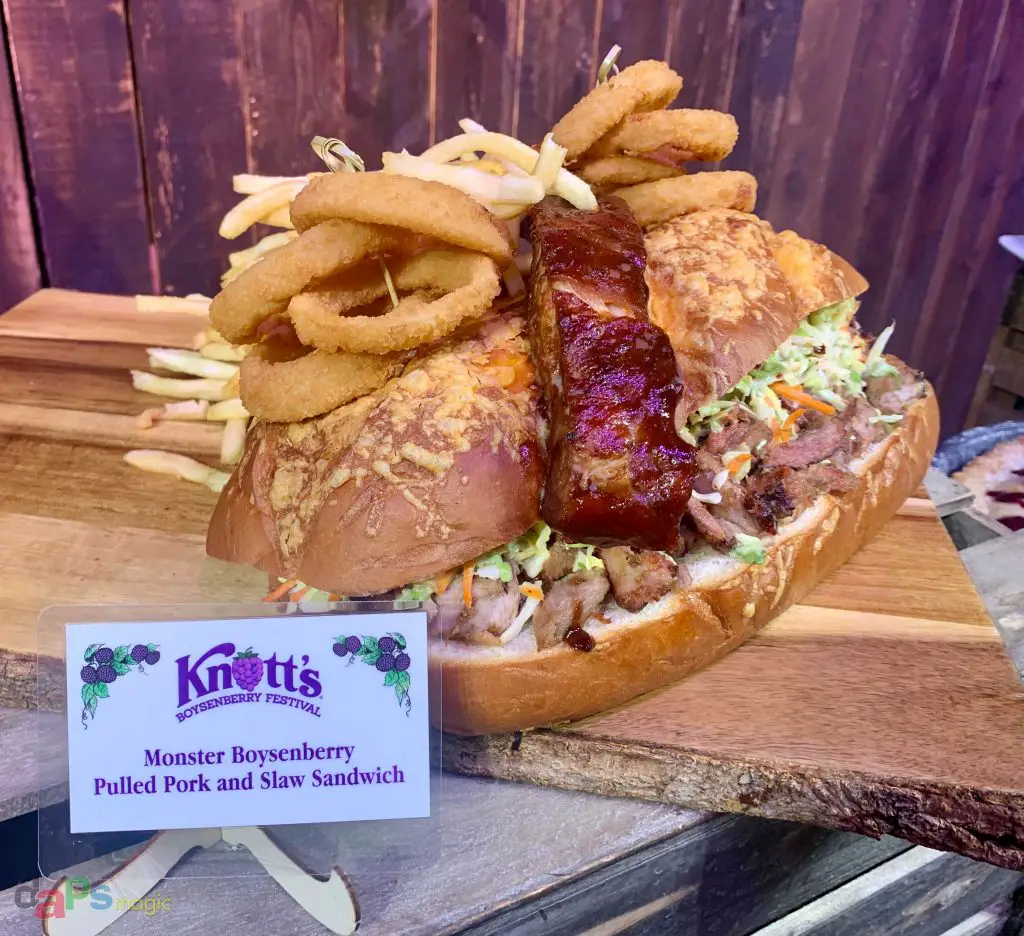 The monster boysenberry pulled pork and slaw sandwich is presented with a tower of onion rings and a mountain of fries. Enjoy one with a friend!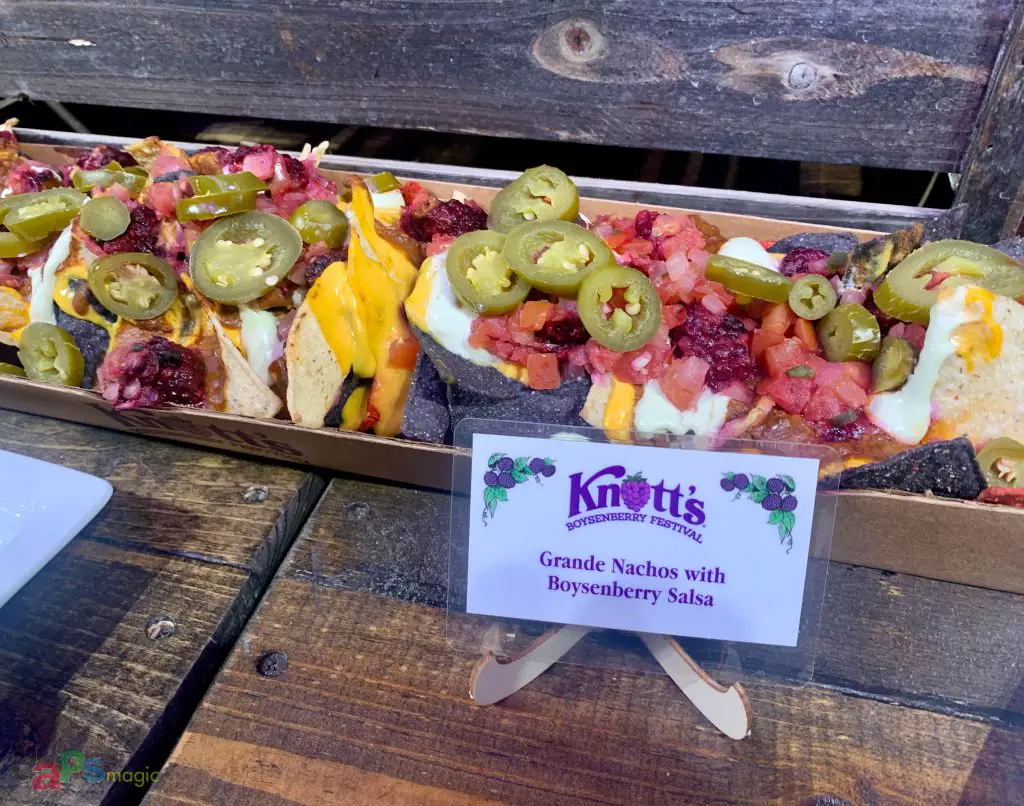 The grande nachos with boysenberry salsa are too big to fit into this photo. You will just have to see them for yourself.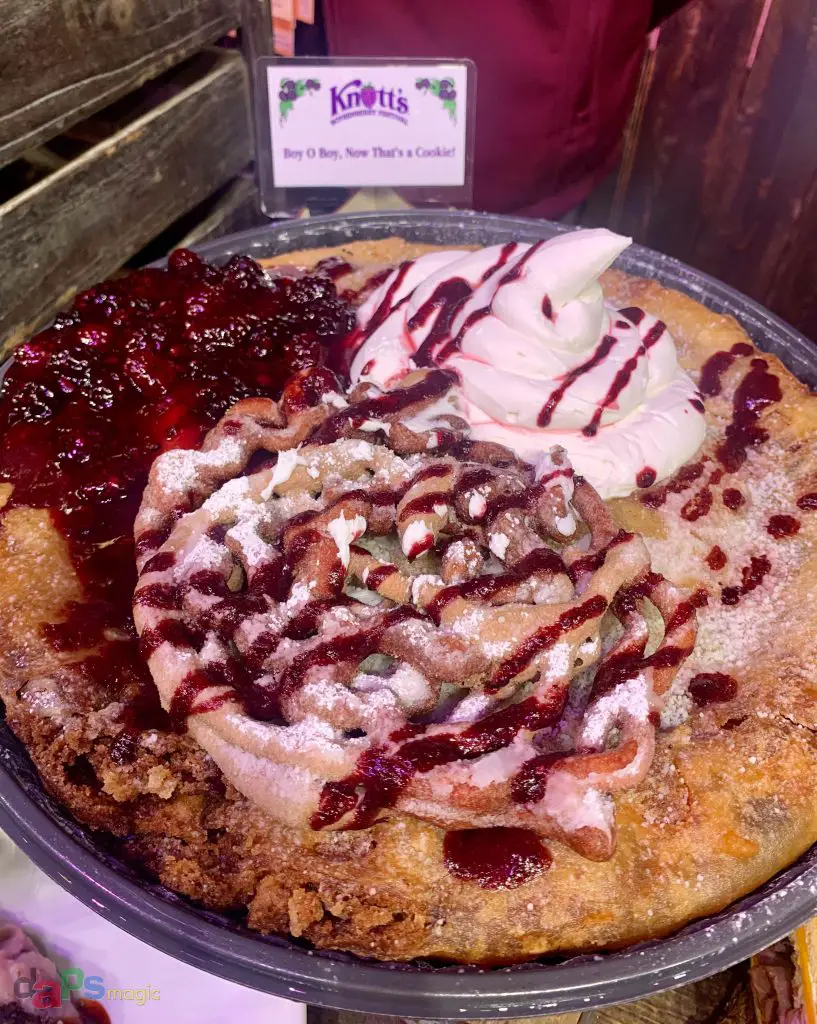 And then there's the boy oh boy, now that's a cookie. And yes, that's a funnel cake. For garnish.
After all that food, it's time for a drink. Knott's will be offering beverages both "with" and "without" (alcohol, that is).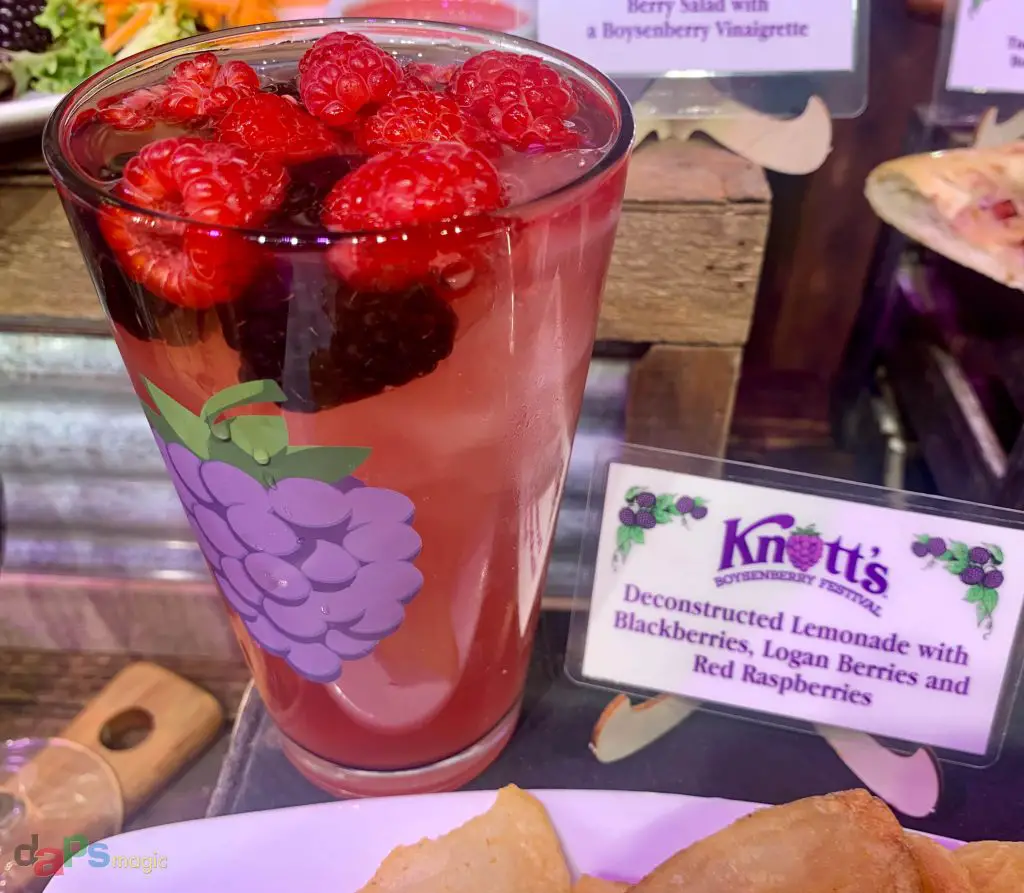 The deconstructed lemonade is so-called, because it is lemonade with blackberries, Logan berries, and red raspberries. (Hint: These are the three berries that were hybridized into the boysenberry.)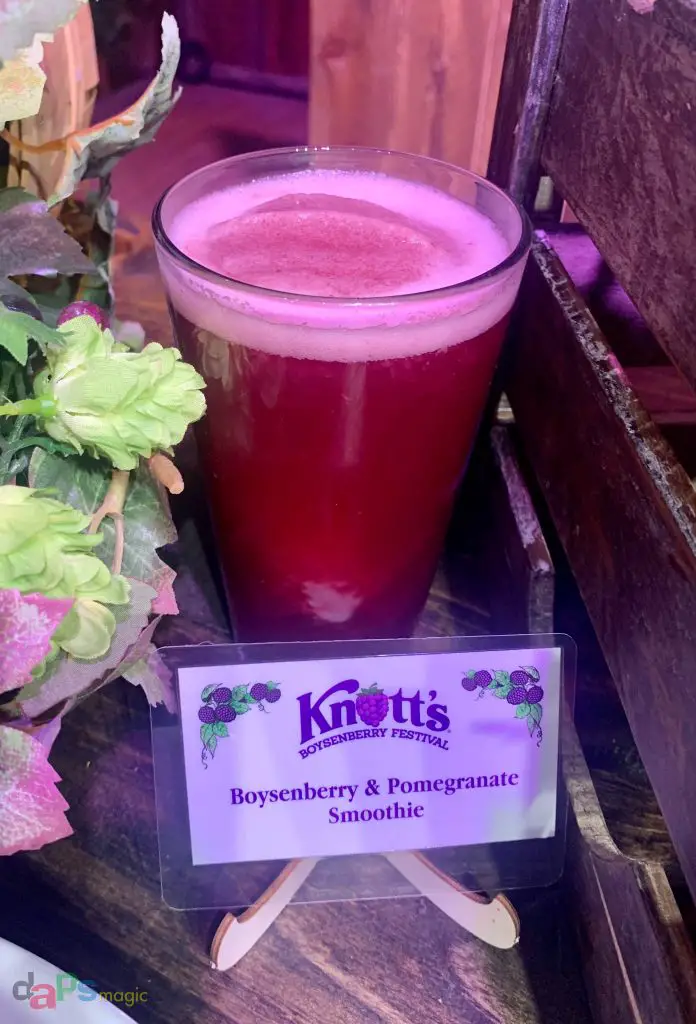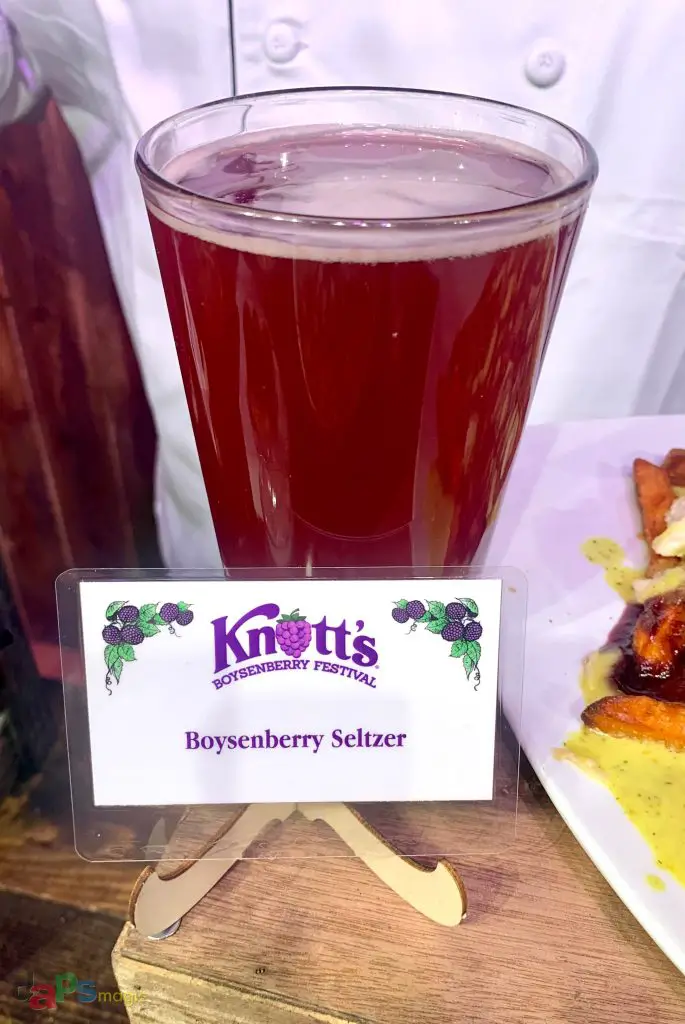 Less mind-teasing are the boysenberry and pomegranate smoothie, the boysenberry seltzer, and the boysenberry latte.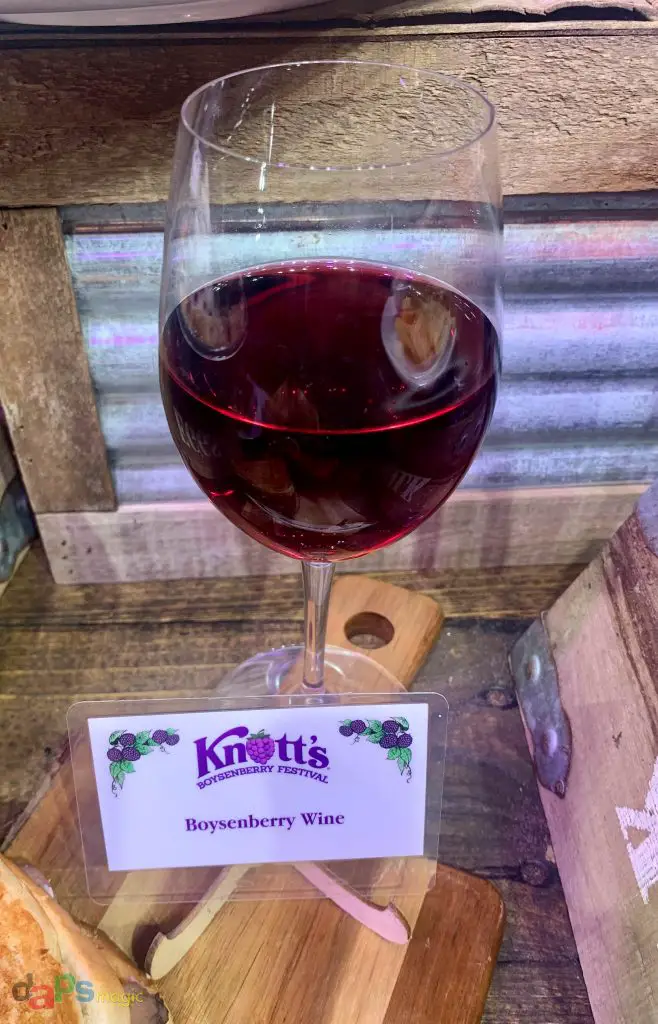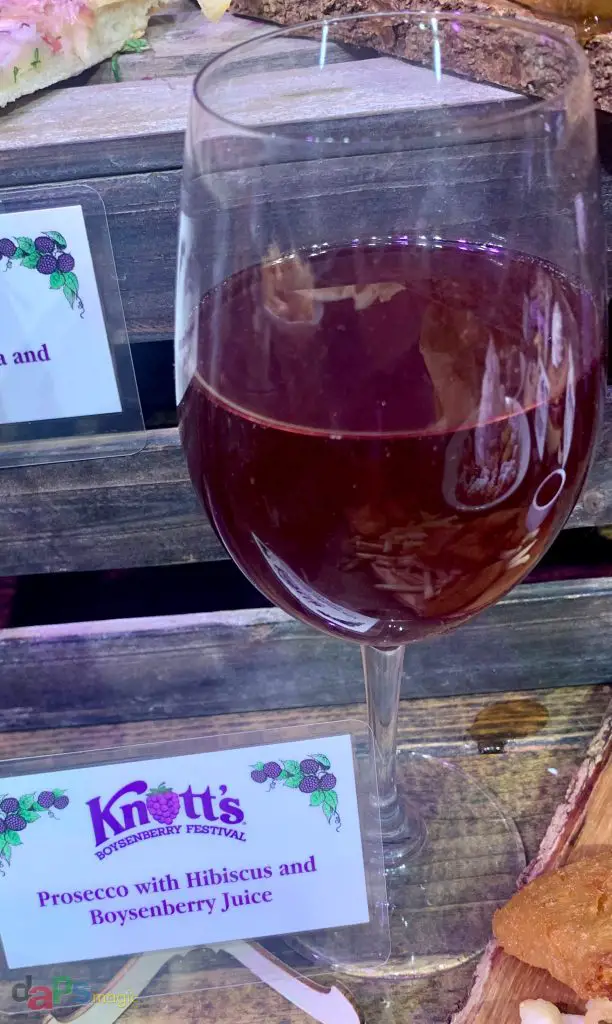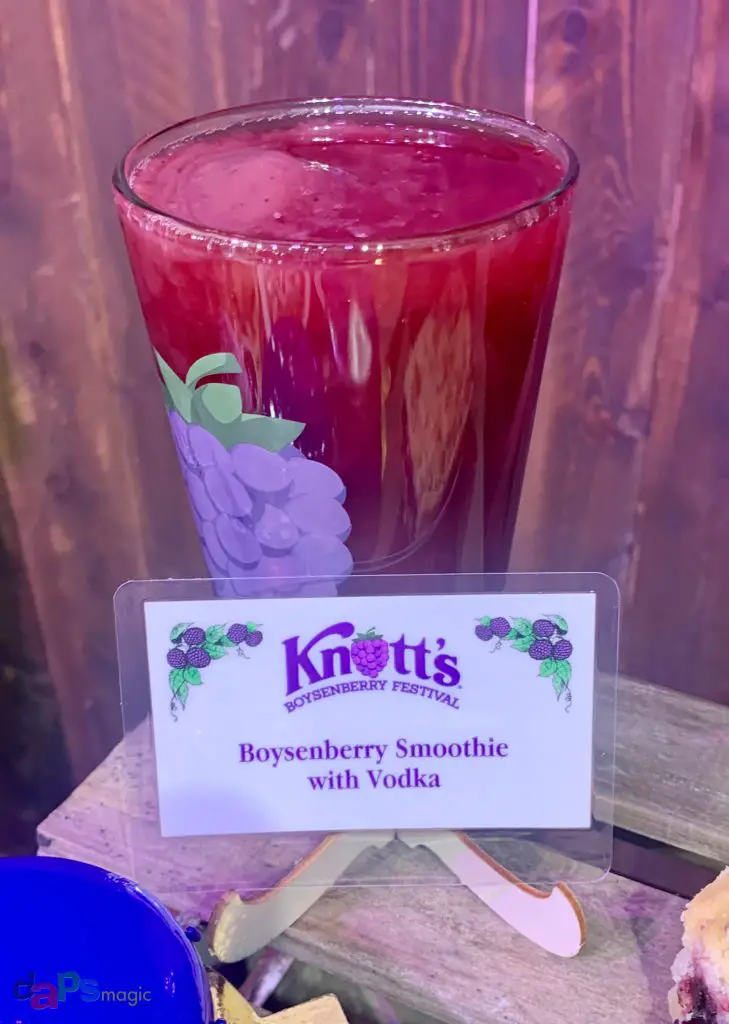 Guests with a more sophisticated palate (and proof of age) may enjoy boysenberry wine, Prosecco with hibiscus and boysenberry juice, or a boysenberry smoothie with vodka.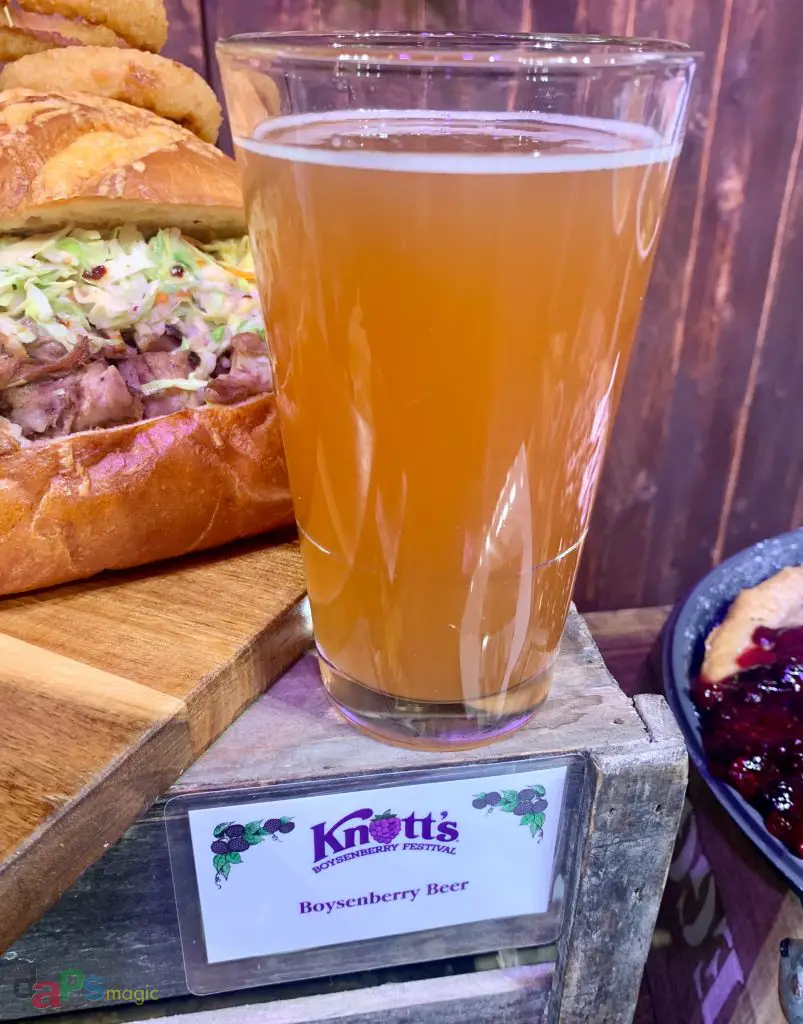 Last (but not least!) is Knott's signature boysenberry beer. (Or, as one of our readers has pointed out, why not the BoysenBEERy?)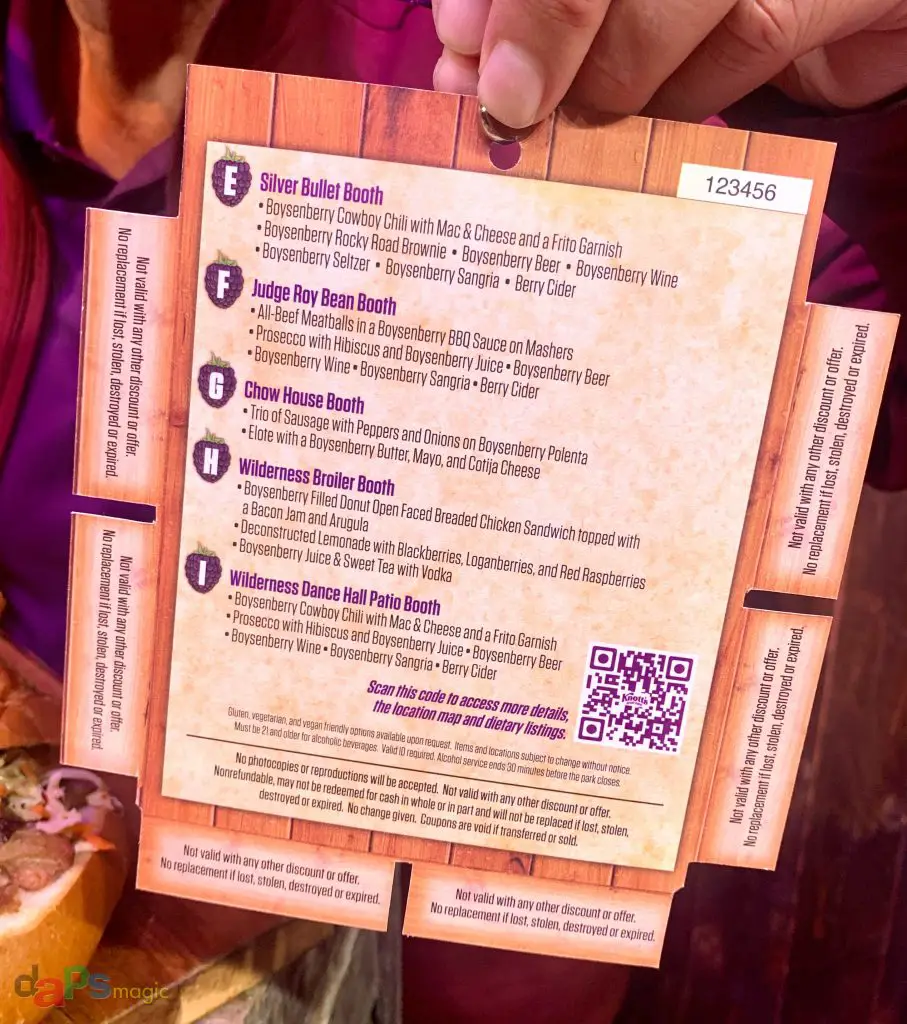 The Knott's Boysenberry Tasting Card is good for six items from a selection of 25 treats. It is priced at $50 ($45 for season pass holders).
During the tasting event, Knott's also offered a sneak peek at some of the merchandise that will be available during the festival.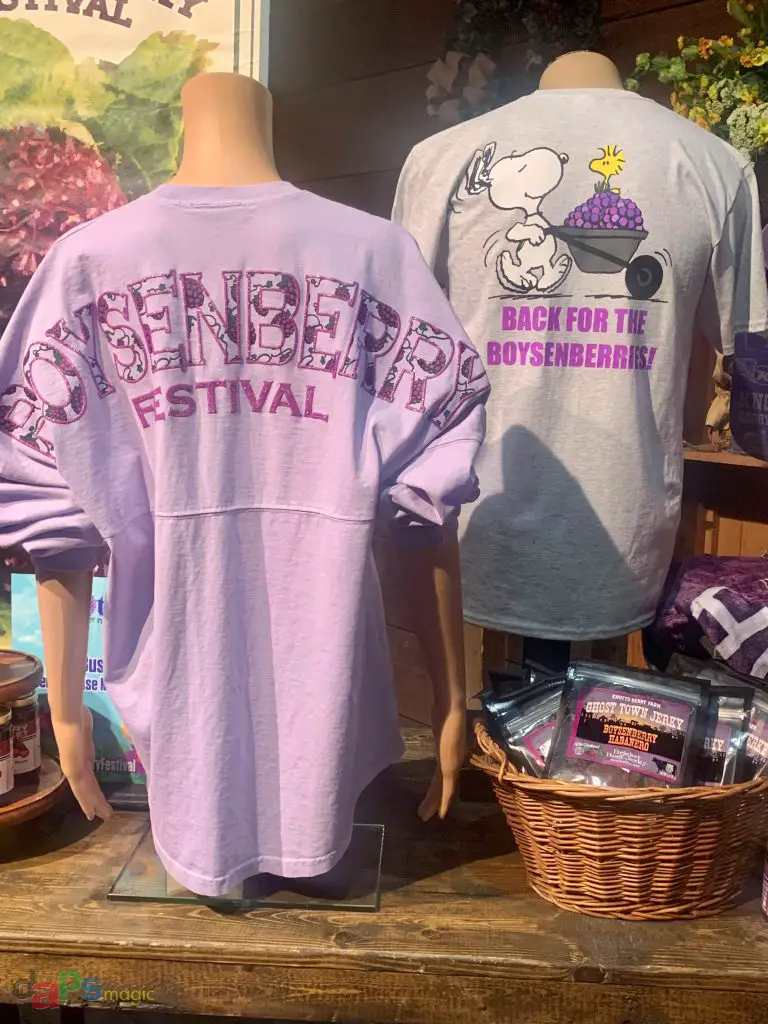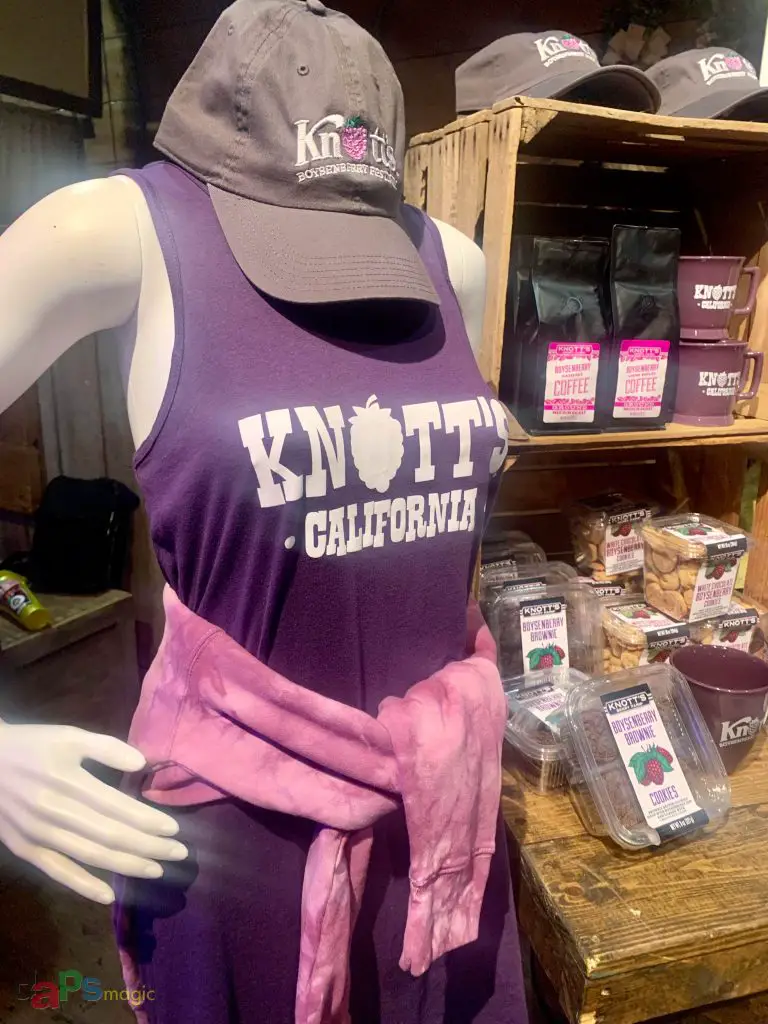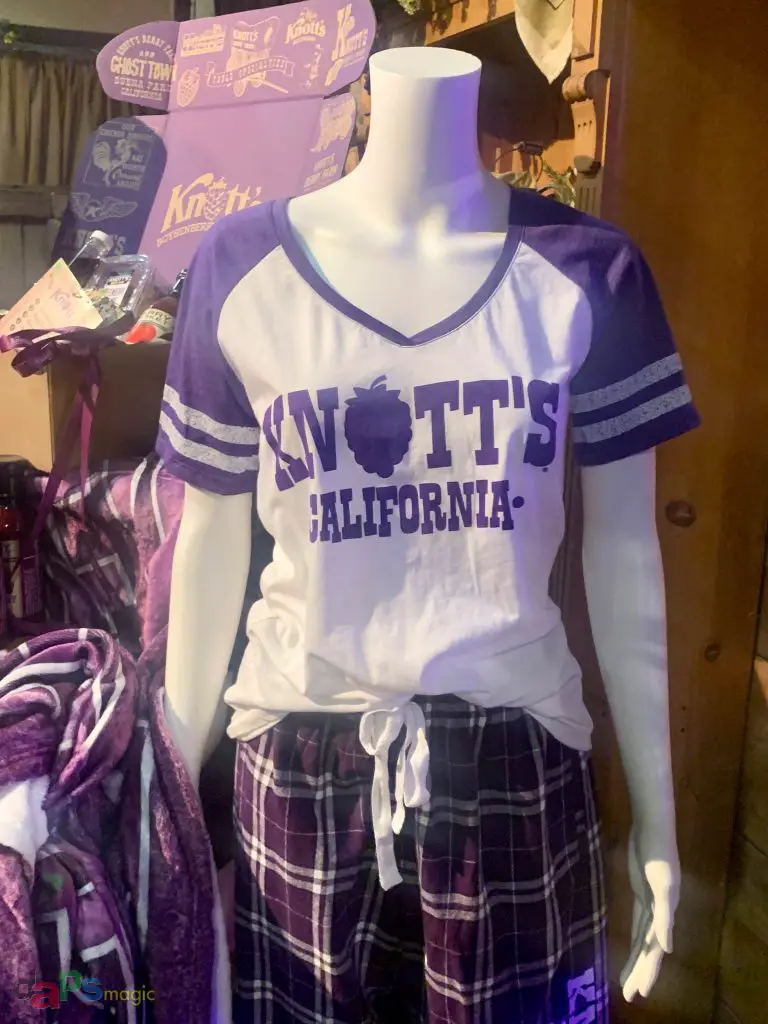 Among the shirts, hats, and casual wear is a Boysenberry Festival spirit jersey.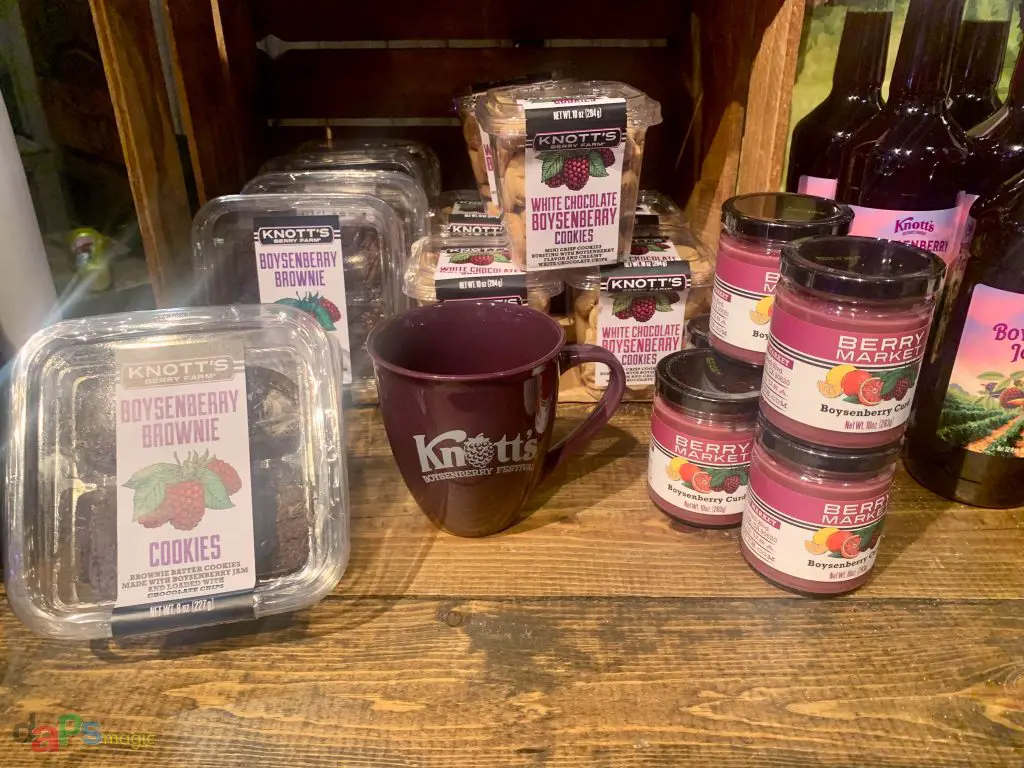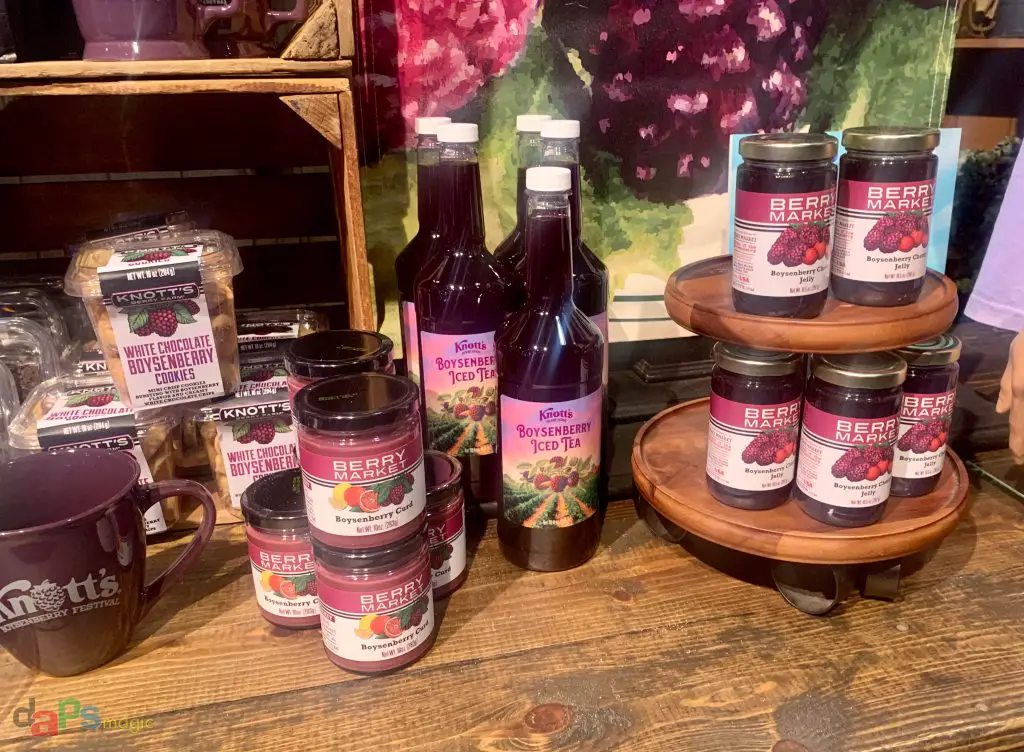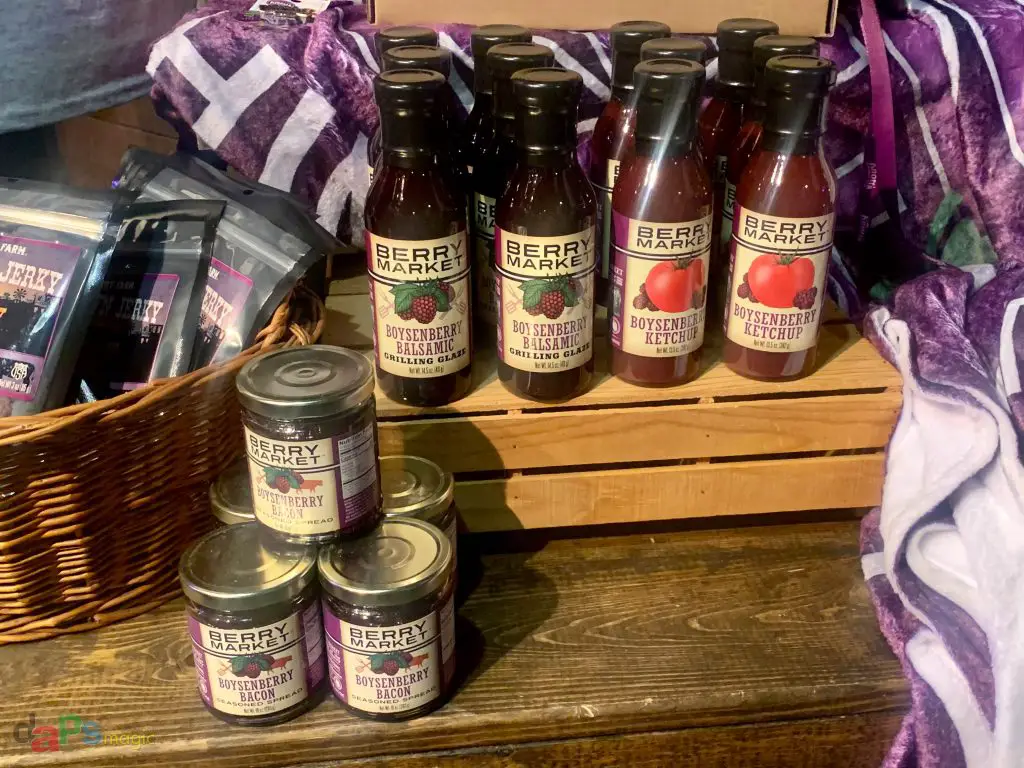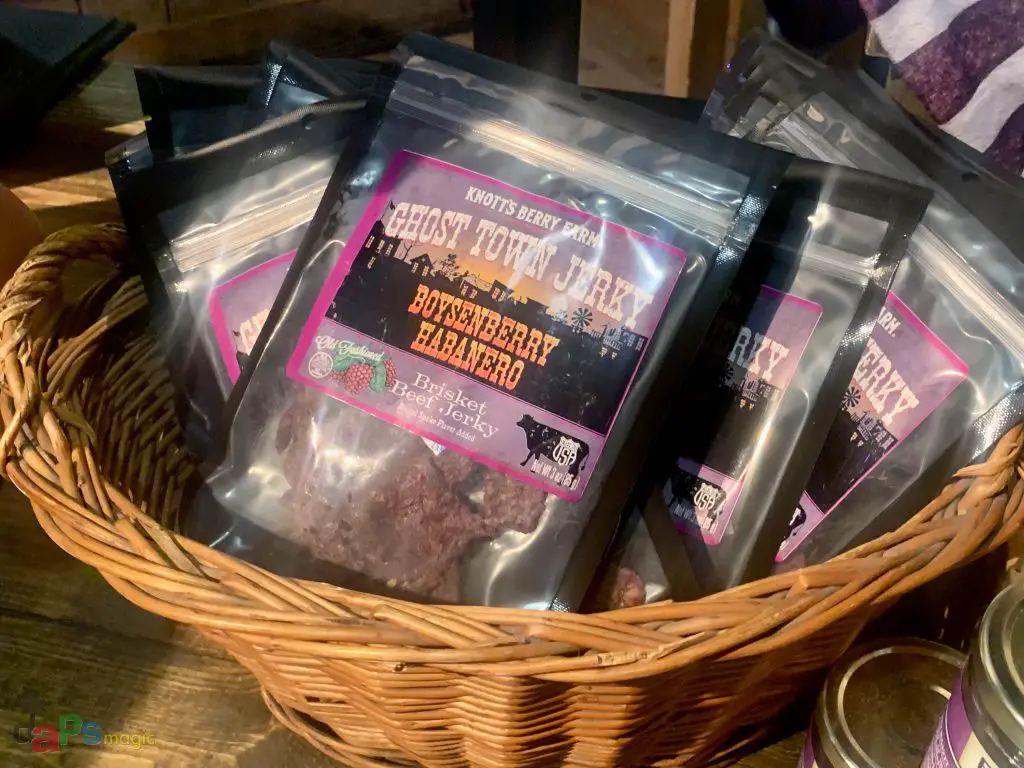 Other items include baked goodies, jams, jellies, boysenberry coffee, and ghost town boysenberry habanero jerky.