March is Women's History Month. To help celebrate that, the entrance to Disneyland has gotten a new floral look.
"There have been some seasonal changes over the years," said Horticulture Manager Sarah Day, whose team installed the display overnight. "But Mickey Mouse has always been the star of the show … until now!"
The project took place in the early hours of March 1st before Disneyland opened for the day. 13 Horticulture cast members began working shortly after midnight and by 6:00 AM, Minnie Mouse could be seen on the hill in front of Main Street Station.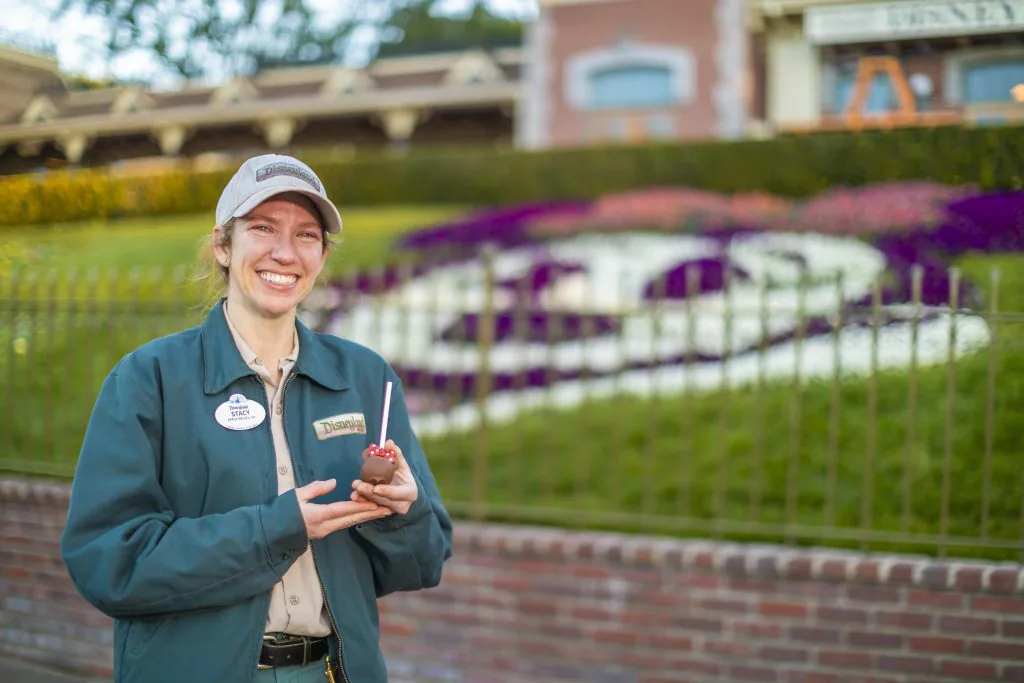 Horticulture Specialist Stacy Wise (pictured above) created the design for this floral Minnie Mouse. "I'm really excited to show my family," shared Stacy. Her love of horticulture began as a child when she helped her father with his landscaping business. "I'm looking forward to getting my picture with the Minnie Mouse design and sending it to my dad."
The moment was moving to Stacy, bringing her to tears. "It's amazing that we're having this step for Women's History Month, and having Minnie Mouse featured is fantastic," she said. "Minnie Mouse is just as iconic as Mickey Mouse, and she needs a little face time."
The horticulture team shared a few facts about this new display at the entrance of Disneyland. They shared that:
The traditional floral design includes over 1,750 individual plants
Minnie Mouse's bow consists of approximately 750 individual plants, known as Nemesia 
The swirls on either side of Minnie Mouse contain over 1,900 individual plants, including pansies, violas and petunias 
March is Women's History Month. This is a time to honor women throughout history. This is a time to share their stories. This is also a time to celebrate their achievements. Women have been a driving force for many treasured Disney theme park experiences. This month, the Disney Parks Blog will be sharing many of their stories.
There will also be events for cast members this month that are hosted by the Women's Inclusion Network, one of Disney's Business Employee Resource Groups. The mission for this is to "elevate and highlight powerful influence of diverse women on our culture, people and market, as champions of inclusion, education, development, mentorship and sponsorship."
What do you think of Disneyland kicking of Women's History Month with this floral Minnie Mouse? Share your thoughts and opinions in the comments below!