Disneyland Paris announced today that the Disney Village is going to undergo a multi-year transformation. The announcement comes as Disneyland Paris is currently celebrating its 30th anniversary. Currently, there are also expansions and renovations happening at Disneyland Paris in its Walt Disney Studios and also Disneyland Hotel as well. The Disney Village announcement also offered a glimpse at what the first phase of the transformation will look like as well.
Since it opened 30 years ago, Disney Village has already doubled in size. The next transformation of the area will begin by the end of the year and will take place in phases. While updating the identity of Disney Village, it will also give the opportunity for new offerings as well.
"Our plan to transform Disney Village is yet another example of how we continue to reimagine Disneyland Paris at the resort level, notably with our major expansion plan in progress at Walt Disney Studios Park," said Natacha Rafalski, Présidente of Disneyland Paris. "We're very excited to bring new iconic and timeless concepts to the district that will appeal to a new generation of guests, whether they visit from our nearby resort hotels or from the local area. We can't wait for our guests to be surprised and delighted by what we have in store." 
The transformation Disney Village will combine Disney know-how along with some specific complementary brand concepts. This will create a timeliness environment that is family-friendly and also uniquely Disney. This will include boutiques and restaurants that will draw people in and then will come to life even more at night with thousands of lights. Disney promises that this will turn the area into a "bustling wonderland" at night.
The Disney Village when its transformation is complete will include a lakeside park and boardwalk, walkways, new facades, terraces and patios, and beautiful landscaping. This will also include a diverse collection of restaurants and shops. This will also expand both dining and retail options that will be innovative and come from some of the world's most exciting companies. The result will be an enhanced experience that will pair wonderfully with the theme parks.
By combining the best Disney know-how with select complimentary brand concepts, the reimagined Disney Village will celebrate timeless, family-friendly environments that are uniquely Disney. By day, stylish boutiques and innovative restaurants will draw guests in, and by night, thousands of lights will transform the area into a bustling wonderland. 
Rosalie – French Brasserie
One of the first changes coming to Disney Village will be in the form of Rosalie, a French brasserie. This will replace the current Café Mickey restaurant. Groupe Bertrand will be taking over the location. Groupe Bertrand is known for its Parisian brasseries. It will bring a new concept to the location that will offer an elevated culinary experience with French flavors.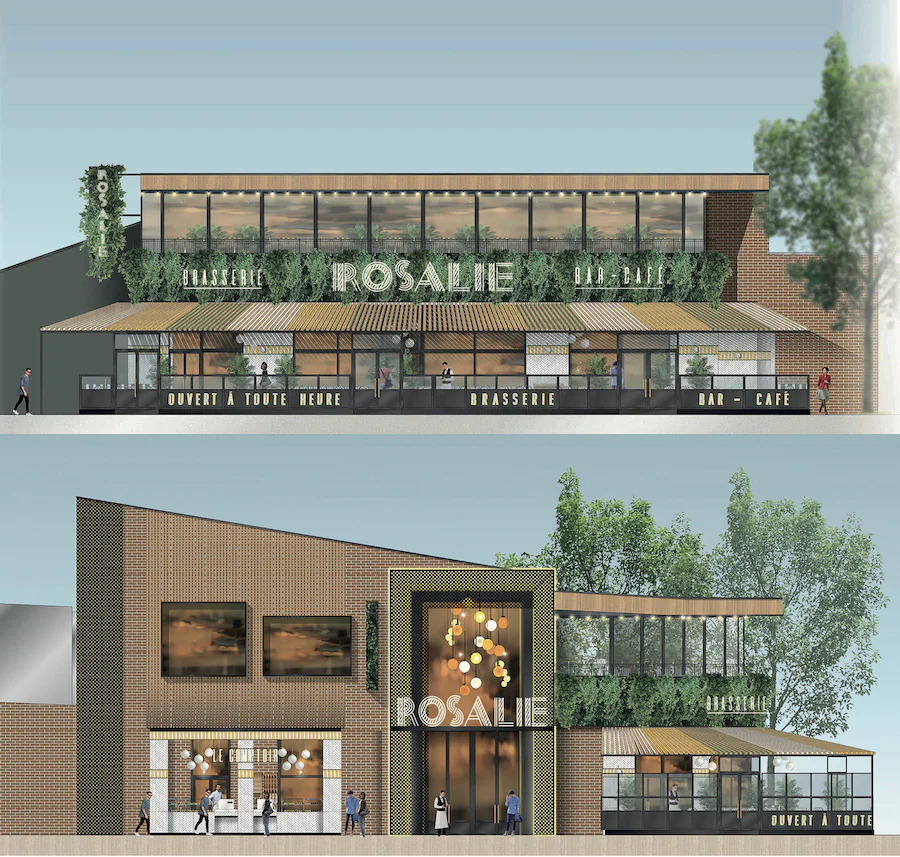 When completed, Rosalie will be a two-floor restaurant and feature 500 seats inside. The restaurant will have a contemporary design that is inspired by Parisian brasseries. It will also celebrate the renowned French "Art de Vivre" and offer classic French cuisine in a modern and elegant setting. It will also have expanded terraces that will give views of Lake Disney. This restaurant will honor both regional diversity and seasonal produce. Along with offering table service, there will also be a walk-up counter with French baker-inspired options. This includes viennoiseries, pastries, sandwiches and salads, along with some other products. There will also be a seasonal outdoor terrace for guests to enjoy along the lake's edge.
"As we continue to collaborate with exceptional brands that we share strong values with, we are delighted to welcome a new restaurant managed by Groupe Bertrand as a first step in our Disney Village transformation plan," said Laure Albouy, Vice President Business Strategy & Integration, Disneyland Paris. "We believe this unique, family-friendly restaurant will elevate the guest experience at our resort by offering famous French specialties in a unique setting, and we can't wait to make this new partnership a reality." 
Rosalie is set to open at Disney Village in 2023.
What do you think of the transformation of Disney Village? Share your thoughts and opinions in the comments below!