This morning the trams began carrying guests again to and from the Mickey & Friends and Pixar Pals Parking Structure to the parks at Disneyland. The return of the trams marks one more magical milestone in the return of more cast members and experiences to the Disneyland Resort. For the return of the trams, Disneyland Resort President Ken Potrock and Ambassador Nataly Guzman were on hand to help kick things off.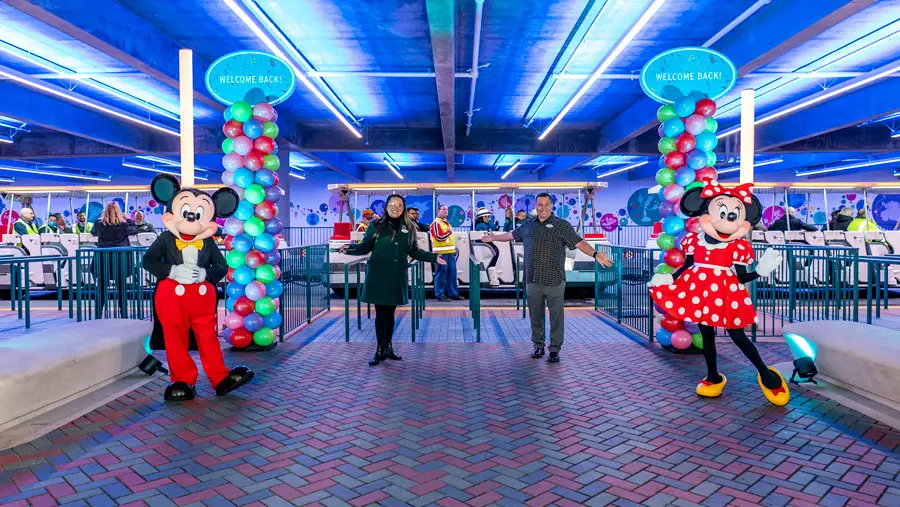 "With 30,000 cast members now working, and more joining us every week, we are able to return more of our beloved entertainment and experiences, along with brand new offerings," Ken said. "After a tough couple of years, the future looks amazingly bright."
Joining Ken was also lead Sarah Gorman, who worked on the trams before the parks closed in 2020. She shared that her favorite role was as the announcer in the back who says "Driver, you are clear."
"Feeling the wind in your hair — there is no other feeling like it," Gorman said. "You're responsible for the safety of the guest, but you're also in charge of making the magic. You're the first person they see and the last when they go home."
For weeks cast members have worked to prepare the trams to carry guests again. This included polishing the doors, testing the headlights, and more.
"We have had an incredible start to 2022, beginning with Lunar New Year, Magic Key Celebration Month, the epic Super Bowl moment, and the successful kickoff of our Disneyland After Dark events," Ken said. "And now we're looking forward to the return of our popular Food & Wine Festival next week. It's amazing how far we've come in less than a year, and we couldn't have done it without the support of our guests and the incredible dedication of each and every cast member."
What do you think of the return of the trams to the Disneyland Resort? Share your thoughts and opinions in the comments below!