Some favorite nighttime spectaculars are returning to the Disneyland Resort this spring. Today, the specific dates for when the Main Street Electrical Parade, Disneyland Forever fireworks, Fantasmic!, and World of Color were announced. Along with the announced dates, some concept art was shared for a new finale unit for the Main Street Electrical Parade. The return date for the Main Street Electrical Parade, Disneyland Forever, and World of Color will be April 22, 2022. Fantasmic! returns on May 28, 2022.
Main Street Electrical Parade
When the Main Street Electrical Parade returns to celebrate its 50th anniversary on April 22, it will have a new grand finale. This will include a new float that celebrates the theme of togetherness. It is inspired by Mary Blair's iconic art style that is found in it's a small world. The float is seven segments long and stretched 118 feet. It will include more than a dozen films from both Walt Disney Animation Studios and Pixar Animation Studios. This will be one of the longest sequences in the parade's 50-year history. The stories included in the finale will be brought to life with "thousands of sparkling lights and electro-synthe-magnetic musical sound" and include representations of favorite characters with animated dolls.
Depending on what side of the parade route guests are on, different stylized scenes will be able to be seen. These will include Encanto, The Jungle Book, Raya and the Last Dragon, Aladdin, Coco, Mulan, Brave, The Princess and the Frog, and more. The finale will also give a nod to the past with the return of the Blue Fairy character from Pinocchio and also a 19-foot tall representation of Sleeping Beauty Castle.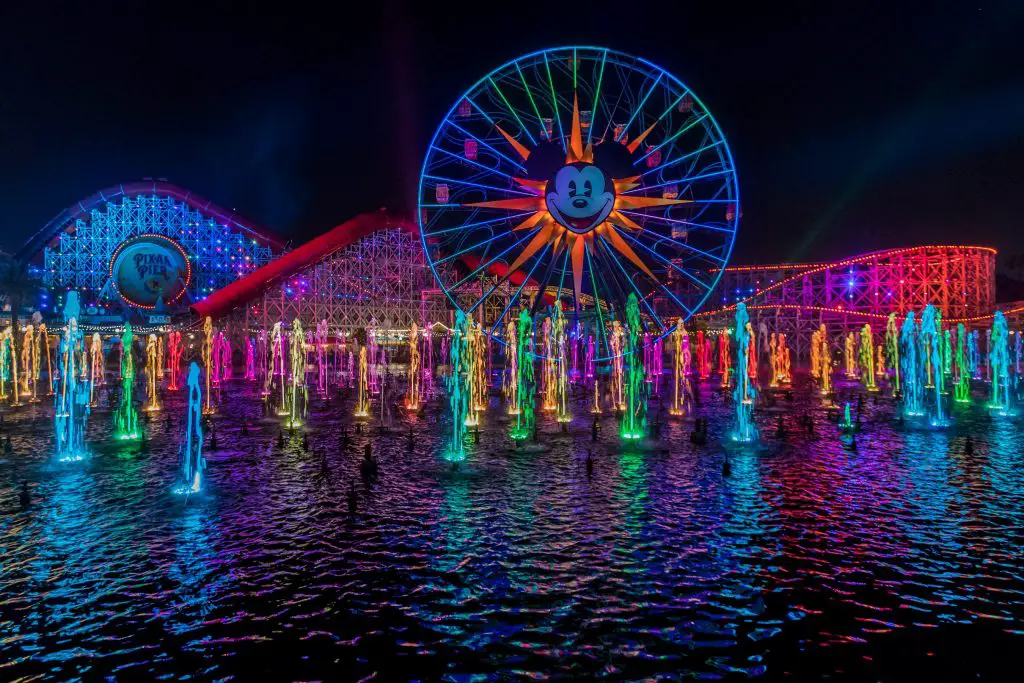 World of Color
World of Color will return to Paradise Bay in Disney California Adventure on April 22. Utilizing water with incredible fountains, World of Color brings many classic Disney and Pixar stories to life. This storytelling includes the use of music, fire, fog, and laser effects. The stage for this show is the entirety of Paradise Bay and utilizes fountains that can shoot water from 30 feet to 200 feet up into the air. This is higher than the top of Pixar Pal-A-Round.
Walt Disney provided the inspiration for World of Color and different iterations of Walt Disney's Wonderful World of Color theme for the television show can be heard throughout the score. This song was originally composed by Richard B. and Robert M. Sherman. They were the Oscar-winning composers behind the themes for it's a small world and The Tiki Tiki Tiki Room and brought to life many stories through song in the movies as well.
Disneyland Forever
Disneyland Forever fireworks originally were presented at Disneyland for its 60th anniversary. It is an immersive firework spectacular that also utilizes special effects that turns Main Street, USA and other locations into canvases where stories can be painted on. It takes guests on a journey from the orange groves of Anaheim to the worlds found in Disney and Pixar stories. This show includes two original songs. One is called Live the Magic and the closing song called Kiss Goodnight was written by Disney Legend Richard B. Sherman.
Fantasmic!
Starting on May 28, guests again will be welcomed to Fantasmic! at Disneyland's Rivers of America. This return will have the show celebrate its 30th anniversary. This is Disney's longest-running nighttime show. Throughout the show guests will get to experience what happens as Mickey Mouse's dreams come to life. This will include him facing off against the 45-foot-tall, fire-breathing Maleficent dragon. Mickey will have to use his imagination to save the day. His imagination will also lead guests on a journey that includes moments from Fantasia, The Jungle Book, Pirates of the Caribbean, and so much more. Throughout the show, guests will see some of their favorite characters, special effects, pyrotechnics, and a whole lot of magic.
Both the Main Street Electrical Parade and also Disneyland Forever will have limited runs at Disneyland. Starting on April 22 to late spring, Disneyland Forever will be presented Fridays through Sundays. Mickey's Mix Magic projections only show will be presented Mondays through Thursdays. Once the summer arrives, Disneyland Forever fireworks will be presented nightly. World of Color will return to its regular schedule immediately upon its reopening. Fantasmic! will also be offered on its regular schedule when it returns on May 28.
What do you think of the return of all of these nighttime spectaculars? Which one are you most looking forward to? Share your thoughts and opinions in the comments below!