Disney+ has released a new trailer and poster for its remake of 2003's Cheaper by the Dozen. This Disney+ Original movie stars Gabrielle Union and Zach Braff and is set to premiere on March 18, 2022. The trailer released today gives a look at the blended family of 12, the Bakers, and the craziness that comes with that at home. Double up the fact that not only is there a family of 12 but there is also the responsibility of running the family business and hilarity will ensue.
Cheaper by the Dozen is directed by Gail Lerner with a screenplay by Kenya Barris & Jenifer Rice-Genzuk Henry. It is based on the novel by Frank Bunker Gilbreth, Jr. and Ernestine Gilbreth Carey. Kenya Barris is producing, with Shawn Levy, Gabrielle Union, Brian Dobbins and Donald J. Lee, Jr. serving as executive producers. The movie stars Gabrielle Union, Zach Braff, Erika Christensen, Timon Kyle Durrett, Journee Brown, Kylie Rogers, Andre Robinson, Caylee Blosenski, Aryan Simhadri, Leo Abelo Perry, Mykal-Michelle Harris, Christian Cote, Sebastian Cote and Luke Prael. 
The 2003 version of Cheaper by the Dozen starred Steve Martin, Bonnie Hunt, and Hilary Duff. A sequel to this film was released in 2005. The version being released in March is a completely new approach to the story. This isn't the first remake this title has received, however. The 2003 version was actually a remake of a film of the same name that was released in 1955. The story is a semi-autobiographical story of the Gilbreth family and authors Gilbreth, Jr. and Ernestine Gilbreth Carey's experiences.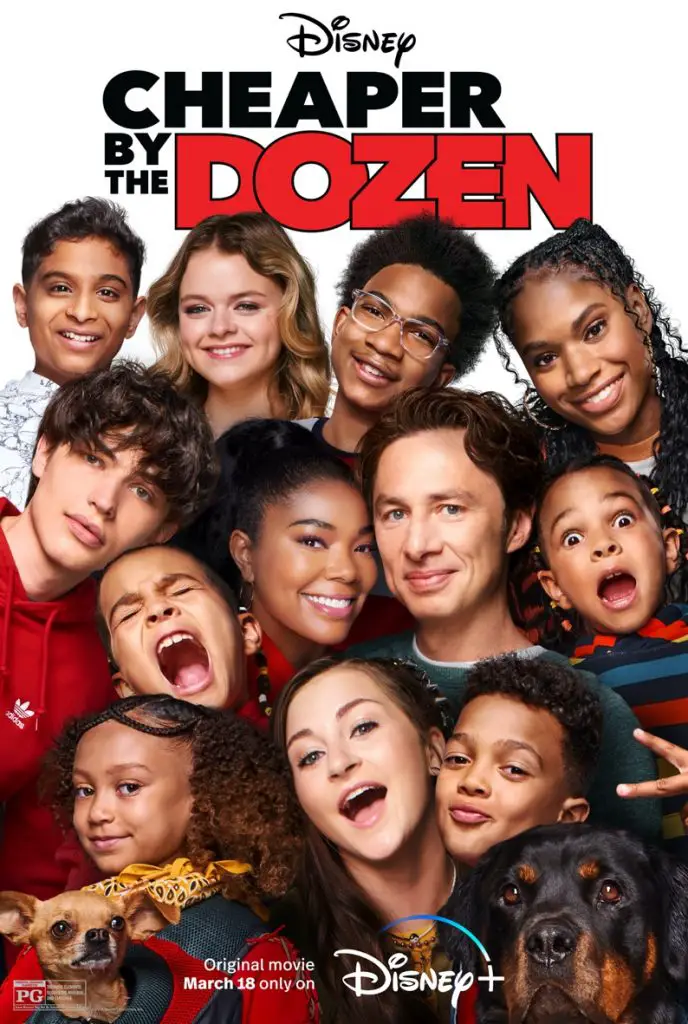 What do you think of this remake of Cheaper by the Dozen? Are you excited for it to arrive on Disney+ in March? Share your thoughts and opinions in the comments below!