Following Disneyland Resort pausing sales on its Dream Key sales, Walt Disney World Resort has followed suit and paused sales on most of its annual passes. Walt Disney World updated its website over the weekend with the following message:
New sales of select Annual Passes are currently paused.New sales of the Disney Pixie Dust Pass remain available for Florida Residents..Please check back here for the latest updates.
Walt Disney World Resort also sent an email out to current passholders with a link to the page with the news.
Below listed the different levels of Annual Passes and showed that most were currently not available. The Disney Pixie Dust Pass, which is only eligible for Florida residents, is the only pass that currently remains available. It is the cheapest at $399 plus tax. Current passholders can still renew passes at any level. This includes the Disney Pirate Pass, Disney Sorcerer Pass, and Disney Incredi-Pass. The Disney Incredi-Pass is the only Annual Pass available to those who live outside of Florida.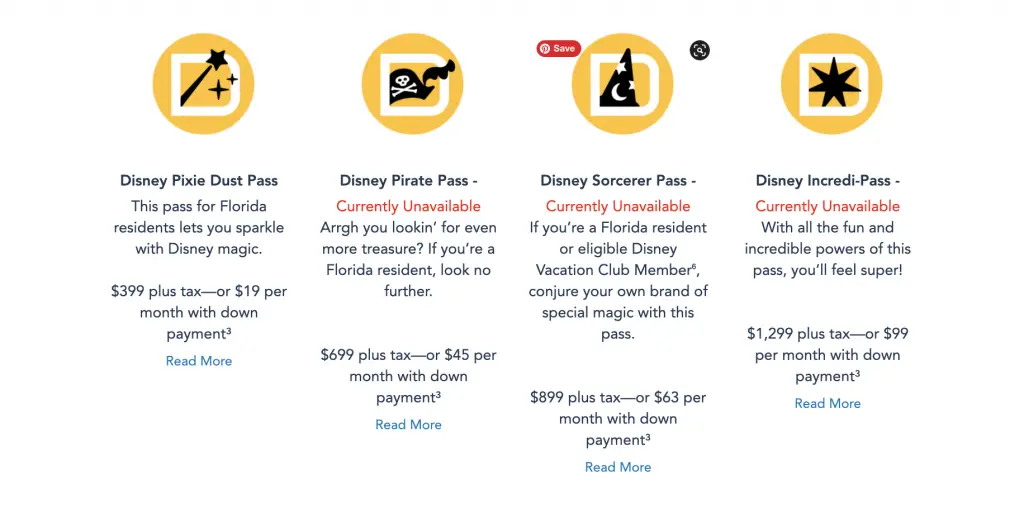 Walt Disney World resumed new Annual Pass sales after being closed for the pandemic on September 8, 2021. The sales began just before it kicked off The World's Most Magical Celebration to celebrate its 50th Anniversary. At this time it is unknown when sales will resume for the Annual Passes at Walt Disney World Resort.
What do you think about the sales of select Annual Passes being paused? Share your thoughts and opinions in the comments below!