The Disneyland Resort has announced Mark Everett King Jr. and Nataly Guzman as its new Disney Ambassador team. In a ceremony held in Fantasyland Theater, the new team was announced this morning and streamed on the official Disneyland Ambassador Instagram account. This continues a tradition started by Walt Disney himself and welcomed two new Disney Ambassadors to the Global Ambassador family.
When the time came, the official announcement was made by Disneyland President Ken Potrock. This was after a ceremony hosted by the current Disneyland Ambassador team Justin Rapp and Rafa Barron. During the ceremony, all of the former ambassadors were also recognized ahead of revealing who would be next.
The Ambassador program was created by Walt Disney himself 56 years ago. The role of the ambassadors is to represent the Disneyland cast and bring magic to the community. As time has gone the role will be focusing on healing and "rebuilding trust among all our constituents," Potrock said during the ceremony. He also thanked the current ambassador team, Justin and Raffa for all they had done during their extended term as Disneyland Ambassadors. This ended up being three years due to the pandemic. A video that showed their best moments was then played. Their term was a historic one as they represented the cast during the opening of Star Wars: Galaxy's Edge, the closure of Disneyland Resort, and then the opening of Disneyland Resort as well.
Ahead of the announcement of who would be next, Potrock introduced the five finalists for the role. Each finalist went through multiple rounds of interviews with over 25 topics and leaders. Potrock shared how qualified they all were and what a tough selection process it was to determine who would be the next Disneyland Ambassador team. He also shared that all of the candidates' futures would be bright at the Disneyland Resort.
For the official announcement moment, Mickey Mouse and Minnie Mouse joined Ken Potrock on the stage. The announcement was made that Mark King and Nataly Guzman are the new Ambassadors with the current Ambassador team on the stage as well. Tears were shed as they made their way to the stage and then confetti exploded into the celebration. This was followed by a congratulatory video from the global Disney Ambassador teams. As the ceremony wrapped up, a big group "selfie" was taken on stage with the former ambassadors.
The Disneyland Ambassador program dates back to 1965 when Julie Reim was chosen as the first Disneyland Ambassador. This was done by Walt Disney himself. The Disney Ambassadors serve as the Disneyland Resort's "Emissaries of Goodwill," media representatives, and they also are official hosts for guests visiting the Disneyland Resort. They are also official spokespeople for the Disneyland Resort and offer the opportunity for the community to have personal relationships with the Disneyland Resort.
Here is a list of all of Disneyland Resort's former Ambassadors:
1965 | Julie Reihm
1966 | Connie Swanson
1967 | Marcia Miner
1968 | Sausha Sherbin
1969 | Shari Bescos
1970 | Catherine Birk
1971 | Marva Dickson
1972 | Emily Zinser
1973 | Bonnie Drury
1974 | Carol Dekeyser
1975 | Kathy Smith
1976 | Christina Schendel
1977 | Susan Donald
1978 | Raellen Lescault
1979 | Leona Dombrowske
1980 | Nancy Murray
1981 | Willie VanderZwaag
1982 | Joanne Crawford
1983 | Mindy Wilson
1984 | Ellen Coleman Marchese
1985 | Melissa Tyler Wackerman
1986 | Barbara Warren
1987 | Kendra Howell
1988 | Carolyn Long Baggerly
1989 | Wendy Freeland Schoeman
1990 | Jennifer Faust
1991 | Jill Ornelas
1992 | Suzanne Palmiter
1993 | Kathleen Mitts
1994 | Bonnie Delehoy
1995 | Gerry Aquino, Julia Odner and Michelle Tryon
1996 | Janet Tanasugarn, Gina Parugganan, Chris Allen and Heather Thompson
1997 | Robyn Schatz, Christina McGeorge and Cathy Milam
1998 | Dorothy Stratton Wilson and Oscar Carrasco
1999-2000 | Jennifer Simis and Dorrell Mitter
2001 | Doina Roman Osborn and Heri Garcia
2002 | Matt Ebeling
2003 | Daina Baker
2004 | Becky Murphy
2005 | Andrae Rivas and Becky Phelps
2007 | Adonis Reeves and Garnett Schoonver
2008 | David Gill and Liz Hetzel
2009-10 | Quinn Shurian and Danielle DuBois
2011-12 | Rene Torrico and Jolie Hales
2013-14 | Megan Navarette and Sachiko White
2015-16 | Allie Kawamoto and Jessica Bernard
2017-18 | Alexa Garcia and Mikey Trujillo
2019-21 | Justin Rapp and Rafa Barron
"Heartfelt congratulations to Mark and Nataly," said Ken Potrock, president of the Disneyland Resort. "I am thrilled to welcome our amazing new Ambassadors, who will take on the role of a lifetime representing our cast and bringing Disney magic to our community. I look forward to spending time with Mark and Nataly as we roll out the many exciting things coming to the Disneyland Resort over the next two years."
Nataly currently works in Guest Relations and is a VIP hostess. she started her Disneyland Resort career in 2010 at World of Disney. She's also been a Traditions assistant and Disney University facilitator. Nataly enjoys photography, drawing and painting and is a big fan of all things Star Wars.
"I'm overwhelmed and honored," Nataly said. "Being a representative of all of the cast members — that alone is such an honor."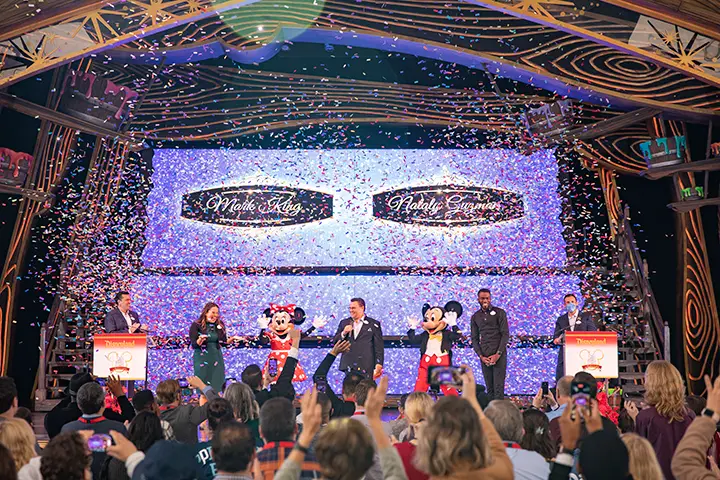 Mark is currently a stage manager in Disney California Adventure attractions. His Disneyland Resort career began in 2013 in Food and Beverage. He was also a test and adjust project lead in Avengers Campus along with being a facilitator for Step into the Magic. Mark volunteers with youth mentorship programs. His hobbies include fashion, fitness, and going to theme parks. 
"I think that the past two years and everything that's been going on in the world just showed me that I love our cast," Mark said prior to the announcement. "They deserve to be highlighted and consistently advocated for and empowered."
Mark and Nataly will officially begin their term as Disneyland Ambassadors as part of the Global Ambassador team on January 1, 2022. The next couple of months will be spent training for the role. Congratulations to both of them!