Disney/s Jungle Cruise stars Dwayne Johnson (Frank) and Emily Blunt (Dr. Lily Houghton). This two end up going on an adventure together after Houghton hires Frank to take her to find a legendary tree with phenomenal healing powers. Houghton believes this could change the world. However, as the adventure continues it soon becomes quite evident that this is more than just a jungle cruise as they face challenges that will be familiar and completely different to Disney fans who have ridden aboard The World Famous Jungle Cruise in the Disney Parks.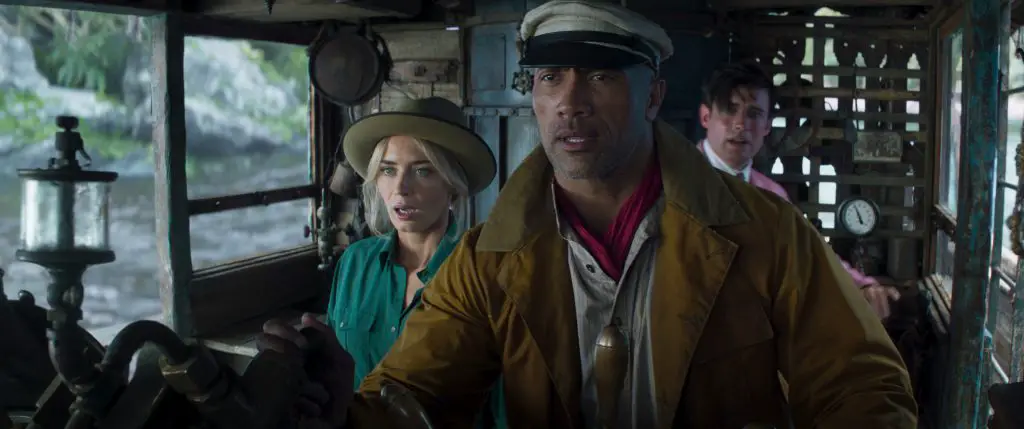 Quality
Disney's Jungle Cruise really is an enjoyable movie to both watch and listen to. Yes, it does utilize a lot of digital effects. This creates a stylistic look that I have mixed feelings about. However, there are some beautiful scenes to be seen in the film. There are some characters that rely heavily on digital effects and I'm pleased to report that these were not distracting at all. In fact, some of the things that turn out to be digital are surprising! Overall, this was a very enjoyable movie to look at. While it doesn't have Marvel or Star Wars level of quality, it still is well done. The accompanying audio is very well done. It adds to the storytelling in an effective way that isn't distracting. Couple it with the musical score, and this is a very enjoyable movie to both look at and listen to.
Bonus Features
There is a lovely collection of bonus features included with the home entertainment release of Disney's Jungle Cruise. The first feature was a fun way to watch the film called the Jungle Cruise Expedition Mode. Throughout the film, facts about the movie pop up. A making-of featurette goes into how the film was made and how it connected to the original attraction at Disneyland. One of the best features was Once A Skip, Always A Skip. This panel was with current and former Skippers at Disneyland's Jungle Cruise as they talked about their experience with the attraction and pass on the advice they have learned. Creating The Amazon took a look at the worldbuilding that made Jungle Cruise come to life. This was a fascinating bonus feature and definitely worth watching. In fact, all of them were. The Deleted Scenes were also quite interesting to see what didn't make it into the film and how that could have built the story even more. All in all, the bonus features included with Jungle Cruise were very enjoyable to watch and worth watching.
Disney's Jungle Cruise Bonus Features*
Jungle Cruise Expedition Mode – Climb aboard a ramshackle tramp steamer (or your own couch) to learn fun facts, discover Easter eggs and catch some pop-up trivia throughout the movie.
It's A Jungle Out There: Making Jungle Cruise – Director Jaume Collet-Serra, the cast and crew discuss the importance of the film's elements, from casting to makeup to the use of an ancient indigenous language, in creating the world that honors one of Disneyland's most beloved rides.
Dwayne And Emily: Undoubtedly Funny – Go on-set with the two stars, whose new-found friendship helped them project a natural onscreen chemistry. Although their characters challenge each other throughout the film, the actors make each other laugh. A lot!
Creating The Amazon – Explore the cinematic artistry involved in creating the world of Jungle Cruise, including how Frank's boat coursed "dangerous" water in a tank in Atlanta, how a town was built in Kauai, and how a ferocious jaguar came to life, among other amazing effects.
Once A Skip, Always A Skip – Join a panel of "Skippers" at the Disneyland Resort as they reminisce about the rewards, challenges and surprises they've experienced while helming the world-famous Jungle Cruise attraction, and hear their advice to aspiring skippers everywhere!
Outtakes – Step behind the scenes of the production to catch the cast in a series of flubs, falls, foibles — and a whole lot of laughter.
Deleted Scenes

MacGregor Drives The Boat
MacGregor Water Skis
Joachim And Nilo On The Dock
Frank Talks To Proxima & Lily's Nightmares
Sub Gets Stuck
Proxima Surprises MacGregor
Frank Gets The Cold Shoulder
Trader Sam And Lily Walk In The Jungle
MacGregor And Trader Sam Say Goodbye
Frank Makes Tea For Lily
The Backside Of Water
*bonus features vary by product and retailer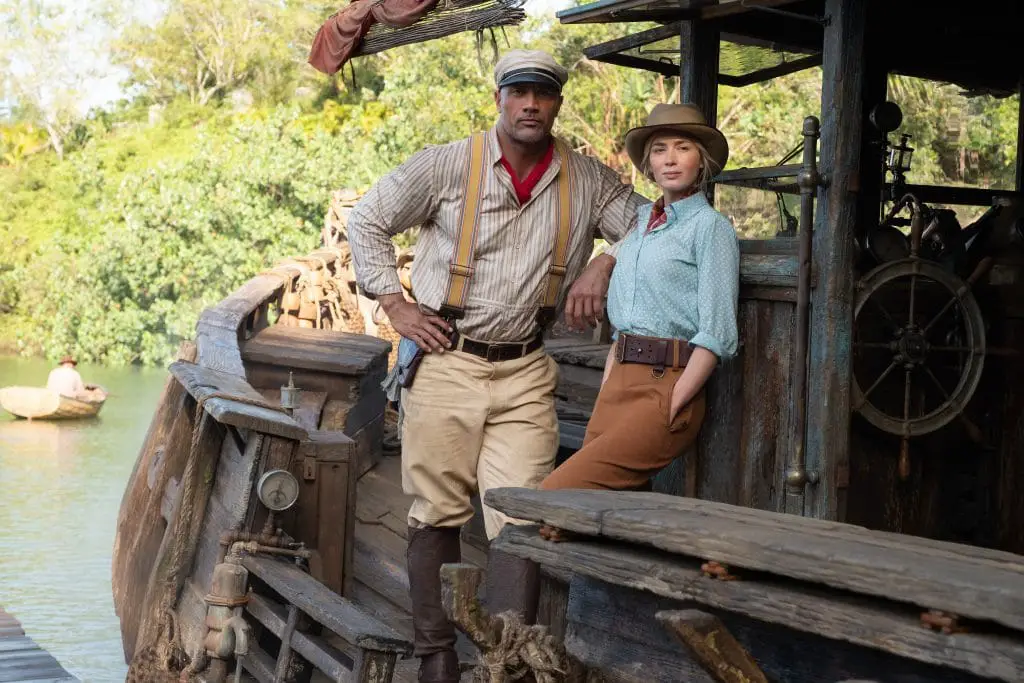 Final Thoughts
Watching Disney's Jungle Cruise really is a fun experience. It captures the humor of the original attraction at Disneyland. It is an action-adventure movie that is somewhat reminiscent of Disney's Pirates of the Caribbean. The chemistry between Johnson and Blunt is simply charming and completely enjoyable to watch. The characters around them also all add to the film and make for a delightful ensemble. The home entertainment release of this movie does exactly what any good home entertainment release should do, it adds to the enjoyability of the movie. Seeing how it was made and the thought process behind it really does make the movie even better. Overall, this release was very enjoyable to watch and I reviewed it in one sitting. It definitely gets a hat tip and is a good addition for any Disney fans movie library.