Shanghai, August 23, 2021 – With the end of summer steadily approaching, long-time Shanghai Disney Resort fans know that this can only mean one thing – the arrival of Duffy Month and a whole host of cute and cuddly surprises from Duffy and all of his friends! As Shanghai Disney Resort continues to celebrate its 5th Birthday Celebration, this year's Duffy Month promises to be even more magical, with Duffy-themed excitement to be found throughout the Resort, including new performances, adorable decorations, and an exciting lineup of merchandise inspired by the loveable characters.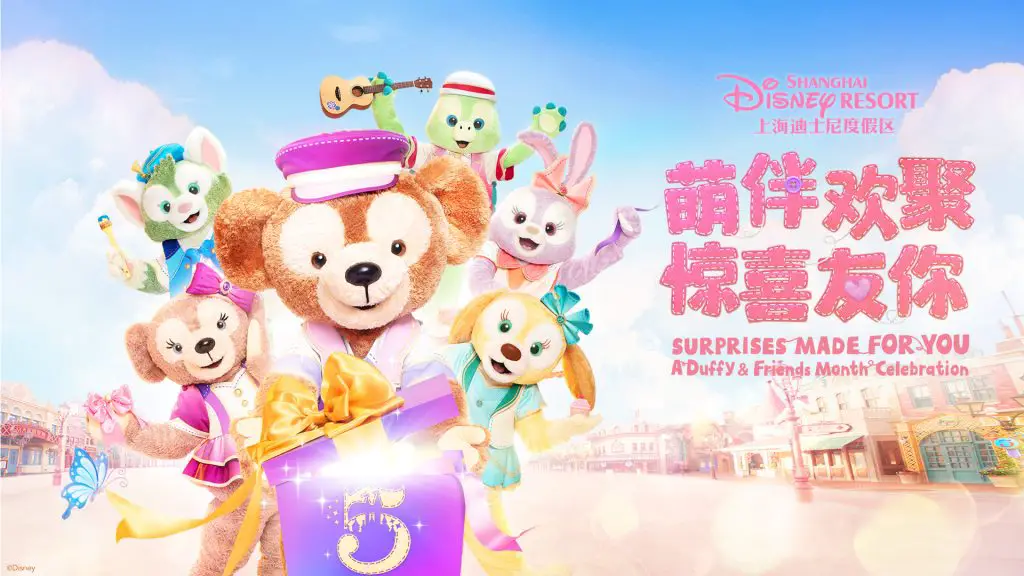 Extra Magic in the Air as Duffy and Friends Takeover Shanghai Disneyland this September
From September 1st to 30th, 2021, guests will be able to immerse themselves in a new world of Duffy and Friends fun. As guests enter the park, they will be greeted by a stunning Duffy floral display, with other Duffy-themed surprises located throughout the park.
On Mickey Avenue, Minnie Lane will be adorned with a cute and colorful Duffy-themed design, and immersive miniature sets will be set up for guests to stop and pose for photos with their favorite Duffy and Friends plush. One set is even designed to create the illusion that guests are the same size as their plush, bringing them right into the magical fantasy world of Duffy and Friends. An all-new social wall near Il Paperino will also feature Duffy and Friends in their 5th Birthday Celebration-themed costumes, acting as the perfect backdrop for fun poses and selfies to help guests capture even more magical memories during their visit to Shanghai Disneyland.
New Delights Around Every Corner with Special Performances and the Surprise Squad
Throughout September, Duffy and Friends will bring the excitement to Mickey Avenue with a lively dance performed with their good friends Mickey and Minnie, who will also introduce Duffy and his five adorable friends to guests, highlighting their stories and their special talents. Guests will even be able to join in together with their favorite characters as they dance to the upbeat sound of the Shanghai Disney Resort 5th Birthday Celebration theme song, "Magical Surprise."
Duffy and Friends will also appear around the park to surprise guests and enjoy the festivities of the 5th Birthday Celebration. Some guests may even be lucky enough to share a ride next to one of the cute characters, run into the whole gang as part of the Surprise Squad, or even catch a Magical Surprise flash mob dance at the Duffy and Friends photo location for a one-of-a-kind photo opportunity that simply can't be missed!
Enjoy the Cutest Dining and Shopping Experience with Special Duffy-Themed Merchandise and Meals
For this year's Duffy Month, Shanghai Disney Resort has lovingly created a new line of Duffy and Friends merchandise – the Duffy and Friends Craft Time collection. The collection – which features craft materials such as patchwork cloth, buttons and wool – includes items such as adorable plush and keychains, as well as vintage-style knitting crossover bags, lovely backpacks and DIY patches.
It wouldn't be Duffy Month without a fun range of Duffy and Friends-themed food and beverages making their way to Shanghai Disney Resort. Throughout the park, guests can enjoy sweet treats, such as Duffy and Friends themed ice cream, as well as limited-edition souvenirs such as the 5th Birthday Duffy and Friends Surprise Sipper and Popcorn Bucket. For those wanting to make Duffy an even bigger part of their dining experience, the Duffy Weekend Brunch at the Royal Banquet Hall in the park, as well as Lumière's Kitchen at the Shanghai Disneyland Hotel, give guests the chance to enjoy Duffy-themed bites and mocktails in the company of beloved Disney Friends. Lumière's Kitchen will also host a series of fun Duffy-themed DIY activities, including dessert decorating and sugar painting to keep guests entertained while enjoying their meals.

Never-Ending Surprises: Duffy and Friends Spread the Magic Outside the Park
For a limited-time only during Duffy Month, guests can also enjoy a host of exclusive surprises as part of a Duffy-themed staycation at the Shanghai Disneyland Hotel. Included in the package is a cozy night in the Deluxe Garden View room, which has been decorated with colorful Duffy overlays, as well as early park entry, breakfast at Lumière's Kitchen, and coupons to redeem two Disney Friends-themed packaged ice creams.
With all this and so many more exciting Duffy and Friends-themed surprises set to be revealed throughout September, be sure to start planning your trip to Shanghai Disneyland today.